Industrial dust collection can be a complex process. All applications bring various obstacles that have to be addressed in order for the process to be effective.
From abrasive dust to high temperatures, standard dust collectors often fail in common industrial scenarios.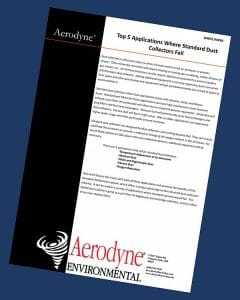 Aerodyne Environmental, a specialist in industrial dust collectors and material handling valves, has released a whitepaper that focuses on the most common problems that occur when using standard dust collectors and how to solve them more effectively.
There are numerous flaws with standard dust collectors. This whitepaper Top 5 Applications Where Standard Dust Collectors Fail highlights the Top 5 applications where they typically fail.
Temperature Adjustment of an Airstream
Abrasive Dust
Sticky and Hygroscopic Dust
Fibrous Dust
Oxygen Reduction
Click here and you will have immediate access to the guide
Click here for related articles online
Sign up for Dust Collection & Air Pollution Control E-Updates
Recent Dust Collection and Air Pollution Control e-newsletters
Read our last "Dust Collection and Air Pollution Control" e-newsletter campaigns here:
Inspired to Be Different.
At Aerodyne, we choose to take a different approach to collecting dust and handling materials.Our cyclones are unique in design to address common issues such as problematic dusts and space constraints.Our airlocks are chosen to fit your specific application instead of hastily installing traditional ...