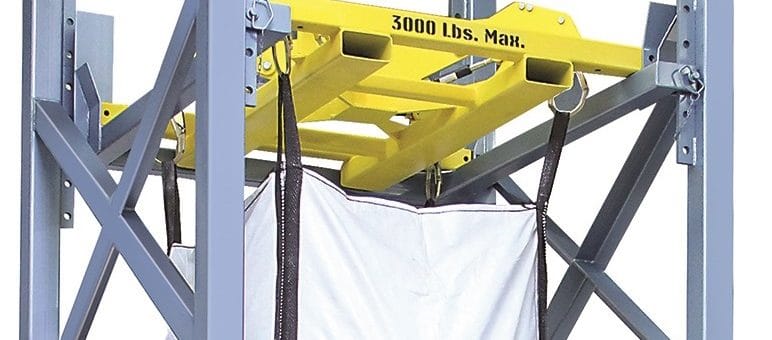 MOONACHIE -  An innovative global leader in dry solids metering and handling technologies for over 50 years, has announced the availability of their new Model 821 Bulk Bag Unloader. The new Model 821 Unloader provides a safe, dust-tight and highly effective means for discharging a wide assortment of dry solid materials from within various size bulk bags, typically for use in conjunction with Acrison metering equipment.
In operation, positive product discharge is reliably achieved by means of regulated vibration uniformly applied to the body of the Model 821 Unloader, and in turn to the bulk bag. The vibratory action is produced by an adjustable heavy-duty motorized vibrator, powered by a TENV (AC) motor. When energized, powerful flow-inducing vibratory forces transfer from the body of the unloader into the bag and the material contained within, effectively and efficiently discharging its contents. An independently mounted Iris Valve with Acrison Bag Spout Untie Receptacle is attached beneath the unloader and flexibly connects to the outlet of the unloader. The outlet of the Untie Receptacle typically connects to auxiliary process equipment for a totally dust-tight assembly.

The Model 821 Unloader is optionally available with a pneumatically operated hoist and trolley and with several different Bag Lifting Racks, the selection of which is determined by the specifics of a given application and/or user preference. Bag Lifting Racks include either a lifting lug for attachment to a hoist, or channels for the blades of the fork truck. Bag lifting racks may be equipped with Acrison's Automatic Bag Tensioner and Bag Liner Tensioner. When furnished with the optional Automatic Bag Tensioner, lifting hooks with spring actuated safety latches are provided for safe and positive attachment to the four bag lifting straps (or loops).
Click here for more information about Acrison Material Handling
Click here for related articles
Sign up for Packaging & Bagging E-Updates
Recent Bagging and Packaging e-newsletters
Read our last "Bagging and Packaging" e-newsletter campaigns here:
Leading global supplier of high performance Dry Solids Metering, Hoppering and Blending Equipment for the Processing Industires.
Primary markets from Acrison include the food, chemical and plastics processing industries
However, equipment is applied in virtually all settings where the accurate metering of dry solids ingredients is required, ...