Designing a dust collection system can be quite a daunting task. With so many collector options and so many application variables to consider, it is difficult to know what will work well and where to predict any possible issues. A cyclone dust collector may be an addition that helps prevent problems.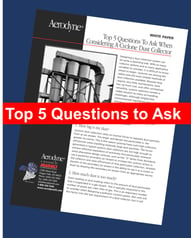 This whitepaper offers an easy how-to-guide for figuring out if a cyclone dust collector is right for you. Learn about the questions you should be asking to make sure you're dust collection system will be enhanced with a cyclone.
These five questions will help determine if a cyclone dust collector is right for your application.
How big is my dust?
How much dust is too much?
Can I reuse the dust I am collecting?
Do I have heat or humidity concerns?
How much should I spend?
Click the button below and you will have immediate access to the whitepaper: Top 5 Questions to Ask When Considering A Cyclone Dust Collector.
This article is published by
Inspired to Be Different.
At Aerodyne, we choose to take a different approach to collecting dust and handling materials. Our cyclones are unique in design to address common issues such as problematic dusts and space constraints. Our airlocks are chosen to fit your specific application instead of hastily installing traditional ...