There was a lot of wiring and not a whole lot of data available. Inventory reports still had to be painstakingly prepared on spreadsheets.
Then about a decade or so ago, inventory management software began to emerge as an alternative to the traditional PLC or HMI. Software programs were installed on local area networks, often managed by IT departments. Graphical interfaces that provided additional data, automated alerts, and offered multiple silos or site management emerged.
In the past few years, technology has exploded. There has been a rapid transition to the industrial internet of things – or IIoT. Sensors increasingly began to use protocols like Modbus and HART. The software went from a floppy disc into a virtual cloud as a Software as a Service. Wireless networks became much more reliable. Tablets and cell phones replaced the desk and chair in an office.
All of this has revolutionized inventory monitoring whether you are on-site, working remotely, or are responsible for many sites and silos.
Simplifying the way sensors are programmed
Setting up sensors used to be a cumbersome process that required staff to spend a lot of time on top of a silo or setting up parameters painstakingly in a control room. Over the last decade, sensors have been integrated into software programs and web applications.
Some sensors now offer set up using a Bluetooth app downloaded to a cell phone or tablet. Setup can also be completed on a PC using a Bluetooth USB adapter. Viewing of level measurements and changes to bin parameters can be done via the app at distances up to 80 feet from the sensor. This allows for performing level monitoring and parameter adjustments from the base of the vessel without climbing ladders. Time savings are immediate, and a higher level of safety is assured.
Using an app has many advantages. First and foremost, it is easy. If you can order take-out food on a phone, chances are you can set up sensors without incident. Apps are downloaded from an app store to an android or iPhone.
Data associated with each sensor is accessible from the app in real-time and is stored securely. If changes to vessel parameters need to be made, the information can be quickly updated in the app and made immediately effective. Safety of employees is ensured by allowing for setup without climbing silos or working in hazardous locations.
When setting up like vessels, the parameters can be duplicated. This reduces the tedious work of having to enter information for each vessel individually. This makes the process of setting up many vessels faster and reduces the risk of errors in setup.
Setup is not the only function that can be accomplished using Bluetooth technology. Advanced diagnostics allow for troubleshooting or monitoring maintenance parameters.
Security is assured through IIoT protocols using advanced encryption and user access controls that allow only certain individuals the ability to make changes to settings. Settings can also be transferred to a PC if additional integration into a plant's PLC systems is desired.
Count on non-contact sensors
A decade ago, the road was bumpy for non-contact technology especially in dusty conditions typical at many bulk solids processing plants. Early versions of radar level sensors performed erratically and unreliably in silos with high amounts of dust. They were not powerful enough to transmit through the dense suspended particulate.
Many radars were designed with horns to focus the beam, but the horns would become coated or packed with dust buildup. Manual cleaning or an air purge were often required. This led to a distrust in the level of data being output by these sensors. Remote monitoring was not trustworthy, as the staff was still climbing silos to validate measurements.
The advent of 80 GHz radar technology revolutionized the performance of non-contact radar in silos with excessive dust. A focused narrow beam not only transcends dust but can be targeted to a very precise location in the silo, avoiding structure and pinpointing the most desirable measurement location. Measurements update in less than a second with an accuracy of 0.2 inches allowing the sensor to the track filling and emptying cycles of processing silos.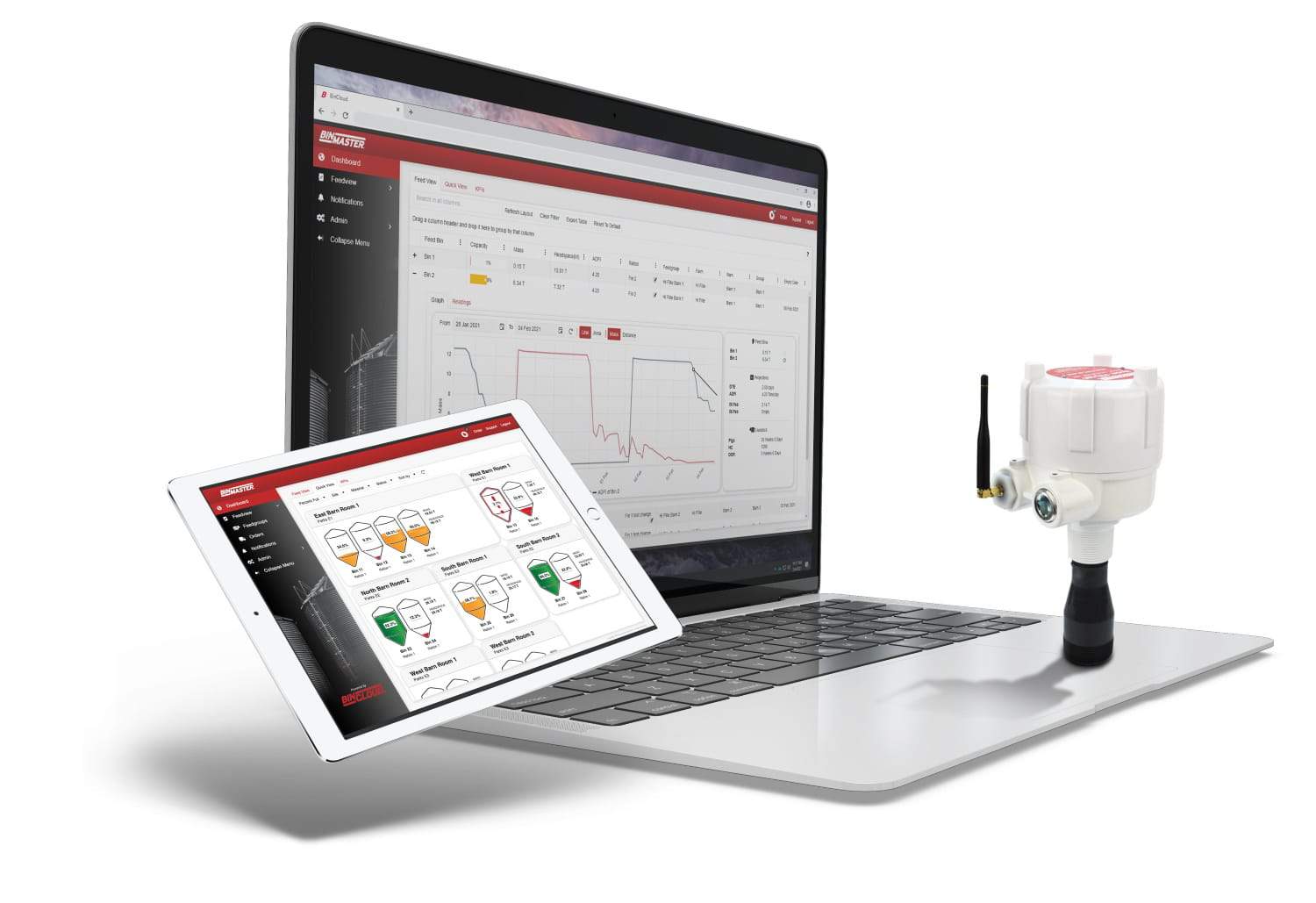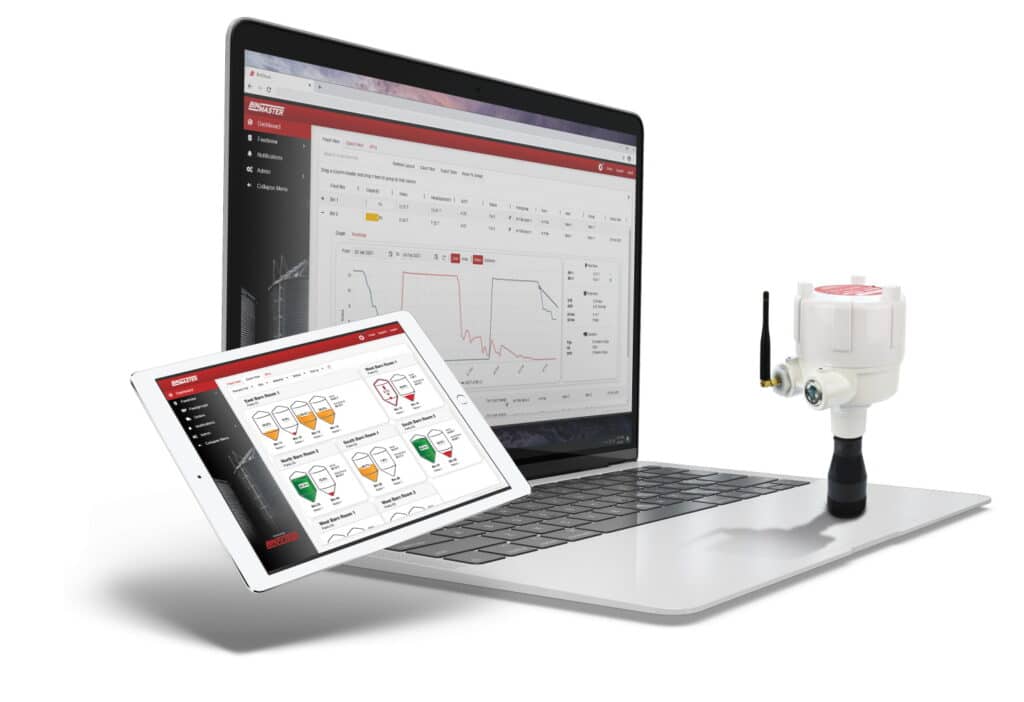 Non-contact radar level sensors using 80 GHz technology are also available in models designed specifically for liquids. They reliably measure in excessive humidity, steam, vapor, and are unaffected by noise. Measurements are not affected by changing process conditions such as fluctuating temperature or pressure. The 80 GHz technology performs accurately if a buildup of condensation occurs on the sensor face.
Data can be counted on to be reliable and real-time, making materials management easier for purchasing personnel. Inventory valuation for financial reporting is accurate, reducing the need for write-offs in future accounting periods.
Monitor inventory on a phone, tablet, or PC
Many large processing plants are big in size and small on staff. Making silo inventory management available anywhere, anytime enables people to be more efficient in their jobs. A simple log into a website using an app or Software as a Service program puts real-time data in front of people who need it to make timely decisions. Improvements in processing efficiency, ordering and delivery scheduling, eliminating material shortages, and reducing carrying costs are just a few of the benefits of monitoring silos levels while on-site or off-premises. Automated alerts via text or email allow for proactive materials management.
Vendor engagement in managing inventory
Whether working remotely at the plant, staying on top of inventory is challenging. Silos can run empty. Orders are not placed. There are crucial material shortages. These problems are further complicated by cumbersome spreadsheets, inaccurate inventory reports, and last-minute deliveries.
Many of these challenges can be avoided by allowing vendors to help optimize delivery schedules and ensuring plants have the right amount of material in stock.
Vendor Managed Inventory—VMI—builds a bridge between a plant and its suppliers. It can be accomplished using level sensors on silos that are connected using wireless communications and gateways to a website that tracks inventory in real-time. Vendors are assigned login credentials and viewing rights, so they can monitor inventory in tandem with the plant.
A VMI system is totally automated and keeps inventory levels up to date 24/7 in real-time. This ensures a plant, and its vendors are sharing the same data. Vendors take on some of the responsibility to monitor the material on hand. They can then take a proactive role in scheduling their production to meet demand, placing orders, and scheduling deliveries before work stoppages occur. An added benefit is validation that an entire shipment will fit into the silos without the risk of overfilling.
The shared software is configured to send automated alerts via text or email at trigger levels before silos run empty. Historical trending shows usage and deliveries and can generate reports to help forecast demand. Remotely connecting plants and vendors using VMI is a remote strategy that improves supply chain management. It helps increase inventory turns, reduce safety stock, improve cash flow, increase profitability, and cut lead times. It also can reduce time-consuming meetings, emails, and phone calls.
SaaS on a website protects profitability
There is no need to feel disconnected from your inventory, even if you are at home and your silos are miles away at the plant. Remote monitoring of your inventory using a SaaS program on a website. Inventory can be accessed using a phone, tablet, or PC via an internet connection. Inventory can be monitored in real-time and set up to send alerts automatically via phone or email. Many software programs are optimized for desktop and mobile viewing.
The most sought-after values of SaaS are convenience and simplicity of use. However, plants see many other benefits. As inventory management programs are designed to use out-of-the-box, they do not require having an IT specialist on-site. All software development is complete, and the program is ready for use. Plus, the software host takes care of all the upgrades and helps train staff. These inventory management platforms are scalable from one silo to hundreds at one or many locations.
Using a website is ideal when centralized monitoring is needed for multiple plant locations. For example, dispatchers need real-time inventory oversight of many plants to properly schedule and route trucks. This improves logistics between plants, optimizes routing, and ensures all locations are running efficiently without material outages. Dispatchers, drivers, and plant managers can set priorities and reduce out-of-stocks and delivery emergencies, all of which waste time and impact production schedules, and erode profits.
Remote monitoring a new reality
A remote monitoring system starts with the sensor. Continuous level sensors are mounted on each silo using appropriate sensor technology for measuring the type of solid or powdered material. Non-contact radar, guided wave radar, weight and cable, lasers, ultrasonics, or the 3D scanners are some of the sensor types used to measure inventory levels.
When a new measurement is taken, the data from the sensors flows seamlessly to a wireless gateway. There are gateways that accept 4 to 20 and digital inputs, supports multiple protocols, and updates in two to five seconds.
Next, the gateway instantly sends the measurement data to software in the Cloud. Silo inventory is accessed from a phone, tablet, or PC using the device's internet connection. Access is as simple as opening a secure website using unique login credentials, then viewing the information on an easy-to-use dashboard. Monitoring of inventory can be done from any device with an internet connection regardless of location. Home, office, plant, auto, or airport included!
An intuitive interface is used to set up bin parameters, such as height, diameter, material, and bin location for easy identification. A graphical interface displays inventory levels for each bin. High and low-level alerts can be set to automatically send a text or email when bins are nearly full or empty. The software allows for viewing silos for either a single location or multiple sites. Bins can be sorted by material or alert status.
Historical reports are useful for understanding trends or forecasting future material needs. Purchasing and financial users can access the data they need for ordering and accounting purposes. Viewing the software in real-time ensures everyone is looking at the most recent data and the same information, keeping plants on top of production and supply chain needs.
Wireless innovations make a connected plant affordable
Ten years ago, it was not uncommon for the cost of electricians, installation, and wiring to more than double the cost of an inventory management system. In the past, expensive wiring prevented plants from becoming connected plants, causing personnel to be disconnected from their inventory. Running long spans of wire outdoors was unfeasible and impractical.
Wireless devices are the missing link between sensors and the software that connect workers with data to do their jobs better. Wireless gateways, transceivers, modems, and repeaters have greatly reduced the wiring complexity, requirements, and expense of installation. Long range – or LoRa – antennas allow transmission of data up to a mile line of sight. This eliminates the need for running long spans of wire, making installation far easier even for the largest plants.
A gateway is used to flow data seamlessly from the sensors without extensive wiring for on-site and remote monitoring of silo inventory. Gateways combine the functions of a wireless access point, modem, and router in one convenient device. They utilize ethernet, Wi-Fi, or cellular connectivity to get data to a PLC, software, or web application. Wiring level sensors together in a daisy chain wiring schematic requires only a single gateway to send data seamlessly from the sensors to the software.
Wireless bridges and gateways are very reliable in getting data from point A to point B. They are robust and durable in outdoor environments. At the same time, the price of these devices has come down significantly—finally making a connected plant affordable.
Technology applied to level sensors and inventory management software applications is changing rapidly and for the better. A system can quickly provide a return on investment in process improvements that lead to less downtime and greater productivity without adding headcount to existing staff. It is an ideal time to integrate a new sensor solution into your 2021 plan.