Because of this, a large number of design principles and drive concepts have been developed to cater for each type of bulk material. NORD DRIVESYSTEMS knows the requirements for this drive technology and provides modular drive solutions for bucket elevators of all capacity levels.
The bucket elevators used in industry and logistics are based on a basic principle which has been used in mill technology for centuries. Bucket-shaped containers are fastened at regular intervals on a vertical endless conveyor belt which continually runs in a circle. The buckets are loaded at the lower drum and then move up on the opposite side until they empty their load into the material chute at the top drum. They then move downward again to start the cycle again. The buckets can be attached either to single or double-strand belts or to conveyor chains. Normally a single row of buckets is used, however for many applications double rows of buckets are also used, each staggered by half a row adjacent to each other. Various drive concepts are used, depending on the loads to be conveyed and the necessary conveyor capacity. NORD DRIVESYSTEMS designs and delivers these according to the particular application.
Each bucket elevator has its own advantages
Elevators are used throughout the world in the food industry, in silo systems, in mining, for cement and minerals or for the chemical industry as well as for conveying fertilizer. The characteristics of the materials and their requirements are as varied as the functions of the elevators. The most important difference relates to the type of material removal. At the top end this can simply be due to gravity, or can be in a horizontal or centrifugal direction. In addition a constrictor roller can assist the top deflection process.
The so-called full bucket elevator has closely spaced containers and is suitable for low speed transport applications. The material is filled directly into the buckets before elevation and at the top is tipped out of the inverted buckets into the outlet chute. Centrifugal bucket elevators are normally used for high speeds and finer grain sizes. These automatically scoop out the material at the bottom and eject it using centrifugal force at the top.
For lighter materials or bulk materials which tend to stick in the buckets, elevators with a constrictor roller have been developed, which ensure reliable ejection of the material at low speeds by inverting the buckets.
Industrial gear units for high capacities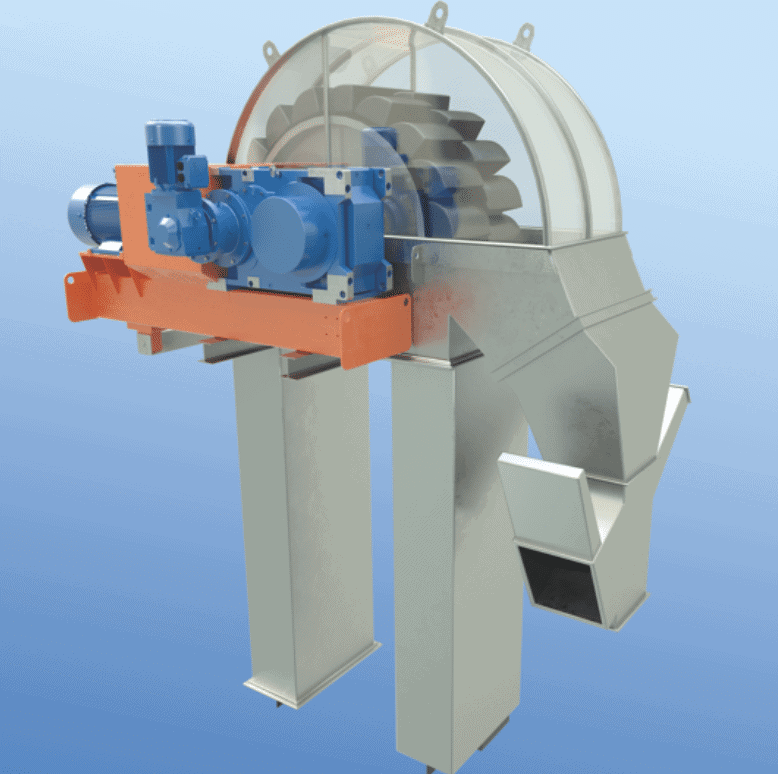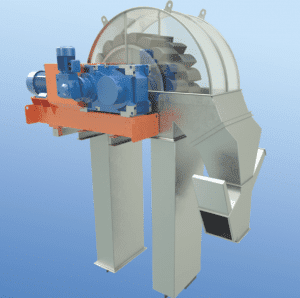 For large, high capacity bucket elevators, the drive experts from NORD DRIVESYSTEMS recommend the use of durable and low maintenance MAXXDRIVE® industrial gear units. All bearing points and sealing surfaces of the MAXXDRIVE® UNICASE housing are machined in a single operation. Thanks to their two versions, helical or bevel gear units with flange mounted or push-on housings can be placed parallel or at right angles to the axis in conveyor systems. They are available in eleven sizes with powers from 2.2 to 4,000 kW and are designed for torques from 15 to 250 kNm. Speed ratios of 5.54:1 to 30,000:1 can be implemented with the modular system. They can be combined with a foot-mounted, high efficiency IE3 motor on a motor rocker or frame and are connected to the motor via a hydraulic coupling. The practical maintenance package from NORD, a combination of protective measures and monitoring systems, ensures that the investment functions for long periods even under harsh ambient conditions such as continuous operation, the effects of weather and abrasive dusts.
Important options for bulk materials operation
For bucket elevators which have to deliver high performance or are installed in hot climates, the industrial gear units can be equipped with high power axial fans, which are directly mounted in the drive shaft and provide a thermal reserve through their high cooling power. An optional fluid coupling enables the conveyor belt to start gently and therefore prevents excessive tensile forces on the belt and high torques in the gear unit. In addition, it reduces the starting current.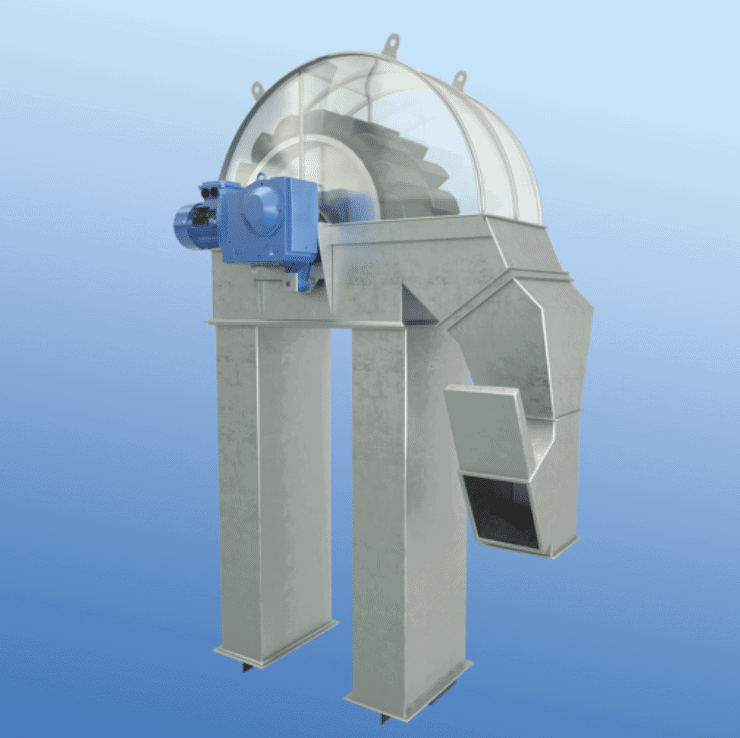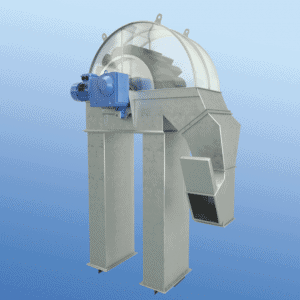 A back stop is used to prevent the bucket elevator running backwards. All back stops are externally mounted and can be replaced without having to dismantle the gear unit. The back stops are also lubricated with the gear oil. If slow operation of the system or the main drive unit is required, an addition auxiliary drive with a freewheeling coupling is used. A Taconite seal is advisable for abrasive and dusty environments. The re-greaseable labyrinth seal prevents damage to the shaft sealing rings.
Customised explosion protected drive solutions
Most bucket elevator applications produce dust. If this dust is flammable, there is a risk of explosion. In this case, motors and geared motors with customised explosion protection are used, which NORD assembles from its modular range according to individual requirements for Zones 21 and 22. The motors are explosion protected according to category 2D or 3D and EN 60079-31 in ignition protection class Ex t. Category 2D and 3D gear units are individually designed and offered to fulfil the legal regulations, taking into account application-related data such as forces on the output shaft or increased speed due to inverter operation. The extensive range of NORD DRIVESYSTEMS products can be used to ensure safe and reliable operation. In addition to the various product groups this also includes a large number of options.
Advantages with frequency inverters
For low capacity bucket elevators, NORD DRIVESYSTEMS has low maintenance bevel and parallel shaft gear units in UNICASE housings with suitable options for bucket elevator operation. All NORD geared motors, including for industrial gear units, can be controlled by frequency inverters. This results in definite benefits such as easy commissioning and parameterisation according to process requirements, variable speed operation, safety functions and torque ramp control. In addition, the precisely regulated frequency inverter operation increases efficiency and load-dependent speed control reduces wear, so that the extra costs for a frequency inverter are quickly offset by the long service life of the bucket elevator system.