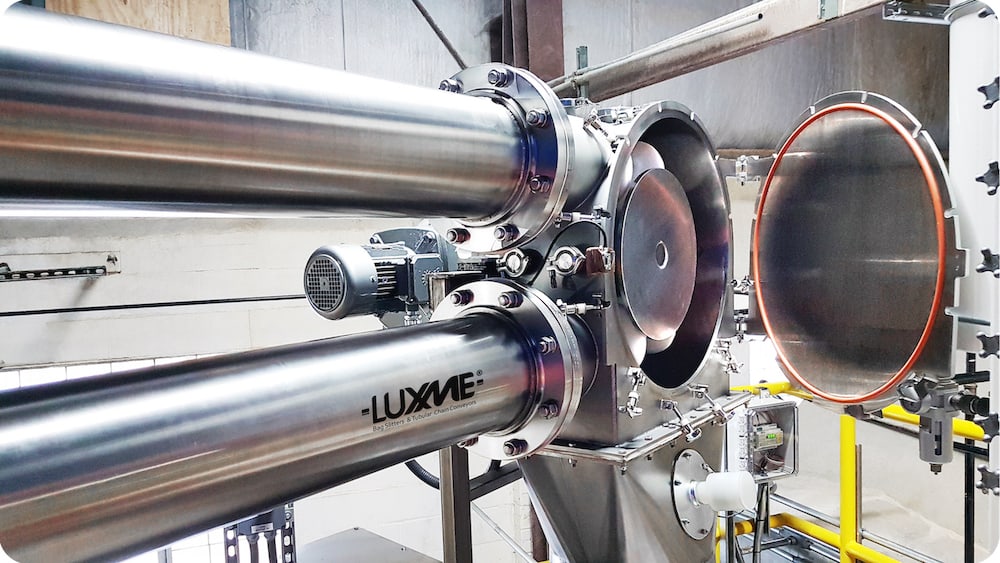 Luxme International now offers the SANILux tubular chain conveyors which adopt USDA Certified design standards for Dairy and Meat and Poultry product conveying applications.
The SANILux conveyor has received the 'Equipment Acceptance Certificates' to the standards of USDA certification in accordance with 'NSF\ANSI/3-A SSI 14159-1-2014 Hygiene Requirements for the Design of Meat and Poultry Processing Equipment' and the 'USDA Guidelines for the Design and Fabrication of Dairy Processing Equipment'.
SaniLux is offered in 4, 5, and 8-inch diameter sizes. These conveyors will convey up to 1,100 CuFt of material per hour in a gentle and dust-free manner. Work areas remain clean and dust-free because the product is delivered through a closed and sealed pipe assembly. Product integrity is retained because the product is not pinched nor crushed as it transfers/glides through the conveying pipe.
Available in 304, and 316L low carbon stainless steel construction, the equipment is optimized for trouble-free operation with the ability to wash down in a Clean-In-Place 'CIP' manner to sanitary levels. Wash-down options include manual, semi-automatic and automatic. Materials are selected to maintain compatibility with caustic, acid, and sanitizer wash-down solutions. Cleaning 'Wash to Dry' cycles does not exceed 60 minutes to keep washdown production outages short.
Wash-down cycles can be programmed to correspond to a specific production skew number. This will ensure repeatable sanitary wash downs free of bacteria or allergens are completed in the shortest possible time. It avoids having easy-to-clean materials tied to extended wash cycles used for more difficult to wash out material. Production line throughput is increased by adopting this automated approach.
The SANILux USDA technology delivers wash downs free of bacteria or allergen over the internal and product contact surfaces of the conveyor. The technology is ideal for handling human and pet food in applications that are both upstream and downstream of food processing and packaging equipment.
This article is published by
We are one of the largest manufacturers of Tubular Drag Chain Conveyors, Automatic Bag Openers, and other material handling technologies in North America. We provide conveying systems and components accepted by the USDA, FDA, & CE. Although we are based in Montreal, Canada, we have representatives in over 20 countries around the world. The ...