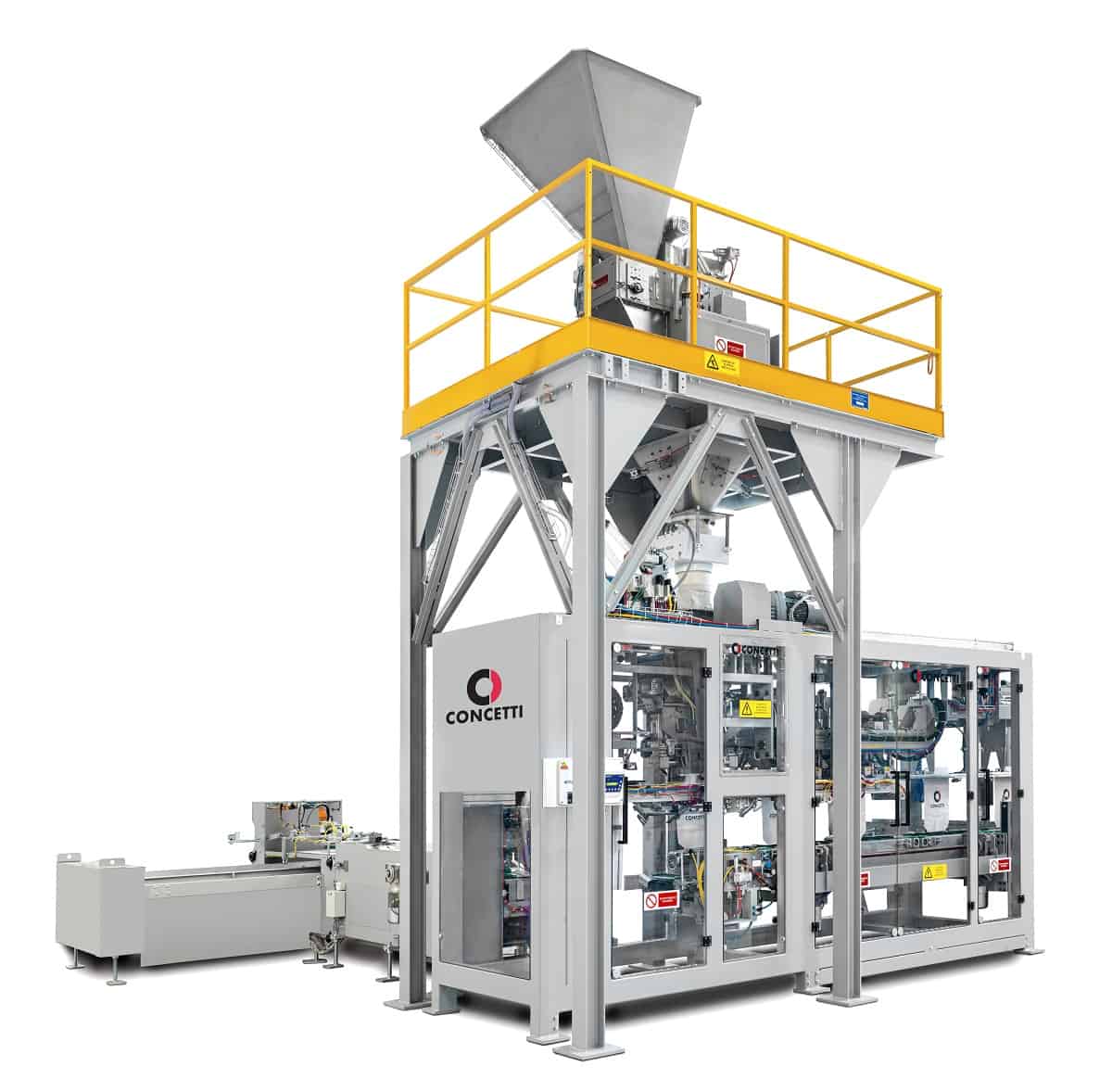 Following a stop due to the pandemic, VICTAM (29th May - 2nd June; Utrecht, Netherlands) returns, the world's largest dedicated event for the animal feed, pet food, and aquaculture industries.
Concetti, an Italian manufacturer of packaging systems for bulk products in bags, one of the most important in Europe, has chosen the slogan "We make your content, content" for 2022: a play on words to indicate that Concetti's bagging and palletising technology – reliable, efficient, and sensitive to environmental sustainability and food safety – takes excellent care of the product and develops packaging that preserves its integrity and quality.
Sustainability: recycle and reduce – At Victam 2022 it will be possible to see the highly versatile IGF 1200 bagging system in operation, designed for open-mouth bags of pet food. The format change is completely automatic and the system is defined as "Eco-ready", that is, ready to seal not only traditional bags, but also a series of innovative, ecological, and recyclable bags, recently tested by Concetti. From monomaterial, 100% recyclable bags, representing an eco-friendly alternative to traditional polylaminate packaging, to compostable bags for niche applications.
For the Form Fill Seal machines on the other hand, Concetti has tested machinability on plastic films with reduced thickness with variable percentages of recycled polymers, achieving quite impressive results.
A sustainable approach that also extends to the manufacturing plant, where the Italian producer uses low-power components and has installed a photovoltaic plant in its production facilities in Italy, achieving a distinct reduction in CO2 emissions.  
Food Safety – In terms of food safety on the other hand, Concetti has designed the new IGF PURA, the completely automatic bagging machine for 5-50 kg bags, with productivity of up to 750 bags/hour, ideal for high-quality animal food supplements (powdered milk, whey, proteins). The machine is distinguished by its hygienic design, easy accessibility for maintenance and cleaning, ergonomics, and usability.
Check – Concetti looks after the product and client, even by remote. Thanks to the new after-sales services, Check – Customer Help Care Kit, and the Concetti Check app, shortly available on all major app stores, it will be possible to enjoy a new range of services by remote, for increasingly personalised and fast assistance.
The appointment is at Victam from 29th May to 2nd June 2022, stand 01-420.
This article is published by
The challenges our clients encounter every day are our challenges too. This is why Concetti has been producing customised automatic packaging solutions since 1975, allowing manufacturers to avail of concrete experience in the packaging of the most difficult materials. Our expertise and passion "envelop" clients' ideas, giving them form and ...