ECUBLENS - To better respond to the demand for safe and innovative powder handling and process containment solutions from the Benelux market, Dec has appointed Emdaco established in Waasmunster, Belgium as representative.
Anja Taelman, director of Emdaco brings with her a wealth of experience in the pharmaceutical, chemical, petrochemical, fine chemical as well as food industry. She will work closely with our sales team lead by Ferdinand Reesink, area sales manager for the Benelux market based at Dec Switzerland. These professionals are ready to help you with your applications from simple materials handling to the most complex containment application.
"The pharmaceutical industry being a key sector in Belgium is growing year on year and also becomes an increasingly significant manufacturing base. It is thus obvious for Dec to rely on a local partner that is familiar with the industry", says Gabriela Mikhaiel, spokesperson at Dec Group.
Dec has over two decades of experience with pharmaceutical and chemical processing equipment and supplies the industry with an extensive line of powder handling, micronizing and process isolation equipment.
Dec offers innovative approaches to almost any powder handling or process containment application and can provide solutions for:
| | |
| --- | --- |
| ·         Transferring | ·         Micronizing |
| ·         Filling/Emptying | ·         Sampling |
| ·         Bulk Handling | ·         Toxic Liquid Containment |
| ·         Mixing/Blending | ·         Rigid and flexible Containment |
| ·         Dosing | ·         Aseptic Solutions |
| ·         Milling | ·         CIP/SIP |
Contacts:
Ing. Anja Taelman, Director, Emdaco, Kerkstraat 9, BE-9250 Waasmunster, Belgium
Tel +32 (0)52 34 35 33
www.emdaco.be
Dec Headquarters:
Ferdinand Reesink, Area Sales Manager, Dietrich Engineering Consultants sa, ZI Larges Pièces A, CH-1024 Ecublens, Switzerland
Tel +41 (0) 21 694 20 53
www.dec-group.ch
© Dietrich Engineering Consultants sa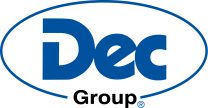 Dec Group - Powder Handling Excellence
Founded in 1987, Dec Group is a leading global provider of powder handling systems to the pharmaceutical, chemical, food and cosmetic industries. Their turnkey and custom designed solutions have been successfully integrated into complex operations in many companies worldwide, both multi-nationals and ...