Dec has been recently involved in providing a safely engineered solution that allows to charge a pressurized reactor for a leading player in specialty chemicals in the US.
The task consists of discharging and transferring two main products into a reactor, aluminum chloride (AICI3), known to be corrosive, and polymeric materials with a minimum ignition energy of < 1 mJ. AICI3 is toxic to lungs and mucous membranes and very hazardous in case of skin contact. Repeated or prolonged exposure to the substance can product serious damage. The process equipment must therefore provide high containment in order to protect the operators.
The materials are respectively discharged from an IBC and a big bag discharging station, both located on the ground floor, to be conveyed and charged into a reactor installed on the upper floor.
Process Linking with PTS
Dec's solution was based on its Powder Transfer System (PTS) technology for conveying powders under complete containment and safe dense-phase, using combined vacuum and pressure to transfer the ingredients, while allowing clean in place (CIP) options.
Two PTS systems are installed on the vessel, one of which is connected to Dec's interconnected PTS Batchmixer, located on the same floor in a process room next to the reactor area. The second PTS draws the AICI3 from the IBC discharging station directly into the reactor over a transfer distance of 10 m.
The PTS systems fully isolate the reactor on which they are installed and allow safe charging of vessels even in presence of solvents and a flammable atmosphere. It keeps the operation under highly contained conditions and enables direct charging from any container or process equipment without the need to have a separating dispensing area.
Big Bag and IBC Discharging
Big Bag discharging stations of Dec are based on a modular design ideally equipped with systems for each product's characteristics and corresponding docking systems for nonpotent to highly active powders. In this case, the big bag discharging station is equipped with a DCS docking system for highest requirements up to a containment level of <1 μg/m3. The DCS docking system allows to connect and disconnect the big bag spouts within a glove box thus providing high protection. To avoid the compacting of powder at the outlet, the station features a bottom massage system. The total transfer distance from the big bag discharge to the PTS batchmixer and further to the reactor is 33 m with a transfer rate of 4300 liters per hour. IBC discharging hopper is designed in Hastelloy including the fluidization cone to maintain best product resistance.
Click here for more information
Subscribe to our E-Newsletters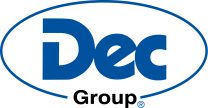 Dec Group - Powder Handling Excellence
Founded in 1987, Dec Group is a leading global provider of powder handling systems to the pharmaceutical, chemical, food and cosmetic industries. Their turnkey and custom designed solutions have been successfully integrated into complex operations in many companies worldwide, both multi-nationals and ...