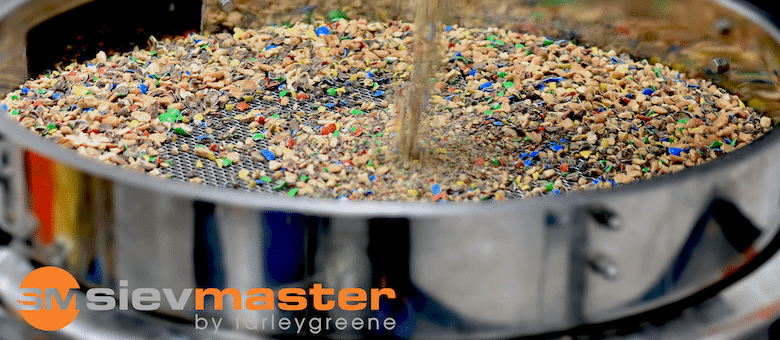 MAPLEDURWELL - A
confectionery manufacturer
required a screening solution to replace their existing method. Due to the nature of the product, cleaning was frequently required meaning the production line often experienced downtime due to operator intervention and complicated cleaning.
A mixture of peanut and chocolate pieces were fed in a gravity line directly from a grinder at a rate of 400 kg/h. The company's current application included four sieves, two on each product line, screening the product twice to achieve the desired size. Sugar and fat deposits from the product were frequently clogging the mesh and the existing design required a long cleaning process.
Farleygreene carried out a free product test, a service they offer to all customers, to guarantee the flow and behavior produced by the sieve. Demonstrating the efficiency of their sieves meant Farleygreene were able to offer the customer an appropriate solution.
The existing four smaller machines, installed by the previous sieve supplier, were replaced with just two Sievmaster Slimline 950-ST sieves. As with all Farleygreene equipment the sieves were supplied with the relevant certifications for the food industry; CE, ATEX, noise level, ANIA, FDA, and EC1935/2004.
Upgrading their previous application, reducing the number of sieves and replacing them with more powerful and larger diameter sieves increased throughput rates for the manufacturer. The crevice-free Slimline design was easier and quicker for the operator to dismantle for cleaning, reducing downtime for the production line.
Contact Farleygreene today to learn more about how their machinery can support your project.
Sign up for Screening & Separation E-Updates
Recent Screening and Separation e-newsletters
Read our last "Screening and Separation" e-newsletter campaigns here:

Since 1976, Farleygreene has been providing excellence in the manufacture and supply of sieve, sifter, screener and separator machinery to some of the largest companies across the ...