Tumbler screening machine for exact classification
During screening, the sugar is fed through the central inlet nozzle. Using the three-dimensional motion of the machine, the sugar is distributed evenly and spirally from the inside to the outside of the screen surface. Finer sugar crystals fall through the screen meshes and the coarser ones are gradually conveyed to the outer edge of the screen, where the sugar is discharged through the lateral machine outlets with the aid of a deflector plate.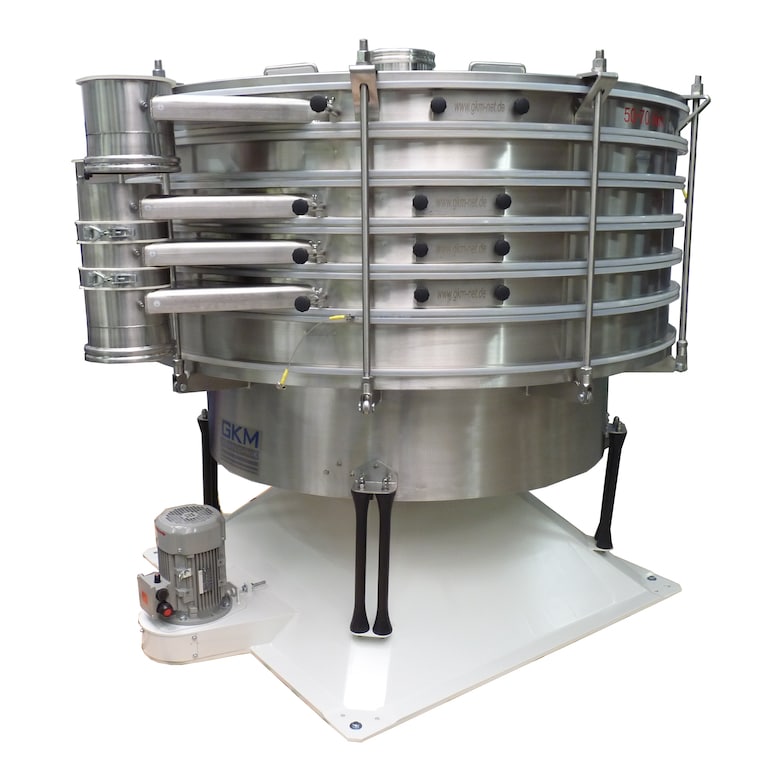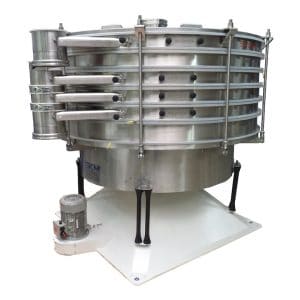 Depending on the product to be screened or its fineness, ball tapping, or ultrasonic cleaning is used to clean the screen and constantly avoid plugging, i.e. clogging of the screen insert. For 100% contamination-free screening and to avoid even the slightest ball abrasion despite highly abrasion-resistant balls, ultrasonic cleaning is becoming more and more important.
Typical separation cuts for fractionations are between 2.0 mm and 0.20mm. The throughput rates here vary from 10t/h to 50 t/h depending on the required grain size.
Vibration control screening machine for absolute product safety
In order to ensure the quality of the end product, e.g. when loading lorries or emptying silos, and to be able to comply with the highest food standards, the oversize particles or sugar nodes and impurities must be separated from the sugar. The GKM vibration control screening machine type KTS-VS2 is perfectly suited for this control screening.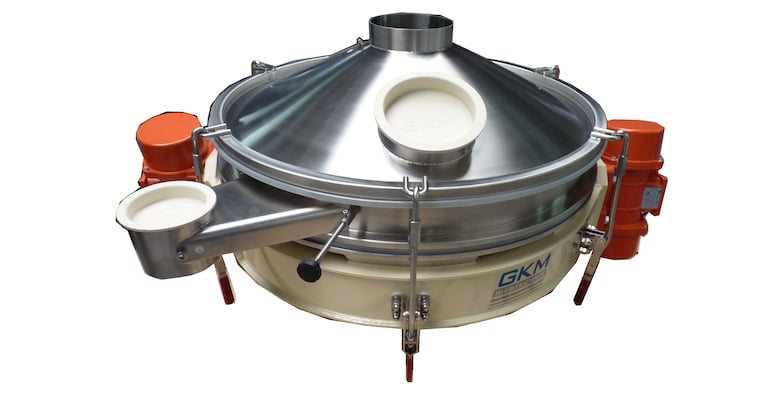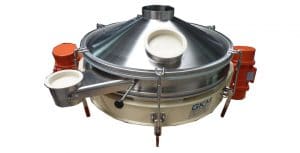 Here, the sugar is dosed-in continuously via the central inlet of the GKM sieving machine. Inside the machine, a cone of bulk material is formed, which is quickly and effectively processed by the two vibration motors located opposite each other. The oversize particles and knots are separated by the screen mesh and are spirally conveyed to the edge by the two-dimensional machine movement and then discharged via the lateral coarse material outlet. The fine sugar, on the other hand, falls through the screen mesh and is discharged directly from the central fine outlet with minimum residence time. Up to now, a separation cut of 4-5mm was typical for control screening and an hourly output of up to 150t. Due to the increased product safety, the cut-off has now been reduced to 2-3mm, at which an hourly output of about 60t can be achieved.
Due to its central inlet and outlet and its very compact design in relation to the output, the machine can be integrated very well into almost any plant. Typical locations are above/below a silo, in front of a packaging plant or a truck loading.