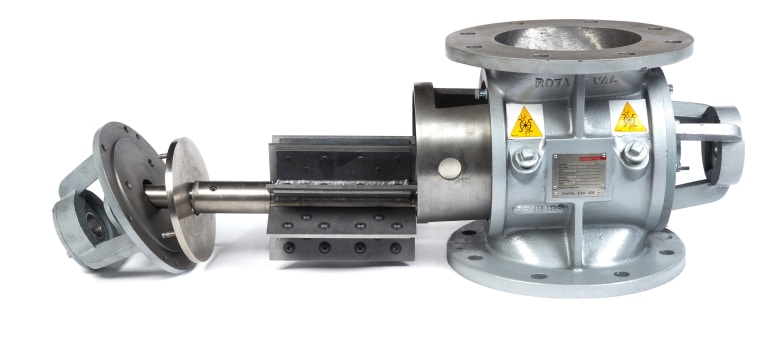 Rotary valves operate under various conditions. They feed, convey or isolate powders of the most different characteristics.
In the construction chemical, the environmental or mineral industry handles specific abrasive products like glass cullet, carbon, cement, dolomite, quartz, and more. They are exposed to important effects of abrasion. The wear of the rotor but also of the body happens even if the rotary valves are made of hardened materials and alloys. Such treatment will prolongate the working life but will not avoid the abrasion completely.
The conclusion is that sooner or later, the rotary valve has to be undertaken a revision and worn out parts have to be replaced. Otherwise the leakage will increase, and the operation and duty of the valve cannot be fulfilled anymore. The OEE (overall equipment effectiveness) will decrease. Gericke has developed its EHDM rotary valve for these applications. The goal is to increase the lifetime, shorten the downtime, and make the maintenance very easy and done in place! This is realized by a design that foresees all parts under the stress of abrasion as inserts. These parts can easily be exchanged.
The EHDM valves are available in all sizes of the Gericke rotary valve range.
Gericke RotaVal manufactures various types of rotary and diverter valves. For hygienic applications, the extendable HDMF models have proven themselves and can even be equipped with the contact detection device RotaSafe™.
Click here for related articles and news
Click to find manufacturers of valves in our Equipment Guide
Sign up for Valves, Gates & Airlocks E-Updates
Recent Valves, Gates & Airlocks e-newsletters
Read our last "Valves, Gates & Airlocks" e-newsletter campaigns here:
Rota Val - Rotary Valves, Flap Diverter Valves, Plug Diverter Valves for the Solids Handling Industry. Rota Val's range of Rotary, Diverter and special application valves is one of the widest in the world. These high quality, economically-priced valves have been carefully designed to meet the exacting demands of modern bulk handling systems and ...