Efficient and Versatile Batch Mixing of Free-Flowing Powders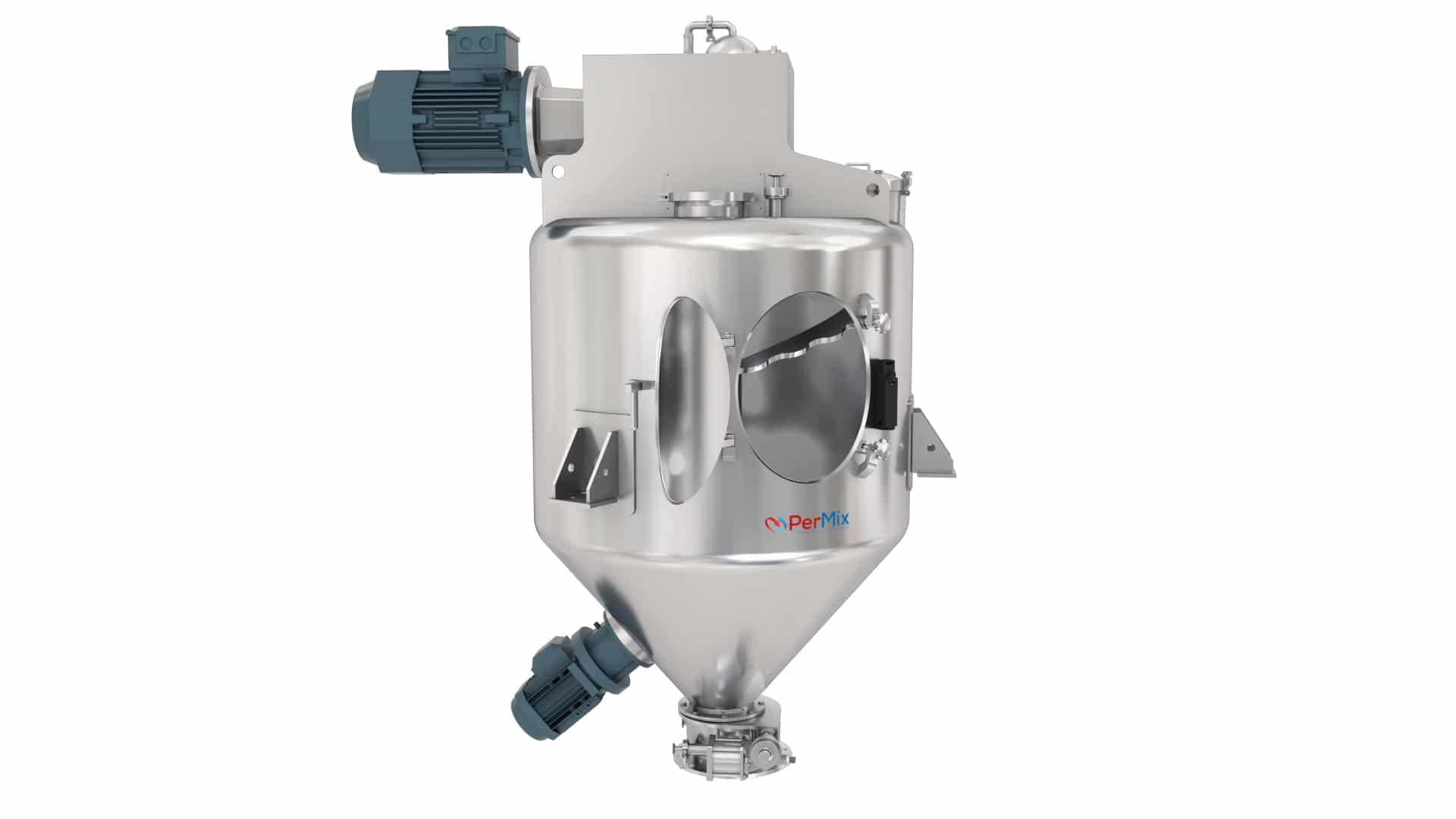 The PerMix PAM series Vertical Segmented Ribbon Mixer has a similar appearance to the popular PerMix PTP Paddle mixers but stands vertically with conical bottom, a fact the makes it unique & advantageous.
PerMix's PAM Vertical Segmented Ribbon Mixer is a simple, nevertheless, efficient, and versatile blending machine for batch mixing of free-flowing powders. It is able to give perfect results for mixing due to the innovative design of an outer spiral type-mixing element with an inner reverse direction mixing arm, rotating together inside a cylindrical with conical bottom shape trough allowing a perfect discharge of the mixed material, with little to no residue.
How it works
The construction of PerMix's PAM Vertical Segmented Ribbon Mixer is very compact, it consists of a cylindrical vessel with the drive unit on the top, avoiding any seals in contact with the mixed product and flap type with zero dead zone discharge valve at the bottom, and a jagged ribbon mounted on the central shaft.
In the cylindrical-cone vessel, there is a central segmented ribbon with very small clearance between its edge and the wall. The ribbon moves the materials upward along the vessel wall to the top, where the materials then drop by gravity into the center creating a three-dimensional movement of the mixed product. During this continuous operation, material particles and heat are exchanged quickly which leads to a homogeneous product. Besides, the material particles are thoroughly mixed with minimal mechanical and thermal stress, which makes this type of mixer a good solution for fragile and heat-sensitive products.
Features & Advantages
High level of accuracy with minor component ratio to be 1:1,000,000
Gentle mixing for sensitive materials without generation of heat
Top drive of the mixing device, using only a single top bearing – no seals in contact with the product – no cross-contamination.
Very low minimal quantity is required, bringing diversity to production
Full discharge with minimal residue
Easy to clean
High heat transfer rate, ideal for heating or cooling process of the powders
Chopper can be installed for intensive mixing and lump breaking
The mixer can easily be converted to be a mixer / dryer, with the addition of vacuum heating jacket and other required accessories.
This article is published by
Since 1954 PerMix has been leading the industry with our innovation, performance, quality, & pricing, making us the most disruptive brand in the industry, setting the standards others follow.  Our Mixing solutions span all industries & types. PerMix has the largest selection of mixers available, more than any other manufacturer, all backed ...