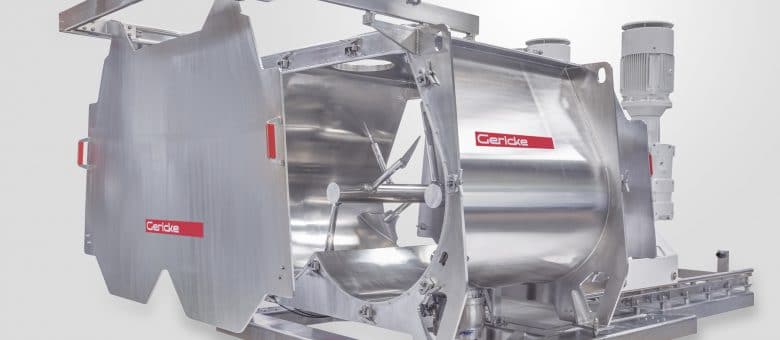 Hygienic Multiflux® GMS mixers from process equipment manufacturer Gericke, USA, Somerset, NJ, feature a proprietary, horizontal double rotor design that directs the product into two intermingling streams to form a fluidized zone.
Creating a fast and intensive yet gentle exchange of materials, the Multiflux batch mixers quickly combine multiple powders and liquids in a homogeneous mixture with minimal energy input while safeguarding particle integrity, even when mixing materials in small quantities below 0.01 percent. The mixers commonly meet the targeted uniform distribution within 30 seconds to produce more batches in less time.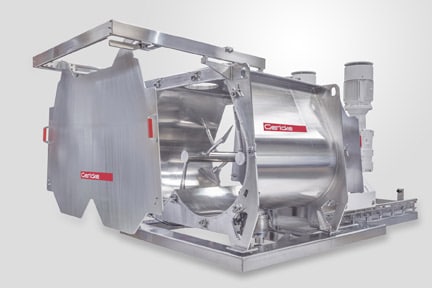 Ideal for mixing fragile, high-value materials and ingredients in the food, bakery, pharmaceutical, nutrition, and other sanitary processing environments, the batch mixer machines include stainless steel construction, continuously welded seams and a choice of surface finishes to prevent contamination and meet FDA and GMP requirements. For easy cleaning and inspection, the Gericke mixers include full-size doors and a choice of cantilevered or optional extractable drives for complete access to the mixing rotors, mixing chamber and the entire interior.
The Multiflux® GMS mixers encompass five models ranging in capacity from 42 gallons to 1320 gallons. Jacketed heating and cooling, high-speed cutters, load cells for weighing, and other accessories are offered as options.
For more information, contact Gericke USA, Inc., 14 Worlds Fair Dr. Suite C, Somerset, NJ 08873-1364; 855 888-0088; sales.us@gerickegroup.com; or see www.GerickeGroup.com.
Click here for more information Gericke
Click here for related articles online
Click here to find mixer manufacturers in our Equipment Guide
Sign up for Mixers & Blenders E-Updates
Recent Mixers and Blenders e-newsletters
Read our last "Mixers and Blenders" e-newsletter campaigns here:
This article is published by
Gericke
Gericke Feeding, Mixing, Conveying, Size Control Technology. High class workmanship for a world of industry.Gericke supplies conveying, sifting, high-precision feeding and mixing solutions that handle a broad range of ingredients such as pellets, powders, floodable powders and fibreglass for food, chemical, industrial, and pharmaceutical industries.
Gericke process ...