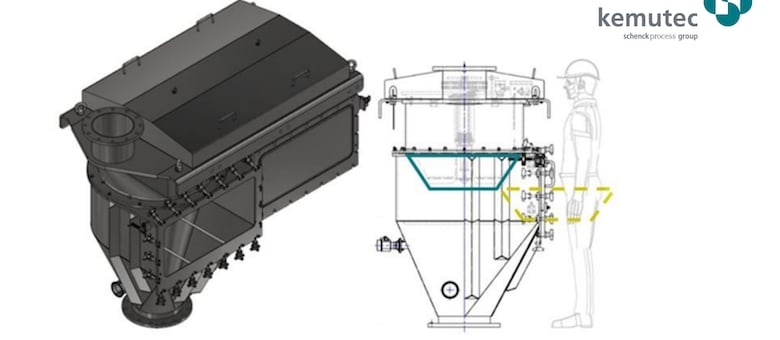 For reliable & hygienic size reduction, Kemutec's KEK Cone Mill, includes the widest range available, from the lab through to bulk production.
New to the range, features what may well be the largest Cone Mill available, the CM800 which is 10 bar explosion-proof. The CM800 KEK Cone Mill was engineered by Kemutec specifically to support a client for the densification – bulk density increase of milk powder.
KEK Cone Mills are a popular choice across the food industry due to their ability to mill and gently grind a wide variety of materials, at either low or high speed. They are hygienically designed for simple, quick cleaning and particularly suitable for dairy applications and if wanted, CIP-able. The Cone Mill also ensured the client's process minimized fines and effectively milled sticky fats powders. Also, KEK Cone Mills can be easily integrated into a vacuum conveying system, which brings a total cost-efficient solution.
Popular Food applications for the Cone Mill include:
– Crushing & densifying of potato flakes or oats flakes
– Grinding granulated sugar to castor sugar 
– Granulating and densification of dairy powders after spray towers or belt dryers
– Granulating before tableting or capsule, like dextrose
– Reworking of chocolate/creme biscuits and confectionery- Producing all kind of fractions of breadcrumbs
– Spice mixes/flavors de-lumping/sieving
– Dispersing after mixing with fine additives or liquid injection for quality assurance
Other typical applications outside of food include:
– Pharma wet & dry granulation and tablet rework
– Detergent densification, soap flakes, and dishwasher tablet rework
This article is published by