Save up to 50% in operational costs and extend bag life with the MCF PowerSaver® Dust Collector.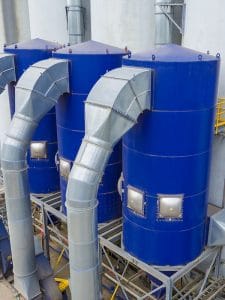 An integrated blower produces medium pressure air during the cleaning cycle which eliminates the need for compressed air in the filter. This frees up existing compressed air capacity for use in other processes, which reduces energy requirements and lowers overall costs.
The MCF is built to handle heavy dust loads including abrasive materials, and comes in configurations to fit most industrial air quality applications. With the patented Never Miss™ Controlled-Cleaning System, the MCF PowerSaver aligns the cleaning arm and bag segments, which positions the air nozzles to fire directly into the bags. No air is wasted, resulting in reduced energy consumption and extended filter bag life.
The MCF PowerSaver operates with medium pressure cleaning air (7-9 psig) and provides unrivaled cleaning capacities up to 250,000 CFM. Additionally, the MCF PowerSaver handles extreme environments where temperatures can reach over 465˚ F (240˚ C).
Contact Schenck Process at 1-816-891-9300 or sales-fcp@schenckprocess.com for more information.
Click here for more information
Sign up for Dust Collection & Air Pollution Control E-Updates
Recent Dust Collection and Air Pollution Control e-newsletters
Read our last "Dust Collection and Air Pollution Control" e-newsletter campaigns here:
Schenck Process is the global technology and market leader in applied measuring technology. We make processes work in all areas of industry throughout the world. For us that means improving our customer processes in terms of reliability, efficiency, and accuracy. Combining outstanding equipment and extensive process knowledge, we develop and manufacture ...