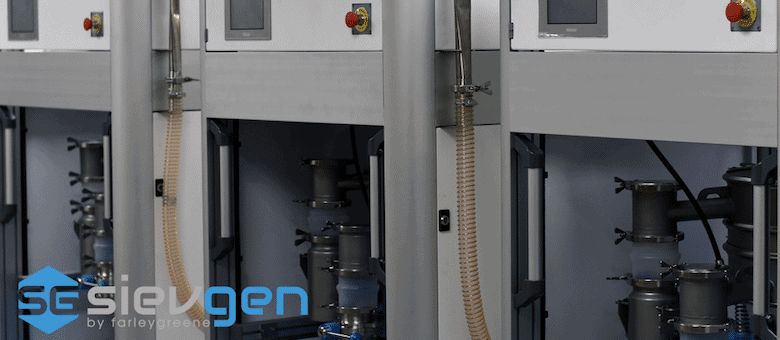 MAPLEDURWELL - Matsuura Machinery, market leader in CNC Machining technology, uses Farleygreene's automated powder recycling system to screen powders for use in their hybrid laser sintering CNC milling machines.
Matsuura are recognised leaders in the industry of CNC milling machine tools and have developed the world's first 3D printing, Metal Laser Sintering Milling Hybrid CNC machine to create components for the mould and die industry.
Their LUMEX-25 hybrid metal 3D printer machine uses laser sintering, along with an integrated milling spindle, to build a metal component in layers. The milling spindle then uses a subtractive machining process to mill internal features to give the appropriate surface finish.
The additive process produces excess powder which has the potential to be reclaimed and used again to manufacture another component. The milling part of the process also produces metal swarf that needs to be removed before the powder can be used again. Matsuura were sieving the powder by hand, which was a long and timely process, not to mention potentially dangerous for the operator.
Matsuura approached Farleygreene with a requirement to screen their metal powders using an automated system and enclosed environment. The Sievgen unit provided by Farleygreene was designed to fulfil current and future production requirements, allowing safe powder handling in a fully sealed environment.
The Sievgen unit was delivered to Masuura's showroom in Germany where it was used alongside their LUMEX-25 machines, processing 100-200kg of metal powder per week. Application Manager, Holger Hermann has been pleased with the Sievgen unit, recently commenting, "the sieve mesh never gets clogged and is nearly maintenance free and easy to use. Compared to sieving our powders manually we get a huge benefit from using the Sievgen. Instead of sieving for hours it takes just minutes."
Farleygreene have been supplying additive manufacturers with their Sievgen automated sieving systems since 2015. For the last 4 years, their systems have undergone a significant amount of research and development to keep up with the demands of an evolving market. The team behind Sievgen are currently working on a major update due to release later this year.
Click here for more information about Farleygreen Ltd
Sign up for Screening & Separation E-Updates
Recent Screening and Separation e-newsletters
Read our last "Screening and Separation" e-newsletter campaigns here:

Since 1976, Farleygreene has been providing excellence in the manufacture and supply of sieve, sifter, screener and separator machinery to some of the largest companies across the ...