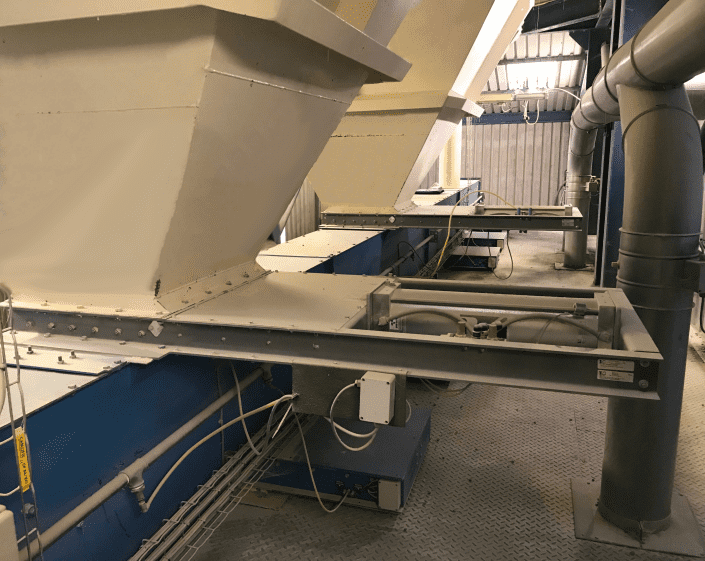 A flour miller in the United Kingdom had experienced problems with its existing valves located on the outlet of their bulk storage silos. The valves, used to isolate the silos from an ongoing conveyor, leaked material and failed to fully open and close.
They required constant maintenance and replacement parts with subsequently lost production. The new valves had to be specifically designed to match the opening, bolt hole pattern, and overall height of the existing valves to minimize plant downtime during installation. Vortex was able to achieve all of the required parameters.
The Vortex Roller Gate was identified as the ideal solution for this application. The Roller Gate is designed for handling powders, pellets and granules in gravity flow and low-pressure applications.
Features:
The Vortex Roller Gate has a number of key features and benefits including:
Positive seal of dust and fine powders.
No exposed moving parts.
Wear-compensating hard polymer seals.
Seals that are replaceable in process, minimizing plant downtime.
Food safe construction.
Fully ATEX rated.
For ease of maintenance, the Roller Gate features removable panels on each side of the valve frame so that bonnet seals can be quickly and easily replaced while the valve remains in process. The addition of an optional special service inlet to further assist in diverting material flow away from the guide rollers and seals, can further extend the service life of the valve.
This article is published by
Vortex Global Limited is considered the world leader in valves for handling dry bulk solids. Vortex engineers and manufactures slide ...