Recently Dinnissen designed, built and delivered several wingdoor mixers for the food, infant food, petfood and premix industry. In those specific industries the hygienic demands are high, which calls for minimal residues and efficient cleaning. The Dinnissen Pegasus® mixers are equipped with large bomb doors to completely empty the mixer. A special sealing system guarantees that no leakage can occur at the bomb doors.
The wingdoor option enables easy access. Apart from efficient and effective cleaning due to the improved accessibility, large wing doors offer a huge advantage for inspection purposes.
Apart from the wingdoors, the Pegasus® mixer is now also available with a fronthatch for even better accessibility. The complete front end of the mixer is designed as a large hinged door that can open easily for optimal access into the mixer body. The fronthatch is available for Pegasus® mixers up to 5000 litre because of the unique DINNISSEN cantilever bearing design. It can be an addition to or even an alternative for the well-known extractable DINNISSEN Pegasus® mixer.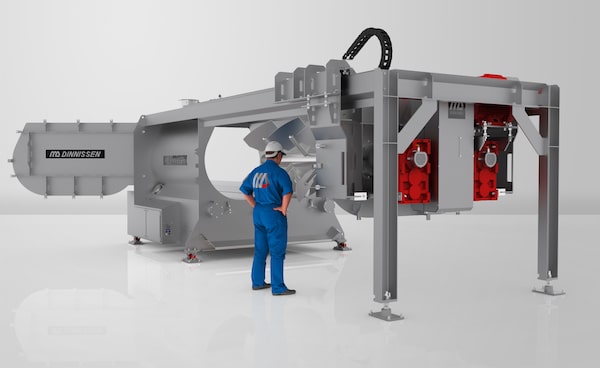 The ergonomics and safety of your operators are guaranteed by quick-action locks combined with safety interlocks. In the meantime, those Pegasus® mixers have proven their effectiveness in several industries like food, infant food, milk replacer, petfood and premix production. The wingdoors and fronthatch have received a warm welcome due to their substantial benefits.
With 70 years of experience Dinnissen has become an expert in designing, producing and installing hygienic processes in those areas where contamination is unacceptable.
Click here for more information about Dinnissen Process Technology
Click here for related articles and news
Sign up for Mixers & Blenders E-Updates
Recent Mixers and Blenders e-newsletters
Read our last "Mixers and Blenders" e-newsletter campaigns here:
Dinnissen Process Technology is the specialist in handling and processing bulk materials.Complete processes for the milling, sieving, weighing, mixing, dosing, drying, expanding, extruding, vacuum coating, packaging and transporting of powders, grains and granulates.Developed, tested and manufactured in-house. Dinnissen operates internationally ...