From research and development teams seeking the ability to micronize very small quantities of material (0.2 grams) to large scale production facilities up to 300 kg/h, the Dec Group MC DecJet® series offers a complete line of scalable spiral jet mills reducing the particle size to microscale level (< 1-5 micron) in a variety of configurations and formats that meet the complex requirements of the pharmaceutical industry as well as the chemical and cosmetic industries.
Dec's new 4th generation MC DecJet® systems have been developed with Computational Fluid Dynamics (CFD) analysis. The subsequently improved geometry of the grinding chambers and ring integrated nozzles have led to a very narrow PSD (Particle Size Distribution) around 1 micron (Gaussian curve) revolutionizing existing micronizing procedures.
The entire MC DecJet® spiral jet mill range can as well be supplied to meet the different containment levels according to customer needs with the added advantage of scalability from lab to production while maintaining excellent micronizing results. All containment systems are performance tested to SMEPAC guidelines and operate to nanogram levels whilst maintaining productivity and offering excellent ergonomic conditions.
Although made of the highest grade materials, the basic simplicity of the unit has many benefits as well. These include rapid cleaning and easy validation, ease and quickness in assembling and disassembling, limited number of components, total absence of screws (replaced by tri-clover connections), no crevices, and smooth and regular surfaces.
Click here for more information on the MC DecJet® series
Click here for related articles
Sign up for Size & Volume Reduction E-Updates
Recent Size and Volume Reduction e-newsletters
Read our last "Size and Volume Reduction" e-newsletter campaigns here: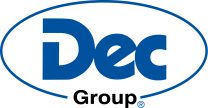 Dec Group - Powder Handling Excellence
Founded in 1987, Dec Group is a leading global provider of powder handling systems to the pharmaceutical, chemical, food and cosmetic industries. Their turnkey and custom designed solutions have been successfully integrated into complex operations in many companies worldwide, both multi-nationals and ...