ALSIP, IL - Scientific Dust Collectors has just announced a new retrofit system designed to improve the cleaning systems in all existing baghouse dust collectors. This cleaning system improvement can be applied to all reverse pulse jet baghouses for all baghouses brands.
If the blowpipes can be removed, then the Scientific Dust Collector supersonic nozzles can replace the old cleaning systems.
The benefits of this retrofit include the ability to eliminate the flow restricting venturi at the top of the filter bag, lower system operating pressure by reducing pressure drop as much as 2" WG, and superior bag cleaning by inducing more than three times the amount of cleaning air into the filter media than other generic baghouse designs. This superior cleaning of the entire filter provides a longer filter life.
Click here for more information about Scientific Dust Collectors
Click here for related articles about Dust Collectors
Search for Dust Collector manufacturers in our equipment guide
Sign up for Dust Collection & Air Pollution Control E-Updates
Recent Dust Collection and Air Pollution Control e-newsletters
Read our last "Dust Collection and Air Pollution Control" e-newsletter campaigns here: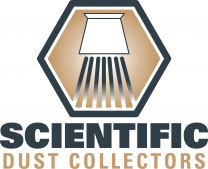 Designs and Manufactures a complete line of cartridge and baghouse dust collectors using a state of the art nozzle based cleaning system.We are able to provide you with standard catalog selections as well as highly customized units to exactly match your unique needs, because we perform all fabrication in-house. We also guarantee filter life, performance, ...