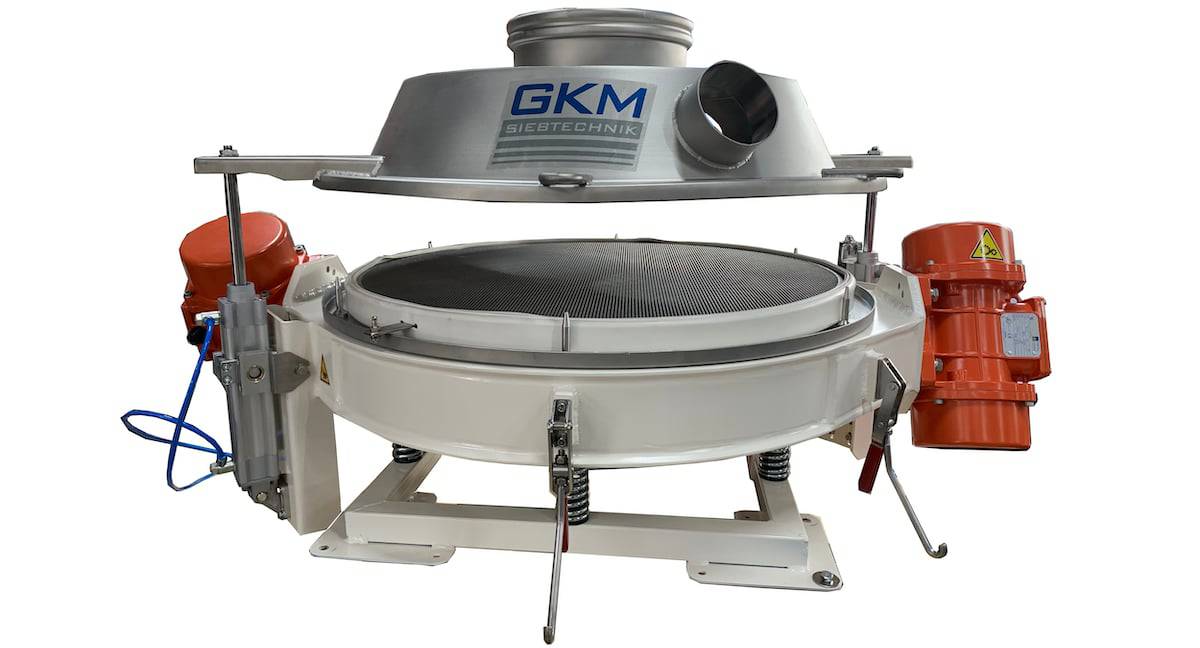 Faster, easier, tool-free screen exchange, optical screen control and thorough screen cleaning of control screening machines with just one push of a button.
Screen exchange, checking and cleaning has never been faster, easier and safer than with the latest GKM innovation. The KTS-VS2 control screening machine is equipped with a pneumatic deck lifting system consisting of two pneumatic cylinders including a hand lever for lifting and lowering. In addition, our high-performance KTS-VS2 has Quick-Clamps for quick opening and closing. This means that all work can be carried out by just one operator in less than a minute. Since the cylinders are firmly attached to the machine, no additional space is required and downtimes, especially when changing screens and batches, are reduced to a minimum. Productivity & performance is increased as much as possible. The central infeed and fine material outlet also ensure a fast product flow with a minimum of dwell time and thus enables high throughput rates. The system can be used for machine sizes from 600 to 800 in a wide range of industries and application areas.
We are strongest together – We'll keep your production running
If your current suppliers are having problems in supporting you with spare parts, we'd be pleased to help you. We have a large warehouse and can supply spare parts for all circular screening machines regardless of the manufacturer. If you have technical problems, require screening optimization or need training on your screening machine, we'd be glad to assist you with one of our screening specialists by video chat or by telephone. If you are interested in a screening machine and need further technical details and information about your application, we would be happy to take the time for a webinar, online training etc. to introduce you to all the advantages of our machines and to clarify your open questions. Please feel free to contact us E-mail: f.tallner@gkm-net.de, Phone: +49 (173) 9006473
This article is published by
Take advantage of 30 years of experience in the field of screening and process technology in all industries. As leading manufacturers of Tumbler screening machines, vibrating round screeners, and laboratory air-jet screeners with excellent worldwide references in all branches of industry, we also have the perfect solution for your screening application.