The Series 5200 Instrument is designed to operate as an integral part of a weighing system to provide continuous information on material flow for a wide range of applications.
The Series 5200 instrumentation is comprised of four components: a Central Processing Unit (CPU) which includes the Application software on a Flash memory card, the Scale Unit (SU-5200), the Operator Interface (OI-5200), and the Scale Junction Box (SJB-5200). Accuracy in weight and speed signals, flexibility in both I/O assignment (user assignable) and system layout (CPU, OI-5200 and SU-5200 can be separated or mounted to the conveyor frame), and an intuitive display/keypad that makes the system easy to use are among the features that set the Series 5200 ahead of the competition.
The Link To Performance
Developed to provide a link between a plant and the Series 5200 NTEP approved secure integrator, the AUDiTOR™ is a PC based data collection and software package running on an industrial PC (IPC). It has been designed to meet the requirements of NTEP, AAR and HB-44 for rate trending and printing of deliveries with date and time stamping.
The AUDiTOR™ package provides users the ability to monitor scale performance at a glance and present statutory authority information necessary to certify a belt scale and installation. Information is presented on multiple viewing screens. Rate and delivery data is stored on CompactFlash® and can be recalled for viewing screens.
The IPC comes with a licensed operating system pre-installed. The operating system resides on the (provided) CompactFlash®. It is Microsoft Windows®- Windows® embedded Standard. It performs the standard computer functions found on all PC systems. It provides an interface to external devices via USB, serial and Ethernet drivers.
Click here for more information on the Series 5200 Controller
Click here for related articles and news
Sign up for Instrumentation & Control E-Updates
Recent Instrumentation & Process Control e-newsletters
Read our last "Instrumentation & Process Control" e-newsletter campaigns here: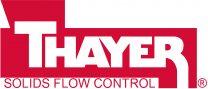 Thayer Scale is a leading global manufacturer of equipment for the continuous weighing industry. Founded in 1949, we provide engineered solutions for the food, energy and building products, and chemical and industrial industries. Our unyielding focus on product line specialization enables us to design and develop market-leading conveyor belt scales ...