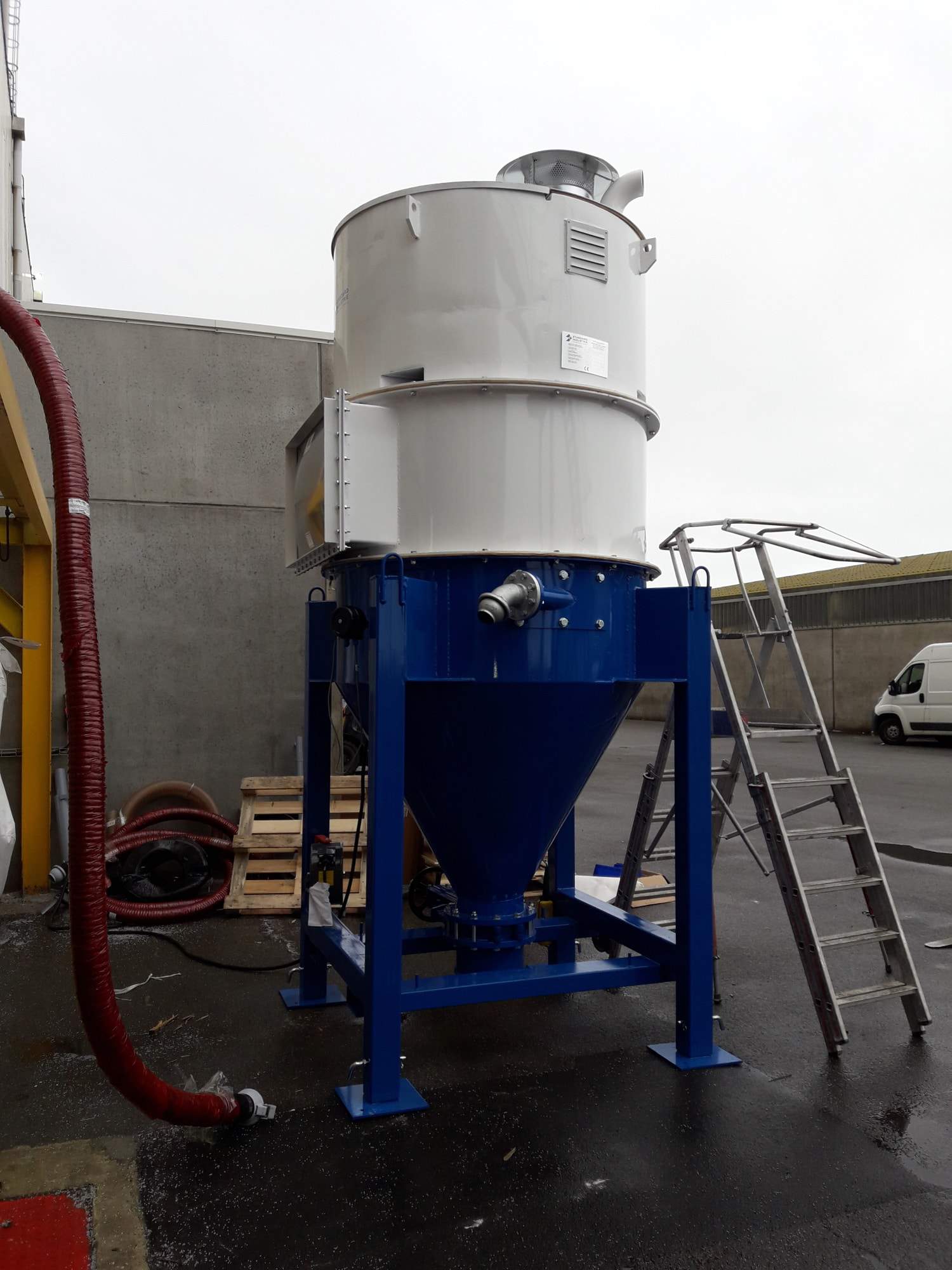 Standard industrie, French designer and manufacturer of industrial vacuum cleaners, has recently installed a centralized vacuum cleaner referenced SAM at POLYCHIM INDUSTRIE – France- with the aim to optimize daily cleaning operations.
Until now, cleaning operations in the "Finishing" building was carried out manually, raising several problems: fatigue, limited performance, product recycling issue, safety, compliance with standards and regulations and maintenance of machines linked to the process… POLYCHIM planned to invest in a powerful centralized vacuum cleaner in order to suck up the overflowing materials located under the installations and reduce the dust emissions.
Standard Industrie studied the environment, the characteristics and quantity of the material to be vacuumed as well as the frequency of use of the machine. The customer's material is polypropylene powder + dust + fines scattered around in the facility, main issues are thin layers (up to 1 cm) and small piles of material.
A demonstration on site and then calculations (performance/machine/network) were carried out in order to validate the necessary vacuuming power and confirm the ideal performance/budget ratio.
The SAM is installed outside the building and connected to a vacuum network. The emptying is done in a big-bag, idea is to recover the collected material.
Thanks to this installation and more precisely a SAM1100SX: vacuum machine equipped with an explosion vent and antistatic filter, fitted with ATEX Zone 20 rotary valve, the working conditions and safety of the operators have been significantly improved. SAM allows to maintain packing installations in the whole building clean.
SAM specifications :
Application : Cleaning & pumping
Motor : Electrical
Collection : Container or silo
Operators : Up to 4
Performance (product density 1) : Up to 13 tons/hour
Air output : Up to 2500 m3/hour
Vacuum pressure : Up to 3800 mm WC
Collection capacity : Up to 1,5 m3
Particle size : Up to 40 mm


SAVINGS : Moveable by lift truck
Quick and easy ready-to-use.
COMPACT : Compact equipment thanks to an integrated collection capacity
FLEXIBLE : Quick-any-on-site-intervention + many discharge possibilities container, big bag, barrels, skips, continuous handling


SAFE : Solid and simple technology enables it to operate in heavy industrial environments with the highest level of safety and productivity
This article is published by
Standard Industrie International designs and manufactures equipment that facilitates the storage, the free flowing, conveying and cleaning of powdery and bulk products. Constant innovation is the motto of the company offering equipment to the latest technology and ever more efficient. Founded in 1978, the company is now present around the world with ...