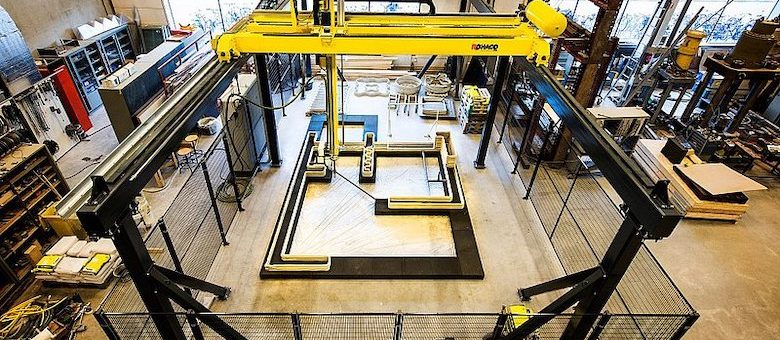 DRUNEN - The Technical University of Eindhoven (TU/e) has been in the news a lot in recent years with the 3D printing of concrete. Together with the construction industry, the university wants to develop knowhow to print recyclable concrete products.
For example in 2017 it rolled out a new cycle bridge from the revolutionary 3D concrete printer and last summer the longest concrete 3D printed pedestrian bridge (28 metres) in the world was installed in Nijmegen. In the background Zeeshan Yunus Ahmed, a researcher at the TU/e, is working on the next step: the 3D printing of reinforced concrete. To develop a prototype Ahmed's research team opted for a screw conveyor and the knowhow of Van Beek.
Reinforcing concrete
Concrete is a brittle material that can take a lot of compressive force, but not much tensile force. To prevent cracking, it is therefore important to reinforce concrete with concrete reinforcing bars. This prevents the foundation cracking in case of an earthquake or subsidence. Now the cement used in 3D printers is often unreinforced and as a result is not suitable for building big or high buildings. "Reinforcement is necessary to hold concrete together, but this is not possible with a concrete printer. This is why we mix special fibres through the cement that give the concrete the deformability needed for a strong building. At the same time the special fibres hold the concrete together, to prevent it from cracking", explains Ahmed.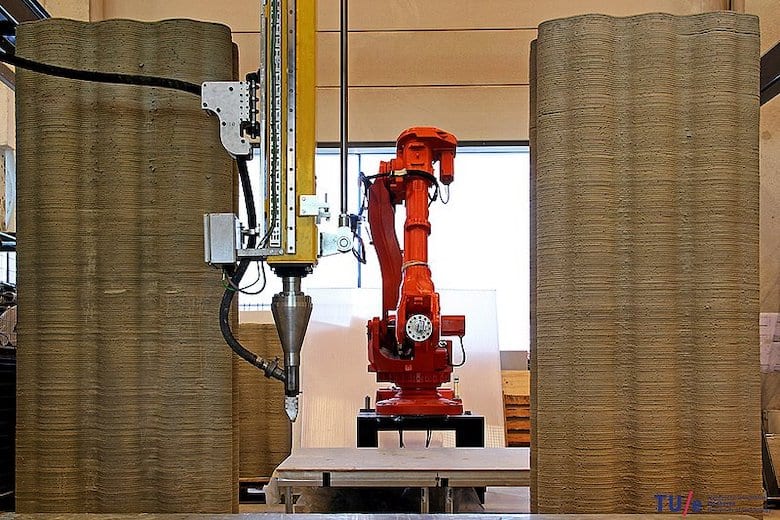 Expertise
A new type of concrete printer is needed for fibre-reinforced concrete. Ahmed started looking for a way to dose the concrete, one of the most important factors of a 3D printer. Certainly in the case of reinforced concrete, where the optimum possible dosing of the cement guarantees the strength of reinforced concrete. The researcher came across Van Beek screw conveyors: "Van Beek has great expertise in the field of screw conveyors. They were immediately enthusiastic and particularly helpful, interested and motivated in contributing to innovation." Joram van der Heijden, Sales Engineer at Van Beek, is also grateful that the TU/e came knocking on Van Beek's door: "It is very important for us to make our knowledge available for industrial innovation. We are therefore pleased to participate in projects of educational institutions."
Next step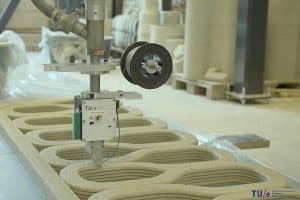 In addition to the 3D printed cycle bridge and pedestrian bridge delivered the construction sector is at present also working on 3D printed houses. However, the large-scale use of 3D concrete printers for the construction sector still seems some time off. "The research takes a lot of time, in fact we have only just begun. Building with concrete has been happening for centuries, we have even been using reinforced concrete for over 150 years. But we have only been exploring this new form of building with 3D concrete printers for the last five years or so."
Now the prototype of the new 3D concrete printer of the TU/e is as good as ready, it is time for the next step: cooperation with the construction industry. Van Beek's expertise can play a part in this too.
Click here for more information about Van beek
Click here for related articles and news
Sign up for Mechanical Conveying E-Updates
Recent Mechanical Conveying e-newsletters
Read our last "Mechanical Conveying" e-newsletter campaigns here:

A Van Beek is always customised
Van Beek
is
the
specialist in the area of screw conveyors. Our core activities consist of selling, designing and manufacturing screw conveyors, Dino bulk truck loaders and Celsius screw heat exchangers. ...