The Vertical Cartridge Filter (VCF) removes industrial dust while incorporating a unique design for handling medium to high air volumes.
A number of time and cost saving features are an integral part of the dust collector's overall function. An easy-to-use cartridge clamp system simplifies replacement of the filter media minimizing maintenance time and lowering overall cost of operation. The filter is also equipped with a smart timer, which includes an on-board sensor that reads the pressure drop across the filtering elements for on demand cleaning.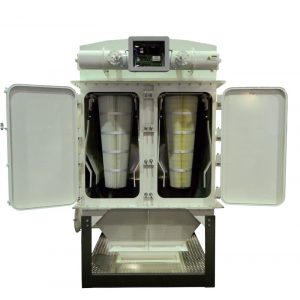 This results in reduced compressed air consumption and greater cartridge life. A standard radial inlet allows for excellent material separation during moderate air volume applications while the optional high entry inlet with a pre-separation chamber is designed for optimal performance in high volume systems. The chamber separates the largest powder particles safeguarding the media from excess loads of pollutants and guaranteeing longer media life.
A robust design adds to the overall stability of the filter. Each unit is constructed with reinforced carbon steel that is rated for 6.4 psi Pred. The VCF has also been Pred validated through a full scale third party explosion test. Explosion mitigation devices are also available with the VCF.
Click here for more information about the vertical cartridge filter
Click here for related articles and news
Sign up for Dust Collection & Air Pollution Control E-Updates
Recent Dust Collection and Air Pollution Control e-newsletters
Read our last "Dust Collection and Air Pollution Control" e-newsletter campaigns here:
Schenck Process is the global technology and market leader in applied measuring technology. We make processes work in all areas of industry throughout the world. For us that means improving our customer processes in terms of reliability, efficiency, and accuracy. Combining outstanding equipment and extensive process knowledge, we develop and manufacture ...