Reduce your factory down time for boiler tube surface cleaning work.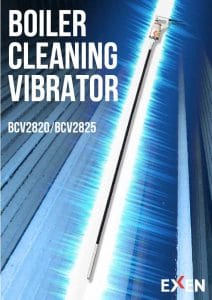 Existing cleaning work of boiler tube surface with using scraper is quite tough work and takes a lot of time to clean up.
This can allow to dramatically expand the cleaning range and improve working condition in the narrow space.
Incinerators operating at various facilities such as incineration plants are equipped with boilers for waste heat utilization such as power generation and heat recovery.
Water tube boilers that use incinerator heat to obtain high-temperature, high-pressure steam are subjected to regular water tube cleaning work to prevent heat recovery efficiency degradation due to the fly ash in the combustion gas adhering to the water tube surface.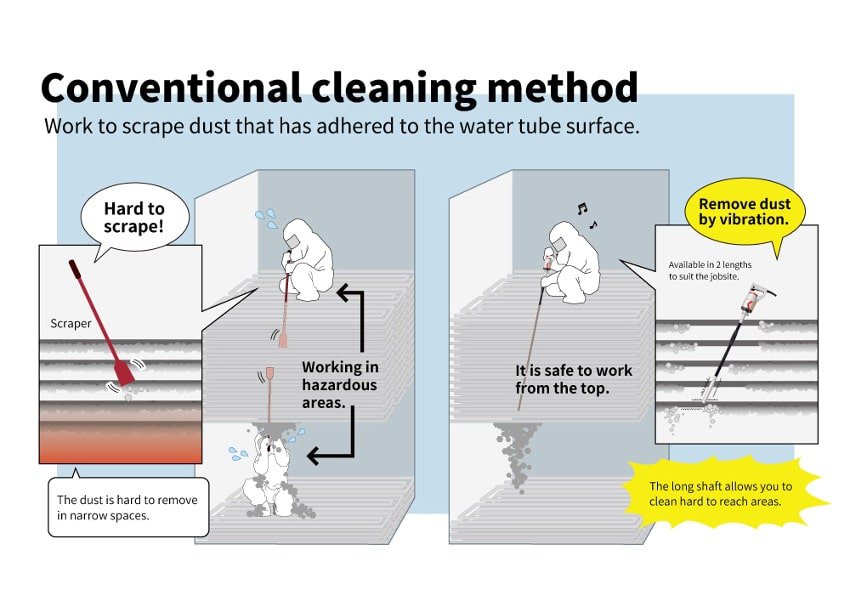 The conventional cleaning method of removing dust using scraper is hard work and needed to stop equipment for cleaning. This vibrator for cleaning water tube reduces the current hard work and provides more efficient cleaning method for workers. Furthermore, the length of the vibrator shaft allows for greater reach so dust can be removed completely. The work efficiency greatly reduces factory down time, and can be expected with the heat recovery efficiency due to the excellent dust removal performance.
More details, please click HERE.
For rapping devices for boiler tube surface is also available. Please click HERE.
Click here for more information
Subscribe to our E-Newsletters

Since 1915, Exen Corp. has been solving clogging problems with its air knocker (impactor). The air knocker continues to perform and provide results on any necessary work type, and is especially effective against fine powders and sticky or clinging materials ...