BRUNSWICK, OH—Vibratory Tables manufactured by Best Process Solutions, Inc. (BPS) are available in a complete line of air- or electric-powered models with load capacities to 10 tons.
These versatile vibratory tables are used for settling product contents in drums, bulk bags, portable bins, bulk boxes, gaylords, lever packs, concrete, foundries and moulds.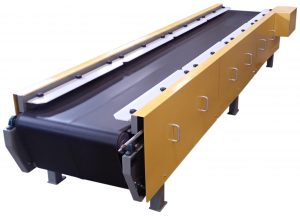 BPS vibratory tables are available in jogger tables, light duty, flat deck, grid deck, grid deck with rollers, flat deck with scale, and grid deck with scale. They are used in all of the bulk process industries including scrap metal, food, chemical, ceramics, glass, packaging, metal, mineral processing and pharmaceutical.
BPS manufactures a complete line of custom-engineered, bulk-processing equipment and systems. With more than 100 years' combined experience, the company serves a wide variety of dry processing industries from chemicals and food to aggregates and recycling.
For more information, visit www.bpsvibes.com or contact Best Process Solutions, Inc., 1071 Industrial Parkway North, Brunswick, OH 44212; telephone 330-220-1440; fax 330-220-1447; email sales@bpsvibes.com.
Sign up for Mechanical Conveying E-Updates
Recent Mechanical Conveying e-newsletters
Read our last "Mechanical Conveying" e-newsletter campaigns here:
Best Process Solutions, Inc., is a sales, engineering and manufacturing company that was founded to fill a void that exists in the areas of Recycling and Bulk Material Handling.  BPS was founded as a family owned business.  With our strong family values we are dedicated to providing our customers with the highest quality product and ...