Mixing and Filling in a Closed Circuit in a Food Supplement Production Plant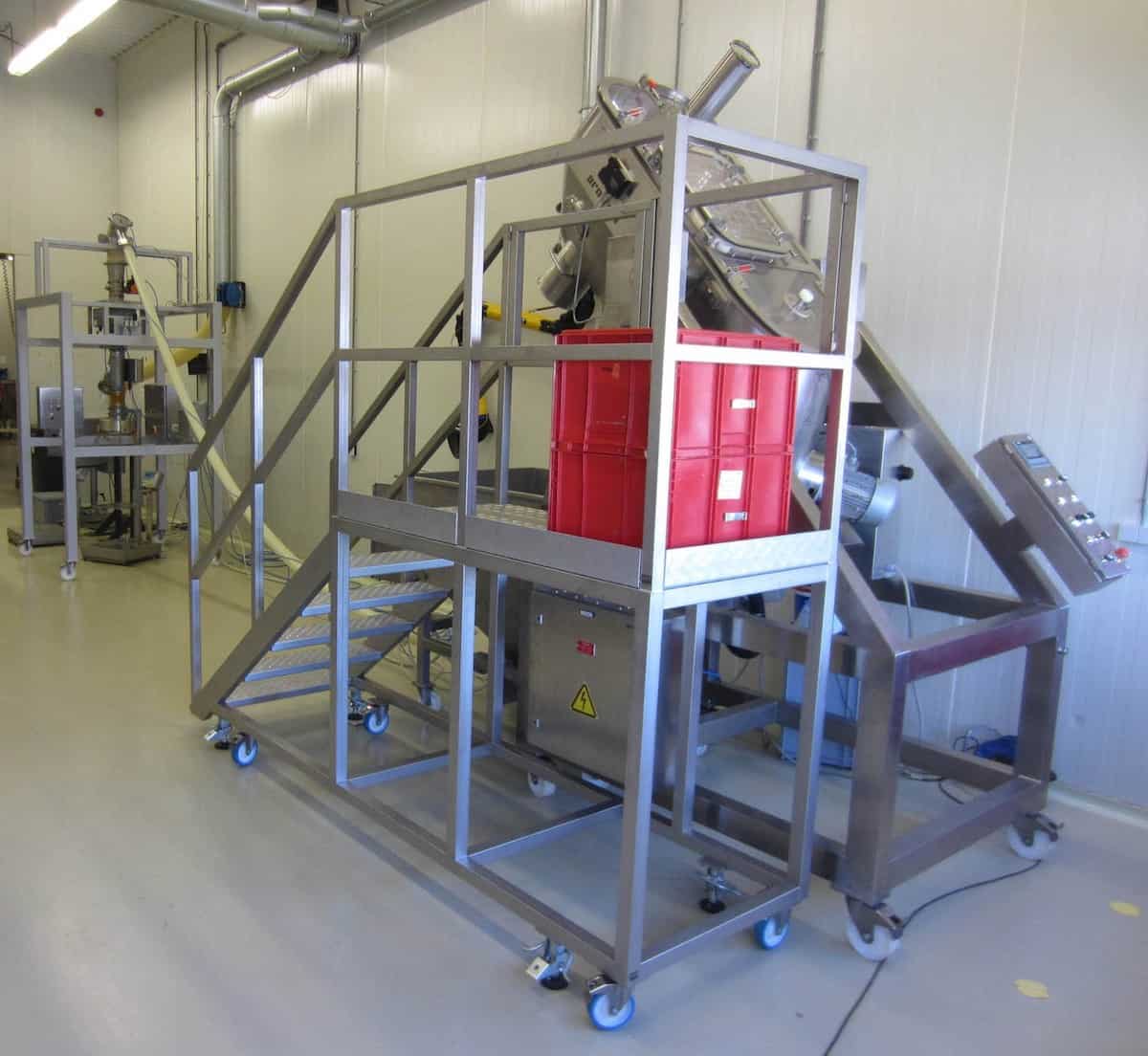 Food supplement manufacturers are often smaller companies with a large number of different products. One of the main processes in this industry is the mixing of different products under very tightly defined quality requirements. In addition, these manufacturers do not always have the possibility to work with multiple installations to limit the risk of contamination
In this application example, the mixer is fed from above, either by big bags, bags or other recipients. Of course, low-dust filling systems are also available if required. The products are fed into the mixer one after the other. Advantageously, the poor-flowing products are fed in first. The mixing process is then controlled by the operator, e.g. angle of inclination, rocking movement of the mixing hopper, speed of the mixing screw, switching on of high-frequency shear heads, fluidising nozzles, injection system for liquids, etc. 
At the end of the mixing process, the mixing hopper is brought to the optimum inclination in order to empty the entire container contents into an intermediate storage hopper with a minimum of dust, i.e. the mixer is ready for a new batch or can be cleaned conveniently and quickly while the mix is conveyed to the filling station.
From this intermediate storage hopper, the mix is then conveyed continuously, dust-free and noiseless to the filling station, where it is filled into bags or big bags after passing through a metal separator.
Mixer and peripherals (intermediate storage hopper, conveying, filling system) are two independent assemblies. They are mobile and can be conveniently moved.
System configuration:
Prodima mixer MP-500 with raised frame
Intermediate storage hopper
Flexible spiral conveyor
Filling frame with metal separator, filling head for bags up to approx. 25 kg, floor scale. The filling frame also allows the mix to be filled into big bags.
This article is published by
Powder and granule mixers, combining performance and user friendliness. For food, cosmetic, chemical and pharmaceutical industry.
All our mixers are equipped with a tilting tank. Mixing is achieved by the joint action of the screw and the carefully designed tank. The screw conveys the powder (or granules) upwards which then comes back by ...