Putting to use nearly a century of size reduction expertise, Schutte Hammermill has designed the RC Series to save on operation time and energy, while optimizing output.
The versatile RC Series is unique among crushers because it is the only model in its class that can not only crush your bulky, abrasive materials, but it can screen them to your desired particle size, too! With the ability to reduce materials to any desired output size in a single pass, the RC Series is second to none.
The RC Series industrial crusher hammer mill provides, by far, the easiest, most economical crushing available. The large throat allows for easy in-feed of bulky materials, so high tonnage rates are achieved with the lowest possible amount of wear and tear. Fabricated from heavy ¾" to 1 ½" steel plate, all weld construction, these industrial crushers are designed with the heaviest, most wear-resistant components of any equipment of its kind.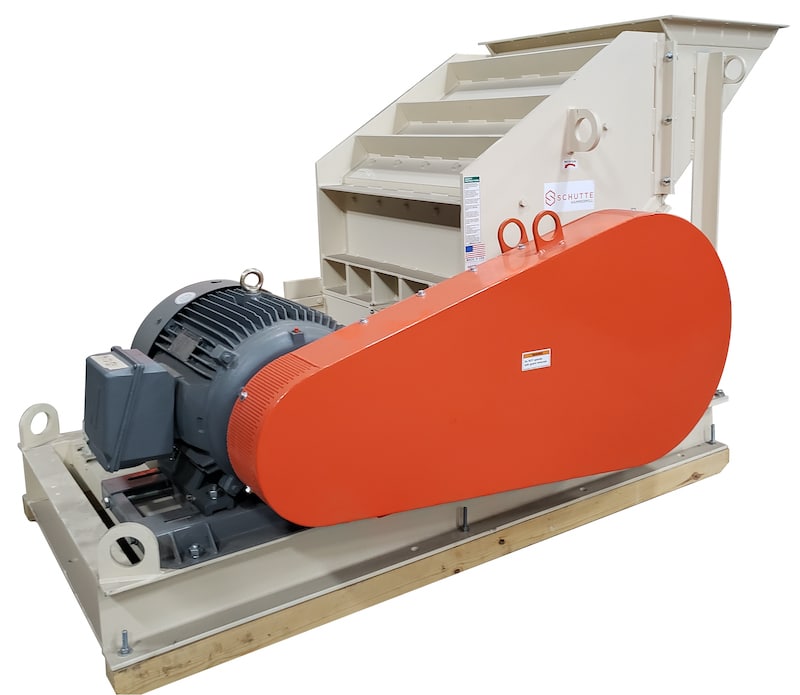 Internal, replaceable breaker wear plates are made from 1" thick AR-500 steel, and replaceable side liner plates from ⅜" abrasion resistant steel.  Heavy duty abrasion-resistant bar grates are available in many sizes to produce the exact finished particle size you require.
The mill top hinges open hydraulically for easy access to the mill's interior for maintenance and inspection. Plus, the safety interlock package prevents the mill from operating when in an open position for maintenance.
The RC Series Industrial Crushers also feature hammers that are up to 90 pounds each, made of two way reversible cast manganese for the longest possible wear life. Double 1 ½" wide rotor disks with hard surfacing around the entire circumference, and locking hammer rod collars prevent undue wear-and-tear to hammer rods.
Designed and built to easily adapt to the evolving trends in size reduction, and to fit into a variety of plants, the RC Series will easily stand up to your current processing demands, and beyond.
Contact us today to find out more! www.hammermills.com | 800-447-4634 | info@hammermills.com