Nowadays, our engineering department has designed a new equipment of gravimetric dosing for granular products, also for temperatures up to 200ºC in continuous, in small flows and with a specific design for the dosing of alternative fuels and products with very low density. It can be installed directly under silos with vertical-walled, divergent or mass flow designs.
This new belt dosing scale is manufactured in different materials according to the application (carbon steel, stainless steels, etc.), has a robust design with new chassis laser cut and pieces formed with the same bent plates that provides greater rigidity to the whole. It also has a new design that allows easy removal of the belt from the side for replacement. The Concept HG is a watertight equipment, in its inlet hopper it incorporates a buffer chamber, which ensures a continuous and constant feeding of material to the weighbridge.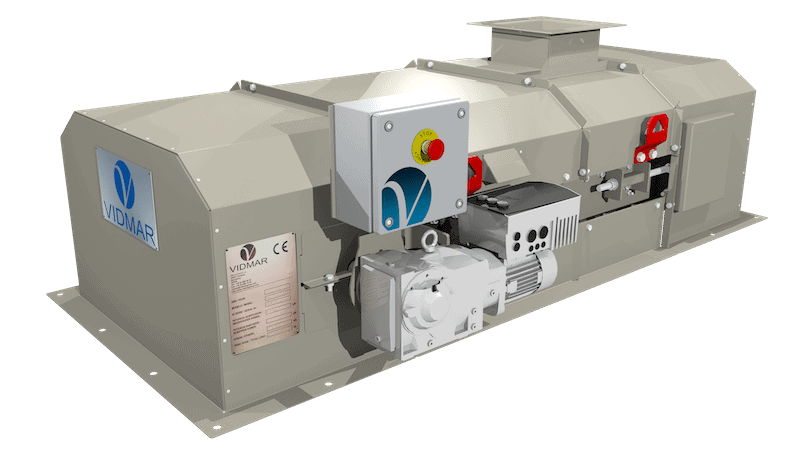 The use of direct coupling drives, orthogonal type, hollow shaft, with motors of alternating current, guarantees an optimal transmission of power.
Its highlighting features are:
Easy access to all elements.
Belt disassembly on one side.
Upper and lower cover, fitted with dusting outlet.
Belt tensing with spindle.
Includes detectors for drum rotation and belt misalignment.
Speed measurement with encoder.
Weight measurement with load cells.
Hollow-shaft gear-motor, directly connected to the drum.
Manually adjustable material layer height.
Includes electrical box for the local connection of sensors.
Technical feature: 
DRUM DIAMETER: From 160mm to 320mm.
BELT WIDTH: From 400mm to 1000mm.
LENGHT: Distance between drum shafts from 1150 mm, with 500 mm increments.
LENGHT OF THE LOADING HOPPER: Up to 1000mm.
BELT: Belt material based on the application.
WEIGHING: Direct transmission of weight on two load cells.
FLOW: From 5 to 150 t/h.
FLOW RANGE: Up to 1:200.
WORKING TEMPERATURE: Up to 200ºC.
PRECISION: ± 0,5% in all flow range.
Accessories
Bars gate.
Sliding gate.
Spillage conveyor.
Material sensor
Vibrated hopper.
Disagglomerator.
Impact rollers.
Hopper agitator.
Dosing controller with touch screen and variable frequency drive.