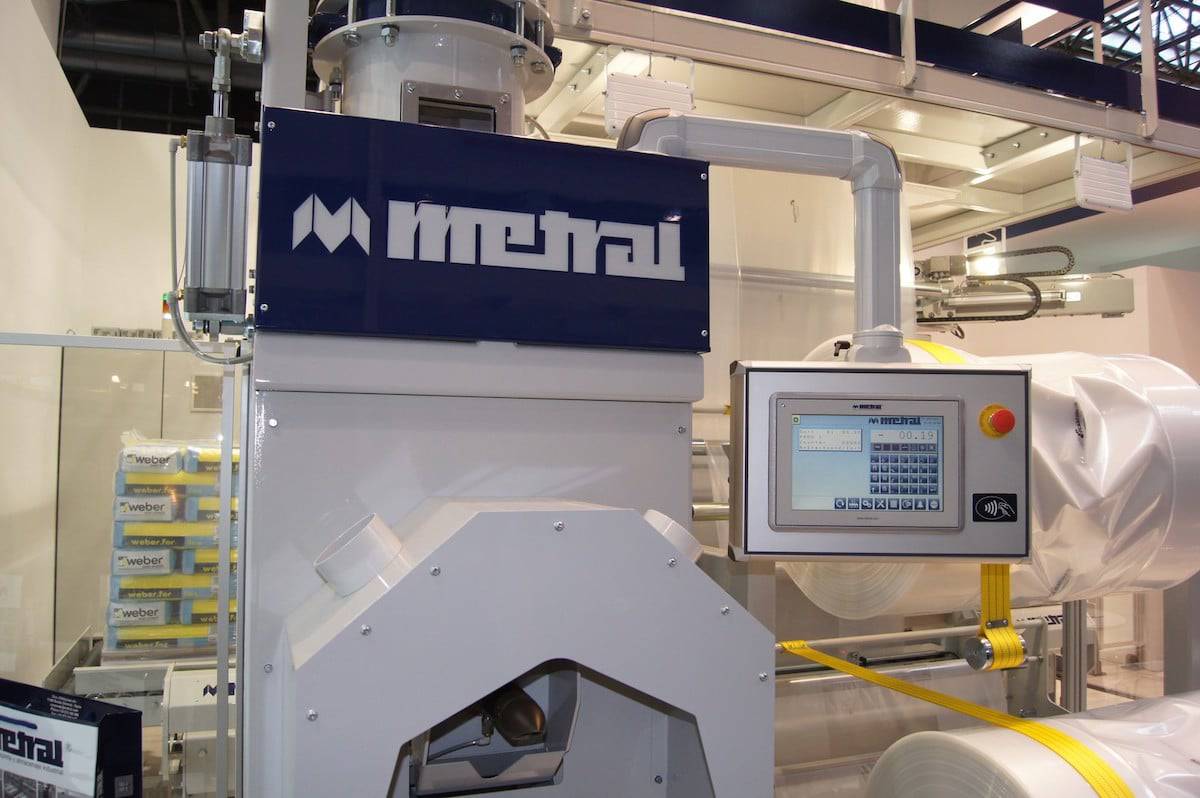 Precision and repeatability, functionality and flexibility, user-friendliness and availability - all these features are combined in the latest generation of weighing controllers from B+L Industrial Measurements.
Both the miniPond 3F and the dataPond 3F are based on many years of know-how in weighing and dosing technology and, thanks to the fieldbus interface and the integrated web server, offer maximum integration-friendliness up to Industry 4.0. It therefore comes as no surprise that these controllers are used by numerous machine manufacturers.
Precise filling – ideally accurate to the gram – avoiding complaints due to underfilled packs and product giveaway due to overfilling as well as end-of-line checking are the classic areas of application for weighing controllers in packaging processes for solid and liquid products. Users not only place special demands on the actual task of weighing and the control and monitoring functions derived from it, but also on the robustness and availability of the systems as well as their communication capabilities. Innovative technology as well as many years of manufacturer's experience are needed in order to achieve reliable filling results at all times, even under unfavourable conditions.
A number of well-known companies rely on the weighing controllers from B+L Industrial Measurements for various reasons. The focus is on the W&M approved and verifiable filling controllers miniPond 3F and dataPond 3F, which offers an extended range of functions especially for very fast filling machines. The controllers can be used stand-alone or networked and enable fast changeover even with frequent product changes by providing up to 220 parameter sets for presetting filling weights and product properties.
Both weighing controllers of B+L's latest generation are based on the rich experience that the company has gained in powder and bulk material weighing with the previous versions – for example the SWA2000 – since its founding in 1968. Innovative control technology with proven weighing and dosing algorithms, combined with integrated web server and fieldbus are key arguments for long-standing customers such as the Italian machine manufacturers ESSEGI and PKT as well as the Spanish company METRAL.
Dependable all-rounder: miniPond 3F
The miniPond 3F weighing controller is designed for medium throughput rates. At the Italian machine manufacturer PKT it is used for precise and repeatable weighing of wood bark, mulch or cat litter, for example. Like many end users, PKT appreciates the accuracy, as well as the intuitive operation and versatility of this weighing control. "The miniPond 3F offers proven reliability and is equipped with all important functions. Settings can be made easily; the connection to the PLC of our systems fits perfectly", explains Claudio Pivato, founder and owner of the Italian packaging machine manufacturer PKT.
"During the filling process, the miniPond 3F adapts itself flexibly to changes in the product properties such as material density or flow characteristics". Digital filters for optimum processing of the weighing signals and tried-and-tested, powerful evaluation algorithms ensure maximum measuring accuracy – even under difficult conditions.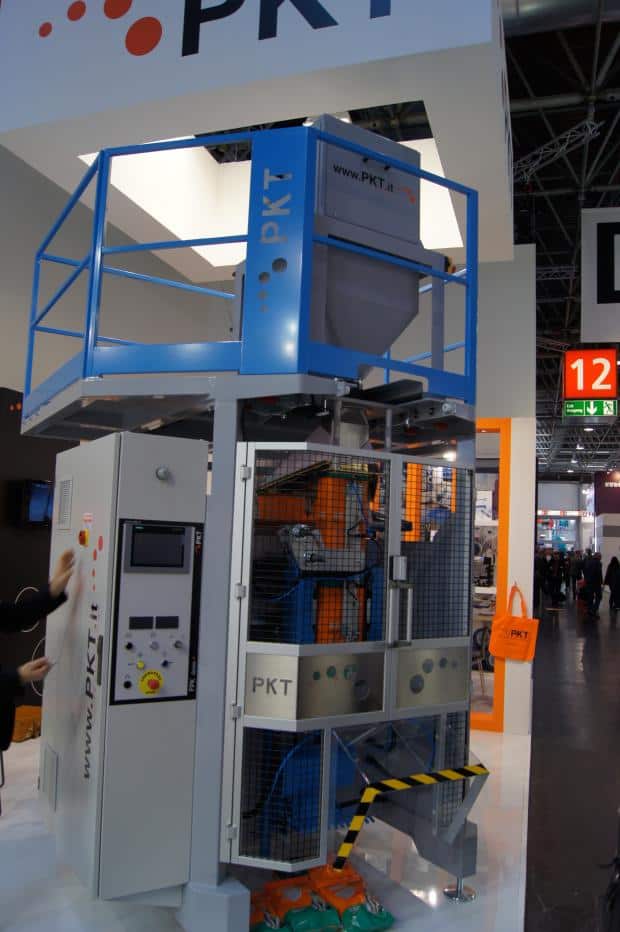 Claudio Pivato also praises the speed of the miniPond 3F: "It's faster than other comparable controllers and improves machine productivity".
For stringent requirements and high speeds: dataPond 3F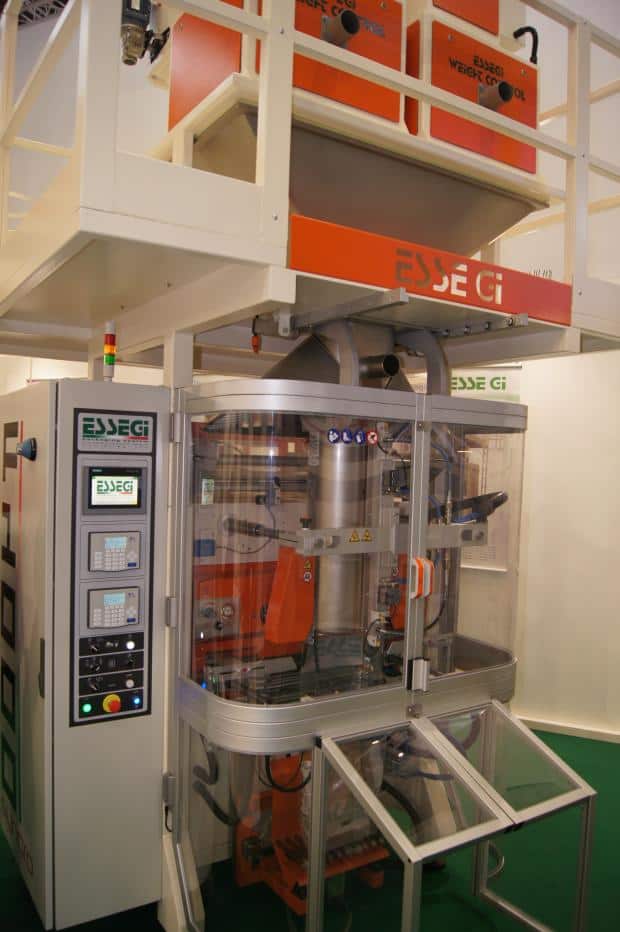 The dataPond 3F weighing controller has been developed for packaging processes with high throughput rates and with special demands on dosing accuracy and repeatability. The Italian machine manufacturer ESSEGI uses the controller in its twin-lane filling and bagging systems for packaging free-flowing solids.
"With our F1000 and F1200 series packaging machines, we fill a wide variety of granular products such as animal feeds, food, pellets and pebbles", explains sales consultant Marco Pivato. "The dataPond 3F controls the complete dosing process and can be switched quickly to other filling weights or product qualities via the stored presets. It also is always very accurate, because the digital filter technology and the automatic free-fall compensation ensure highly precise filling results, even with scale oscillations or products with fluctuating material properties".
The Spanish specialist for packaging machines METRAL also relies on the sophisticated technology of B+L products. "We are convinced by the speed and accuracy of the weighing control, especially when material flows fluctuate," says Isaac Colomer i Xena, Sales Manager at Spanish machine manufacturer METRAL. "It can also be quickly put into operation. You only need minimal settings, usually only the weight, and the controller, that we monitor and operate via the machine's HMI, does the rest".
The field-proven precision of dataPond 3F – even under adverse conditions – is complemented by modern data communication. "Web server and fieldbus interfaces support a smooth integration of the controller into the plant environment", explains Isaac Colomer i Xena. Furthermore, individual adjustment options, additional control algorithms and a wide range of special control functions allow the dosing process to be optimally adapted to the filling system and the respective material properties. "All this shows the large dosing know-how on which this controller is based", the Spaniard sums it up.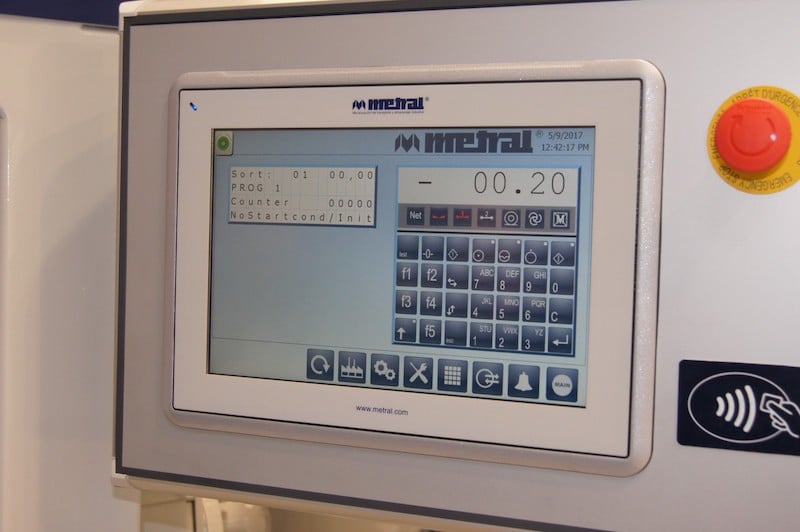 Easy integration due to fieldbus interfaces and web server
Both the miniPond 3F and the dataPond 3F can be flexibly integrated into almost any machine environment and communication topology. For this purpose, the weighing controllers offer digital I/Os, COM port, Ethernet interface, Modbus protocol and optional fieldbus interfaces such as Profibus, Profinet or EtherNet/IP.
The integrated web server allows access via browser, e. g. for setting and archiving of parameters, adjustment as well as function testing and error diagnosis. This supports fast commissioning, simplifies data backup and firmware update and allows targeted process diagnosis directly from the device.
At the same time, the weighing controllers can also be integrated into Industry-4.0-compliant structures and applications via the fieldbus, e. g. in condition monitoring applications at a higher control level or in the cloud.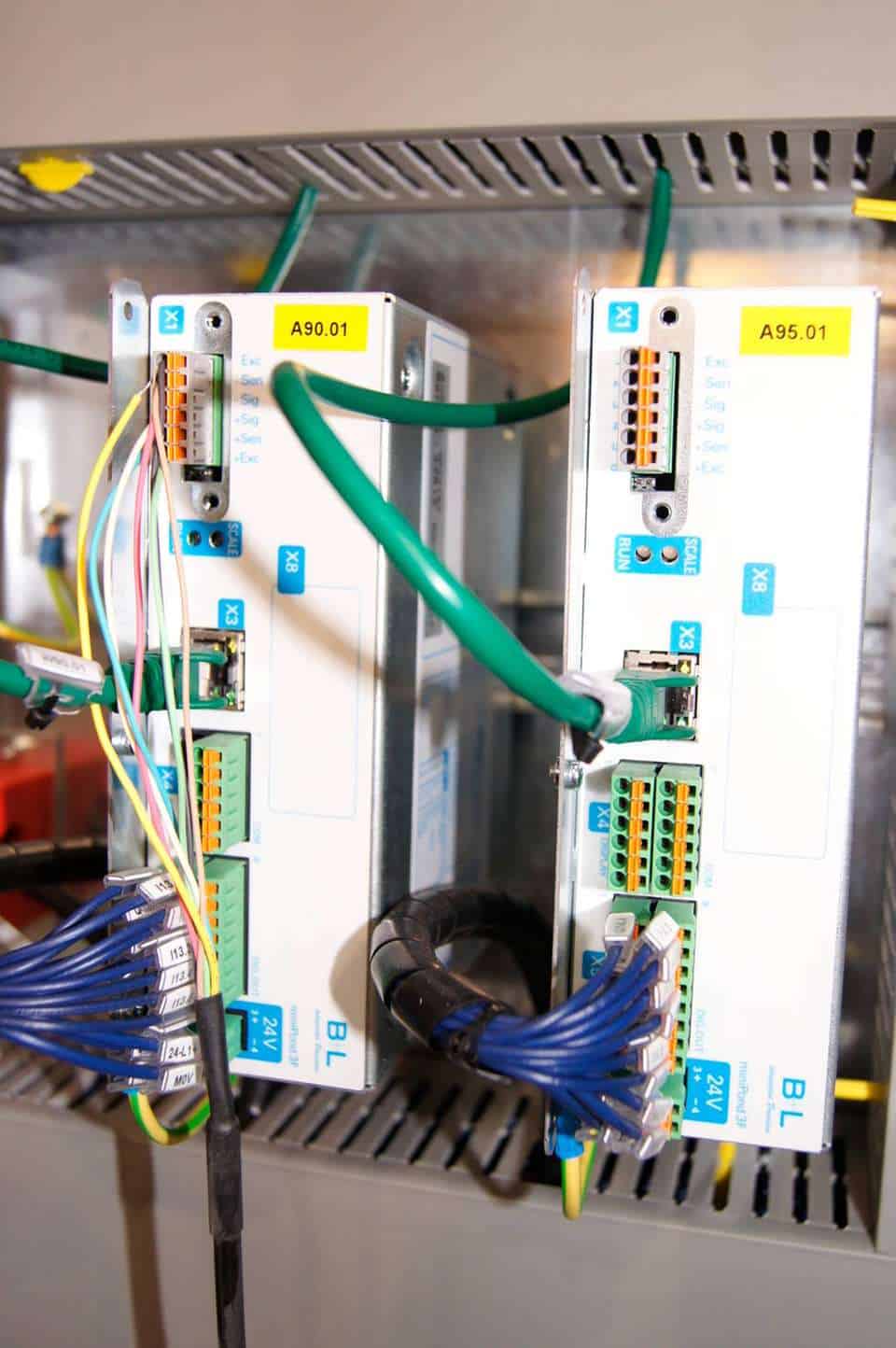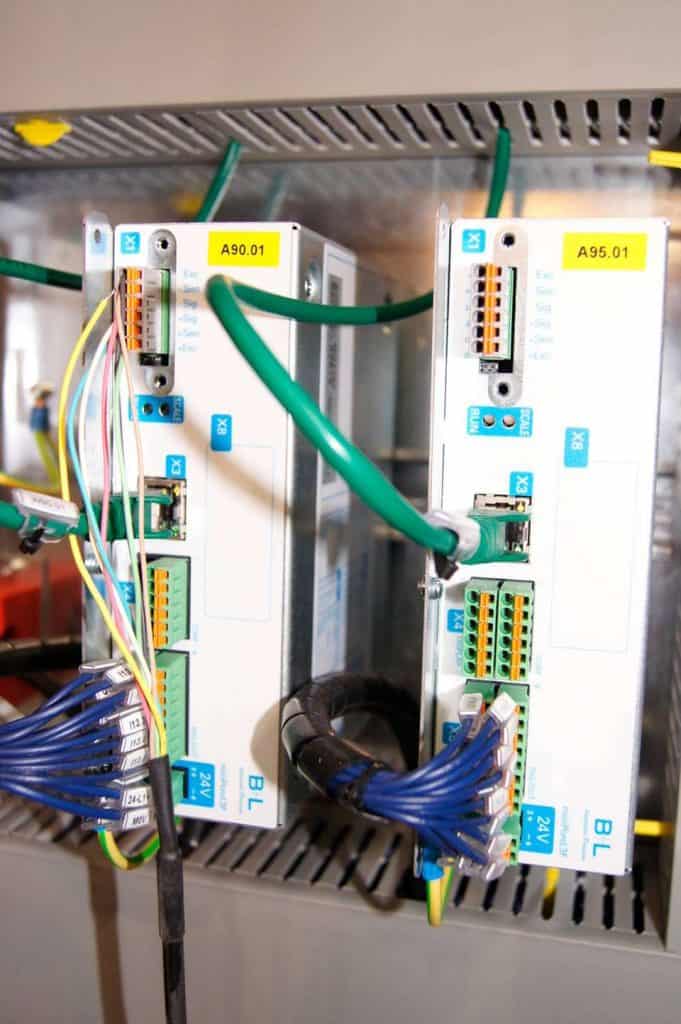 Intelligent self-monitoring, low service requirements
During operation, the miniPond 3F and the dataPond 3F weighing controllers automatically monitor a large number of process parameters, thus supporting the optimization of the system. Filling weight, tolerances and process errors are, among others, recorded and evaluated. In addition, data such as total count and sum as well as diagnostic data are logged and documented.
"In general, according to our experience at METRAL, the maintenance and service requirements for these weighing controllers are very low", says Isaac Colomer i Xena. "And if a problem arises, the manufacturer's support works quickly and smoothly".
Precision and repeatability, functionality and flexibility, user-friendliness and availability – all this makes the miniPond 3F and dataPond 3F not only reliable, but also future-proof weighing controllers for automatic scales.
This article is published by
Intelligent weighing technology for industrial requirements –
50 years of maximized quality made in Germany
B+L Industrial Measurements develops and manufactures verifiable weighing controllers for industrial and process weighing technology. With our sophisticated solutions, we are a leader in the field ...