Recyclable bulk waste,
General waste,
Dust (dust collector waste).
Our vision is that all these waste streams are serviced by a single waste handling company, without any involvement from factory personnel — INCLUDING the dust collector. I believe, as a previous factory owner who maintained his own large dust collectors, I would have preferred a dust collector be delivered (rental) and serviced (including the filters) by my professional waste management company, and not my staff. So simply, a dust collector is dropped off and "plugged in". Why would anyone running a factory want to own and service a dust collector? That is why I invented BlueSky to realize this possibility. Ask your waste management company about BlueSky or contact us directly and change the way your company handles hazardous air pollutants.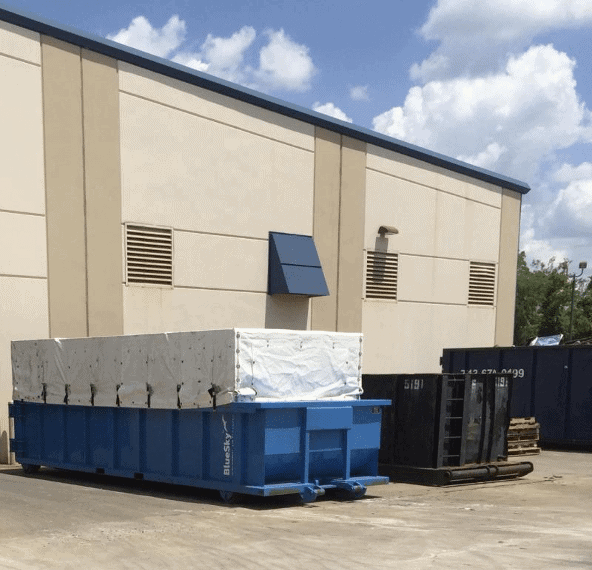 Installing a new dust collector has never been so simple
BlueSky industrial dust collectors offer the latest technology with "plug-and-play" simplicity in high loading, high volume tough applications. No slab preparation to try, and if you need larger or smaller capacity next week, next year, no problem. BlueSky is truly modular. Need HEPA – true integrated HEPA (not after fan), just add it. Need carbon adsorption for VOC's – again, no problem to integrate it into the BlueSky system. Want to rent a machine to try or indefinitely, no problem. For project of fixed-factory use. BlueSky is the safest, most practical dust collector on the market.
BlueSky to the rescue!
A dust collector fire, mist collector explosion, terrifying events! Following such an event last week, a BlueSky machine was immediately mobilized, and the client's facility was back on-line within 2 days.
The next step is that the new BlueSky technology machine will be installed as the permanent replacement installation. Safety, together with performance, is a non-negotiable demand by all operators.
A BlueSky machine does not look like a regular dust collector. That's because we have reinvented the technology. The future is not written in copy-paste technology with a few new mods. Rather, the future is in rock-solid advances that lead to safer and more productive work methods.
From BlueSky to our service partners – thank you for making the installation and commissioning a breeze.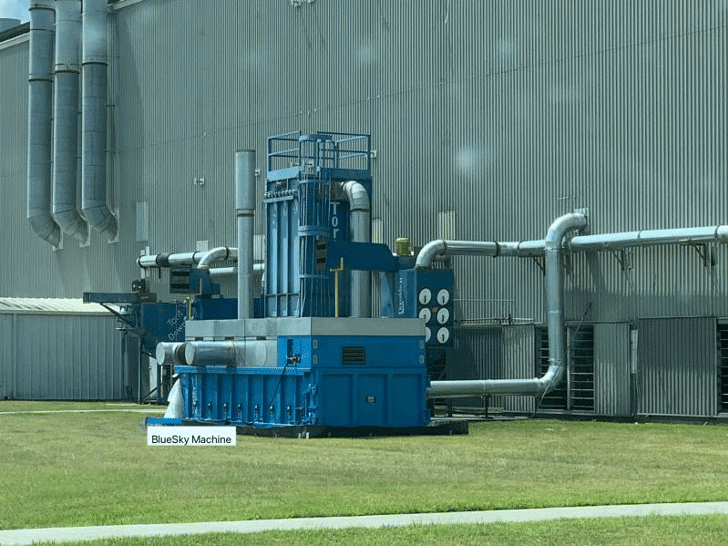 Different looking? different performing!
A BlueSky industrial dust collector looks different. No hoppers or drums, it kind of looks like a dumpster. And in a lot of ways, it functions like one as well.
Delivered by a standard roll-off truck
Serviced by a waste management company
And just like your dumpster, it does its job and you don't worry about it
That was my vision when I started BlueSky and it's slowly becoming a reality. Slowly, because people are set in their ways. Yes, a BlueSky machine cuts out the risks involved in dealing with dust handling and filter change-outs. And yes, it takes away the worries associated with servicing an old-fashioned dust collector. But people still say, "we've always done it the old way".
That excuse will not be acceptable much longer. OSHA and the EPA are zeroing in on dust in a big way, and so are the lawyers (think Mesothelioma). They follow OSHA and the EPA like a pack of hungry wolves chasing a troika in a Siberian snowstorm.
There are many good reasons to check out BlueSky. Protecting your company from the legal repercussions associated with the careless handling of dangerous dust and filters is certainly one of them.
It's not easy to wrap your head around the BlueSky system, but once you get it, you get it.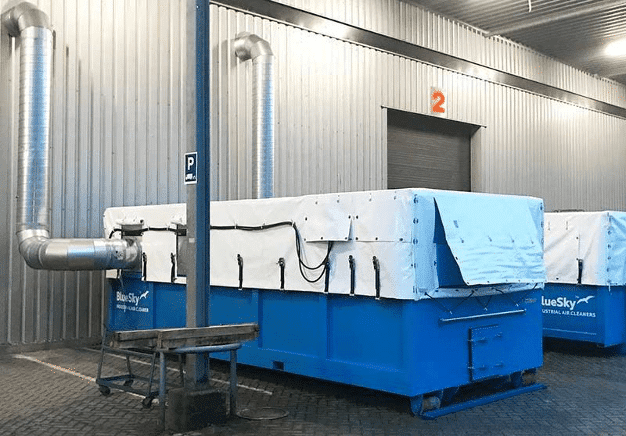 Taking the "mess" out of a messy job
When was the last time you inspected the area below your dust collector? You might be in for a surprise, spilled dust from drum or filter change-outs may end up being a huge problem. A risk not planned for.
If you install a BlueSky Dust Collector, there will be NO DUST SPILLS since there are NO Individual FILTER REMOVALS. No PPE is ever needed to service a BlueSky Dust Collector. No negative impact on servicing operations. There are savings since there is no shift loss changing dirty filters.
By opting for BlueSky systems, your staff, your neighbors, and the environment will not be exposed to hazardous dust. It just makes sense to never touch used filters, EVER.
BlueSky SmartBox™ Modules will become the industry standard for how to filter change-outs and dust-disposal are handled. In the not too distant future, we will wonder how it was possible that we actually pulled individual dust-laden cartridges from a large machine by hand. Progress is something to be embraced and welcomed and BlueSky is leading the way to change. Be a leader and change the way your company handles dust in the future!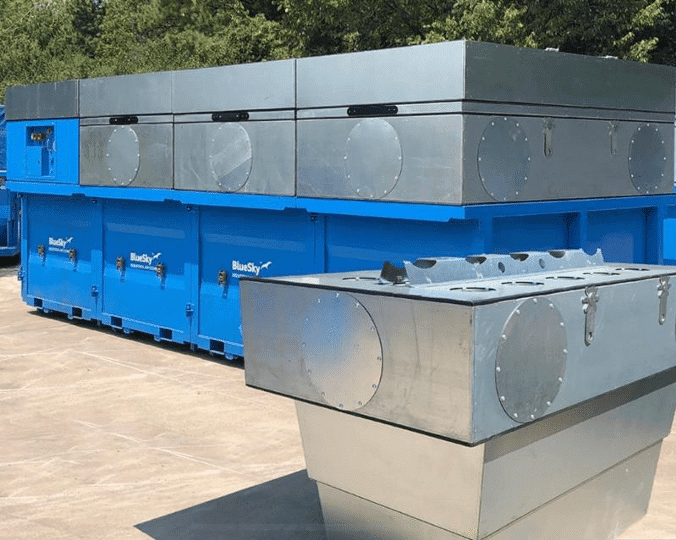 Controlling airborne pollutants should be as common as cleaning the water and soil
My vision for the future as it relates to annoying and damaging airborne dust pollutants generated by industrious activity: – every factory, material handling, bulk storage, or warehouse facility that potentially impacts air quality will be equipped with a drop-off dust collector from their preferred waste-handling company. The filtering and collection machine will be delivered by standard roll-off and serviced just like a regular solid waste dumpster. The fully serviced dust collector will be quickly coupled to a facility's fixed ducting (installed into building for air collection), and the HEPA-filtered clean air will be automatically passed back into the facility (so minimal environmental or energy impact).
Benefits: clean air, clean workspaces (no dust-covered surfaces), lower allergies, no emission, no permits. In a nutshell, smart environmental control the way you would want for your family at home.
Reflect on this strange reality – we passionately protect our soil and water quality, but the air we breathe every second seems ok to fill with waste. Why? Think BlueSky, a challenge for 2020 – join BlueSky to lead a change to new thinking, it takes courage, foresight and investment.