Plastic processing is the process of converting the plastics raw bulk material into (semi-) finished products.

Plastic manufacturing process
Plastics are the most common materials for producing (semi-) finished products, for everything from consumer products to medical devices. Plastics are a versatile category of materials, with thousands of polymer options, each with their own specific mechanical properties. Plastic manufacturing processes have been developed to cover a wide range of applications and part geometries. For any designer and engineer working in product development, it is critical to be familiar with the manufacturing options available today and the new developments that signal how parts will be made tomorrow. A number of complications can arise during the plastic manufacturing process.
When handling the bulk plastic resin, pellets, pastille, and granules poor flow can occur. These material flow problems include sticking, blocking and segregation. Product quality problems can be the result of material stagnation in storage bins, pellet damage (fines generation), or cross-contamination of batches. Pneumatic conveying of bulk plastics can lead to the formation of angel hair, also referred to as streamers, floss, and snakeskin, which can plug downstream equipment.
What is‌ ‌plastic processing?
Plastic processing can be defined as the process of converting the plastics raw ingredients into (semi-) finished products.
These bulk plastics come in the form of resin, granules, pellets, powders, sheets, preforms or fluids and are converted into formed shapes or parts. The plastic materials can contain a variety of additives that may influence the properties as well as the processability.
After forming, the plastic part may be subjected to a variety of additional processes such as welding, adhesive bonding, machining, and surface decorating.
Plastic processing stages:
Primary Plastic Processing: Injection molding, Extrusion, Blow molding, Compression and transfer moulding.
Secondary Plastic Processing: Rotational molding, Thermoforming, Coating, Casting, Fabrication and Calendaring.
Tertiary Plastic Processing: Cutting, Drilling, Welding and Bending.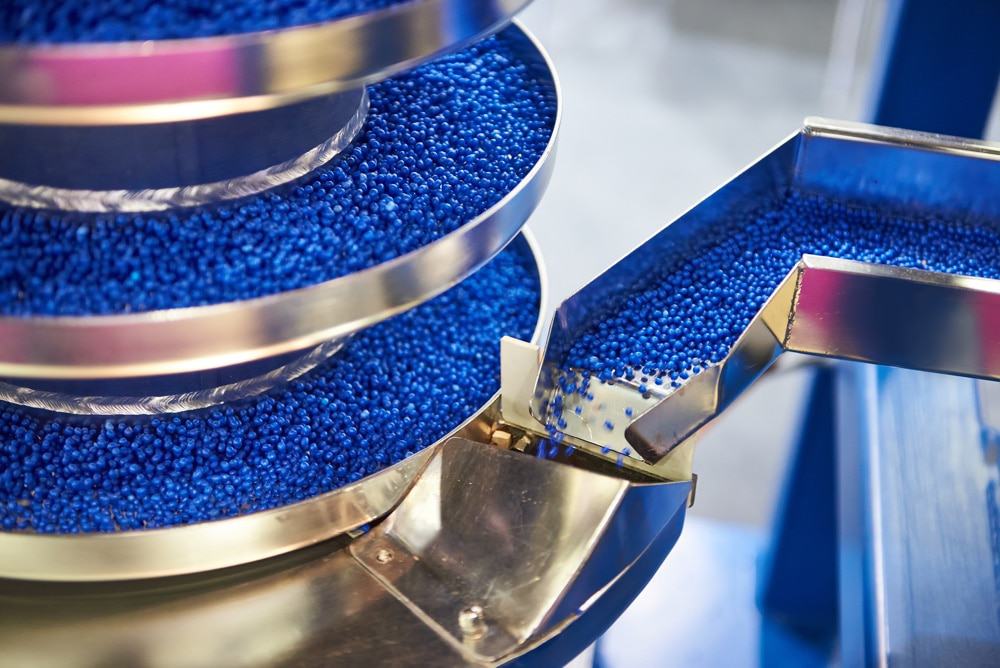 There is a variety of methods used to process plastic. Each method has its advantages and disadvantages and some processing methods are better suited for specific applications.
These plastic processing methods include:
Injection molding
The main method used for processing plastic is injection molding. Injection molding is a manufacturing process for producing parts by injecting material into a mold.
Reaction Injection Molding
Reaction injection molding (RIM) is a relatively new plastic process used in the industry. RIM is similar to injection molding, but unlike traditional injection molding, RIM always uses lightweight, cost-efficient thermosetting polymers.
Blow molding
Blow molding is used when the plastic item to be created needs to be hollow.  A molten tube is created with blow molding by using compressed air, that blows up the tube and forces it to conform to the chilled mold.
Extrusion
In this process, plastic granules or pellets are fluidized, homogenized, and continuously formed. The process of extrusion is usually used to make products such as tubing, pipe, sheet, film, coat wire, and cables.
Compression molding
With the compression molding process, the material is squeezed into its desired shape with the help of pressure and heat. Plastic molding powder and other materials are added to the mix in order to create special qualities or to strengthen the final product.
Transfer molding
Transfer molding is generally used only for forming thermosetting plastics. Transfer molding is an adaptation of compression molding in that the molding powder or preform is charged to a separate pre-heating chamber and, when appropriately fluidized, injected into a closed mold.
Thermoforming
Thermoforming is a manufacturing process where a plastic sheet is heated to a manageable forming temperature, formed to a specific part shape in a mold, and trimmed to create a usable product.
Plastic processing equipment
There are several processes that are used to convert the plastics raw bulk material into (semi-) finished products. These processes are described above. For handling the bulk plastics, important processes include storage, big bag handling, conveying, pressing, rolling, extrusion and molding.
Important bulk plastic process equipment includes:
Plastic recycling process
Plastic recycling is the process of recovering waste plastic and reprocessing the (bulk) material into useful (semi-) finished products. Plastic recycling has become more advanced and efficient in recent years. The plastic recycling process is an alternative to reduce waste, as well as an economically viable option in the production of new goods. The recycling of plastics involves collecting, sorting, washing, resizing, separation, extrusion, pelleting and manufacture processes.

Plastic processing news
The plastic processing market is a heavily-regulated and intensive industry, which makes staying up-to-date of all developments crucial, and helps plastic processors run their businesses more effectively. Receiving relevant insights with regards to plastic processing innovations can be extremely useful to industry professionals that are responsible for operating, maintaining, and managing plastic manufacturing plants in the world. A plastic processing company is considered innovative when it invests significant capital in research and development of a particular process.