It can simultaneously handle both soluble and insoluble particulates as well as doesn't matter if they are sticky or floating. Any particulate may be handled by this technology.
The unit is manufactured in a wide variety of materials in addition to carbon steel to include corrosion resistant plastic such as polypropylene or PVC, as well as stainless steel 304 or 316 grades.
There are no internal moving parts in this unit or external recirculation pumps required.
The entire collection process depends on the high efficiency "whirl chamber". In this whirl chamber, a dual opposed blade system is interfaced in such a way that a high-energy effect is obtained with low power energy requirement.
The Whirl Wet with only 8" of internal static pressure can obtain very high-efficiency values on parts as low as 1-micron size with reasonably high-efficiency numbers.
Since the unit has no internal moving parts, maintenance is a very simple matter. This is extremely important when operating a wet particulate scrubber. Compared to dry forms of collection such as baghouses, where maintenance is always an issue, the wet particulate system becomes a very effective unit.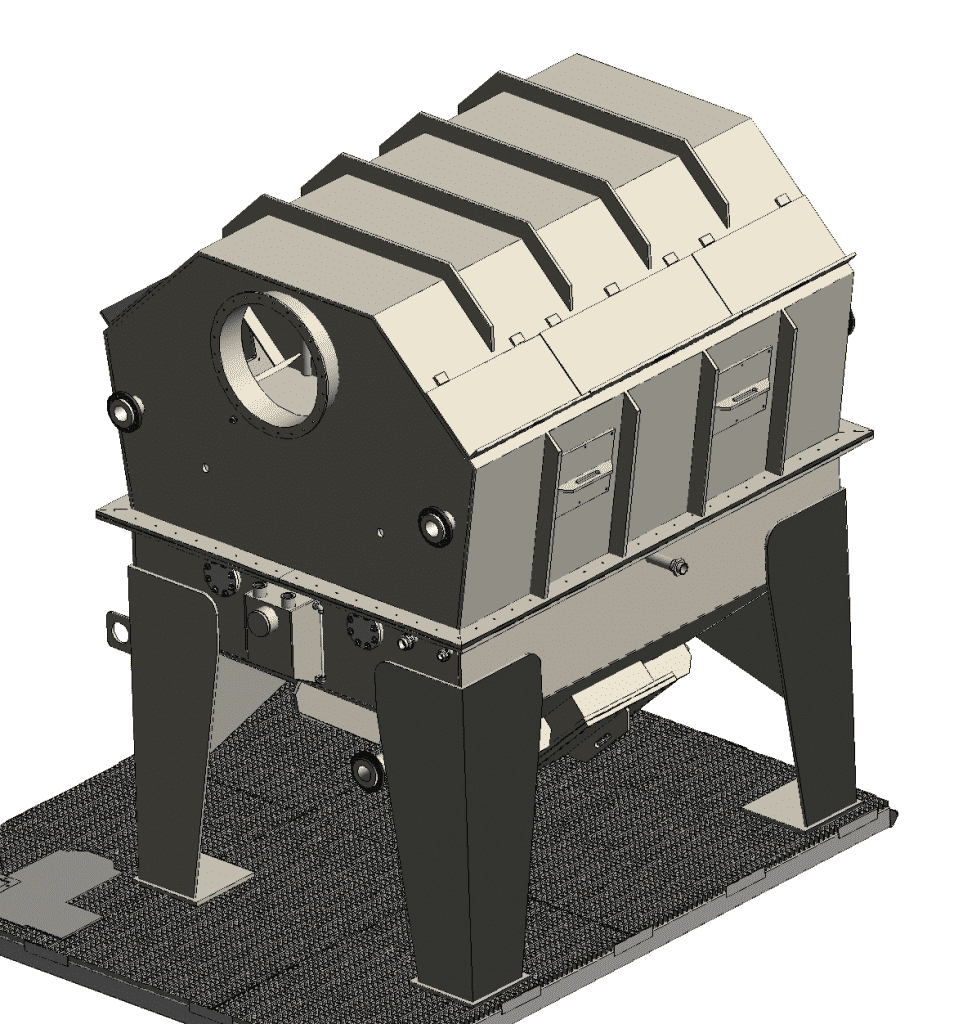 Dust collection takes place within the whirl chamber, where the particulates and liquid are driven under high centrifugal force against the dual opposed blade system.
Particles are driven into the water and then fall out into the liquid sump below.
A variety of designs are available for particulate collection at the bottom of the Whirl Wet chamber. A manual removal unit is available where particulates can be dragged out by hand. A hopper design is available where an automatic valve can be actuated to periodically drain the unit and or a sludge pump can be interfaced to remove particulates.
Finally, an automatic conveyor machine is available to drag particulates out of the unit on a continuous basis into a collection hopper located underneath the conveyor discharge. Liquid level control is a very simple mechanical matter and does not involve complex electrical mechanisms that can foul up.
The unit comes in a wide variety of sizes as small as 800 Nm3/h of air up through 85,000 Nm3/h of air in standard operational units.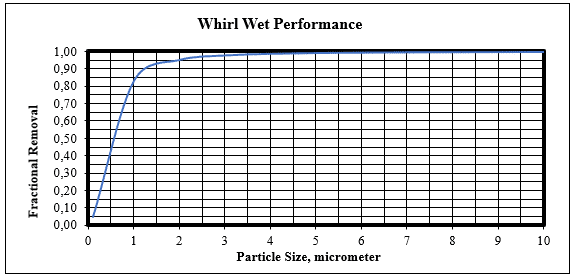 Since the system is applicable to soluble and insoluble particles, and since the unit will not plug up due to energy generated inside the unit, it is very popular in applications where agglomeration and sticky residues are common problems with dry collectors or lower energy wet collectors.
Paint spray booths and silica applications are difficult to handle with most collection devices but easily handled with this unit.
The Whirl Wet unit operates most efficiently under these conditions and without a doubt offers the user the most efficient system available for particulate control. In all cases efficiency, up to 99% level is common.
Whirl / Wet is for the reason above the best solutions for the collection of coal, aluminum, fertilizer, and sugar dust. It satisfies the dust elimination requirements of stone finishing and battery manufacturing. Whirl / Wet is also ideal for controlling emissions from solar panel manufacturing and many chemical powders feeding reactors.