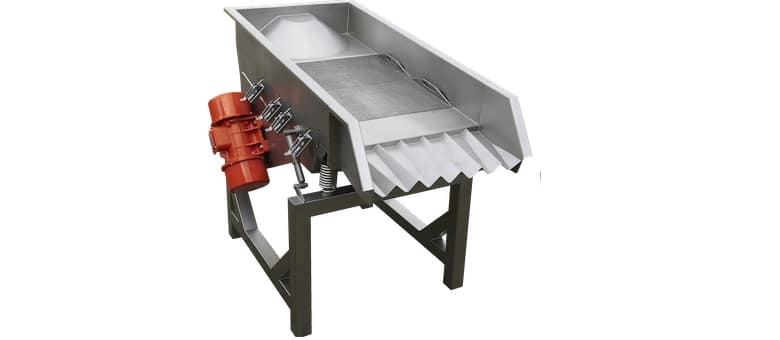 Alvibra® manufactures vibratory feeders in a very wide range of different executions – and often custom for the purpose.
All Alvibra® products can be delivered with conventional vibration motors or with electromagnetic drives – and of course with the well-known and advantageous VibraDriveTM technology which by the way is patented by Alvibra®.
Common for the above is that they are all hygienically built in stainless steel execution for primarily the food industry and similar industries with high demands for design, cleanability, high capacity, easy operation and maintenance.
Vibratory Tables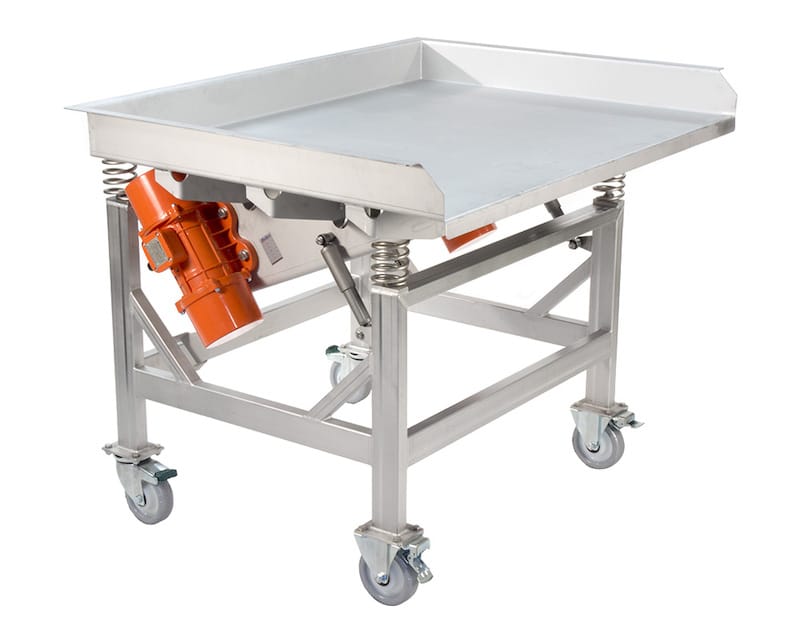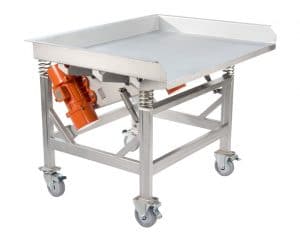 The Alvibra® Vibratory Tables are typically designed for spreading or denesting products – and sometimes combined with a screen for taking out dust, fines or lumps – or for dewatering.
Vibratory Feeders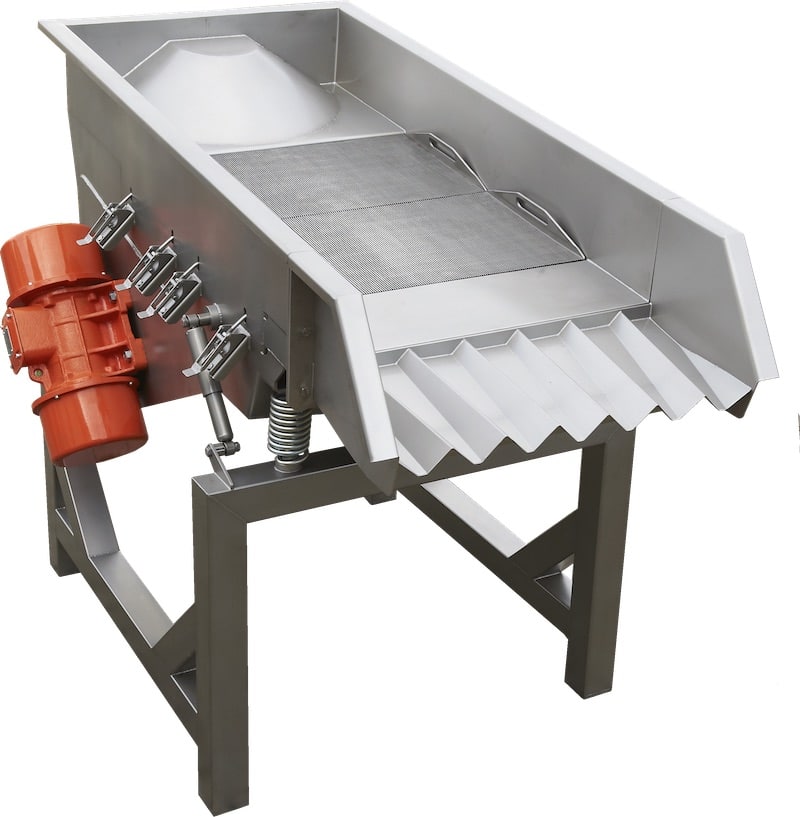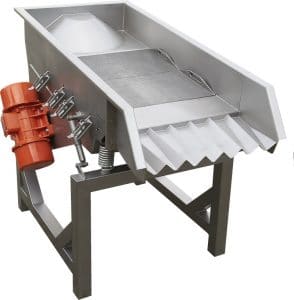 Alvibra® Vibratory Feeders are typically vibratory units used as a combination of buffering an amount of product and then bulk feed it into another machine or process line.
In this case we are offering spreading, separation and feeding in one unit.
Vibratory Feeders powered by ViFlexTM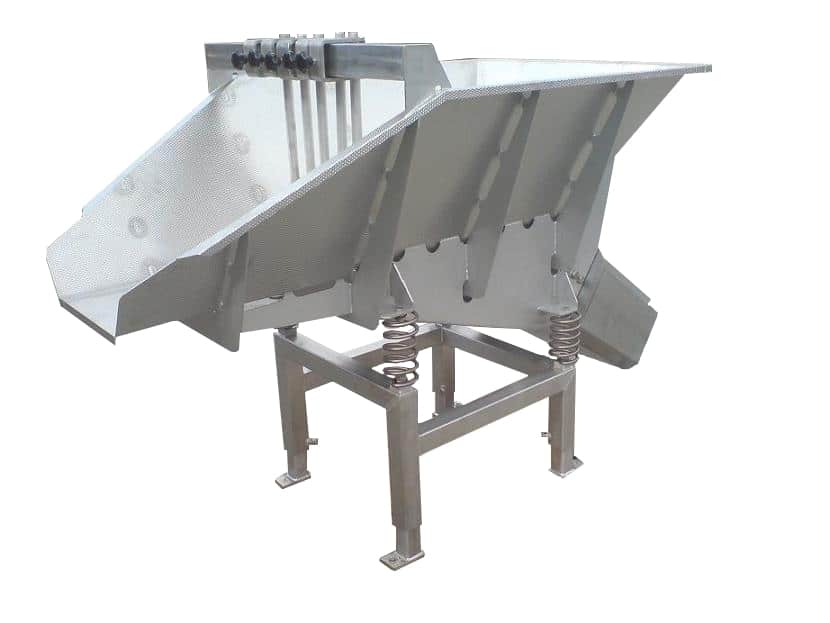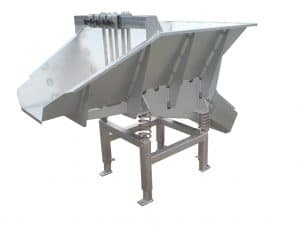 Furthermore, Alvibra® offers a compact and extra hygienic solution for extraordinary high hygienic requirements – the ViFlexTM.
The ViFlexTM is basically a VibraDriveTM built into a hygienic stainless steel casing. It more or less looks like the traditional electromagnetic vibrators – but it is completely different.
Compared to traditional electromagnetic vibrators, the Alvibra® ViFlexTM offers the following advantages:

Double the amplitude/stroke / double the capacity
Better for difficult products
Easy controllable thru frequency converter
Half the power consumption
Noise level is less than half
HYGIENE & CLEANABILITY
No matter what type drive is chosen, the Alvibra® products are hygienically designed stainless steel machinery meeting the most stringent requirements.
HYGIENIC KEY POINTS: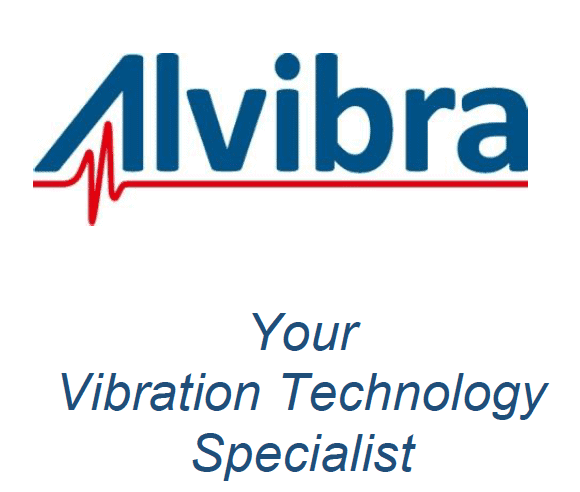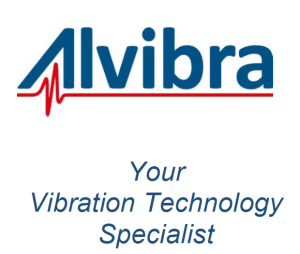 No-level surface design / self-draining
100% stainless steel
All corners rounded for easy cleaning
Polished product contact zones
Design meeting FDA, EHEDG, USDA
Manufactured according to GMP
Material certificates documentation
Sanitation guidelines
CIP-able solutions – several options
Open profile framework – no closed or hollow areas
This article is published by
Alvibra A/S has many years of experience as well as many patents in vibration technology, which among other features reduces energy consumption significantly, and at the same time the technology is very quiet in relation to conventional vibration technologies.
Strong Financial Owner
Alvibra A/S is a wholly-owned company of the group Grundtvig ...