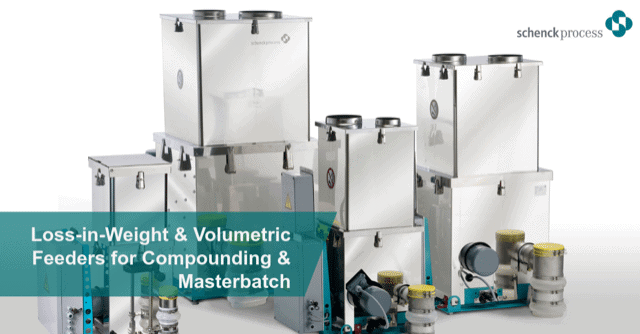 Designed with flexibility and performance in mind, the Schenck Process ProFlex C range, are an ideal solution for accurate, continuous volumetric and gravimetric feeding of bulk materials such as powders and granulate materials.
Based on extensive knowledge on material storage, filling and feeding, the Schenck Process ProFlex range offers models to meet the varying material requirements of the Plastic Compound and Masterbatch industries and includes variants for feed rates of up to 6000dm3/h, 3000dm3/h, 500dm3/h and 100dm3/h.
Several design features have been incorporated into the ProFlex range, to not only maximize performance but to also ensure integration, operation and maintenance are as simple as possible. These include:
Space-saving design, that enables optimum installation in existing and new production plants
Simple maintenance through rapid and simple disassembly for cleaning and changing feed material
Easy operation, through integrated measuring, control and regulation electronics
Smooth outflow of bulk materials is provided through an asymmetric design of its flexible hopper with steep wall angles
Easy change of discharge / drive side ensures operational flexibility for limited space availability
Optimum, high performance with an installation of up to eight feeders
High safety LIW-critical cabling encapsulatedIdeal for the compound and masterbatch industries, the ProFlex C loss-in-weight feeder family is also characterized by:
Asymmetric design
Easy change of discharge / drive side
8 point massage system
Easy dismantling and cleaning
Steep hopper walls
LIW-critical cabling encapsulated
Schenck Processes offers the ability to design, size, sell, fabricate and integrate other OEM processes as well as installing and providing ongoing support delivers full control.
As the primary equipment manufacturer, Schenck Process can manage production schedules for faster lead times on highly-engineered, custom-built systems. The end result is a predictable, efficient, and effective material handling process solutions.
This article is published by