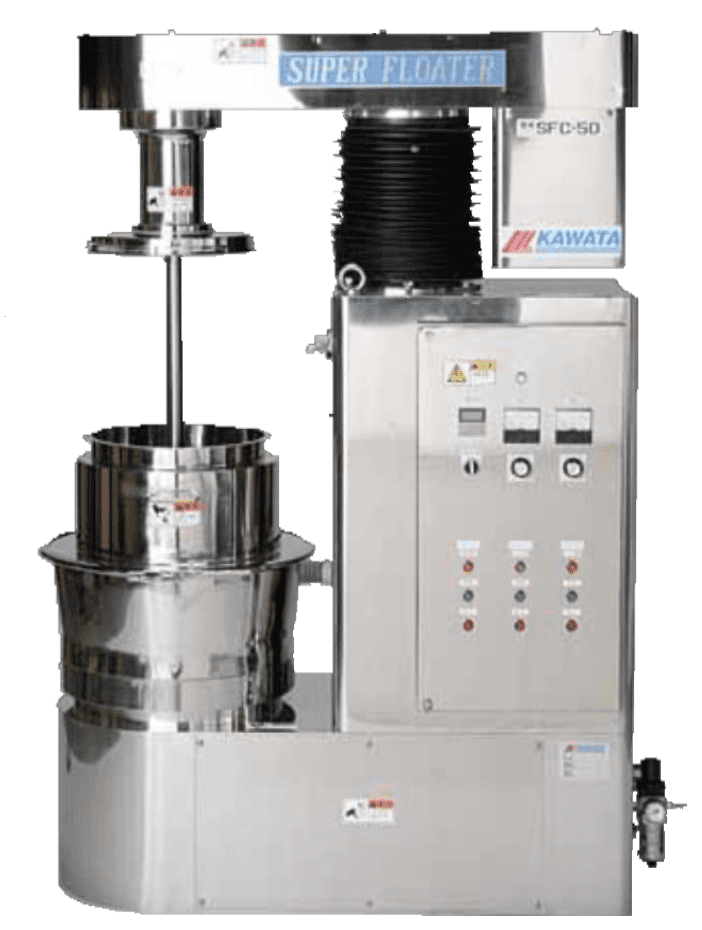 The machine uses 3-D movement to improve productivity while saving energy and time. It is great for dispersion and wetting of fillers, stabilizers, lubricants, and pigments. The applications include plastics, cosmetics, chemicals, foodstuffs, etc.
The Superfloater has both vibration and agitation features while their other iconic machine, Kawata Supermixers, is stationary. These features serve to drastically increase speed while delivering the high-quality product you'd expect from a Kawata mixer. Not only will production speeds increase while maintaining or improving quality, you'll also see a reduction in running costs.
Key features:
Energy Savings

Compared with agitating material in a stationary vessel, vibrating the mixing vessel itself saves about 70% of agitation blade energy. In other words, the same agitation effects can be achieved with 1/3 the energy of conventional mixers.

No Washing Required (mixing inside the bag)

Various materials, even if there is a large difference in gravity, can be mixed easily with much higher accuracy compared to conventional mixers. Thorough material mixing in a plastic bag completely prevents abrasion of the mixing vessel. Simply put, there is no need of washing the mixer tank.

Various Usages (for powders, granules, fluids)

Mixed material in a plastic bag is put into the mixing vessel for mixing work, and upon completion, the bag with material inside is taken out of the vessel. This keeps dust from scattering and eliminates the need to wash the vessel when changing formulas.

Equipment Saving (Replacement Cans)

3 sizes (10, 20, and 50L) of mixing vessels per unit are available for replacement, which eliminates the need for additional units and simplifies for changes.