Technologies for the Sustainable Use of Resources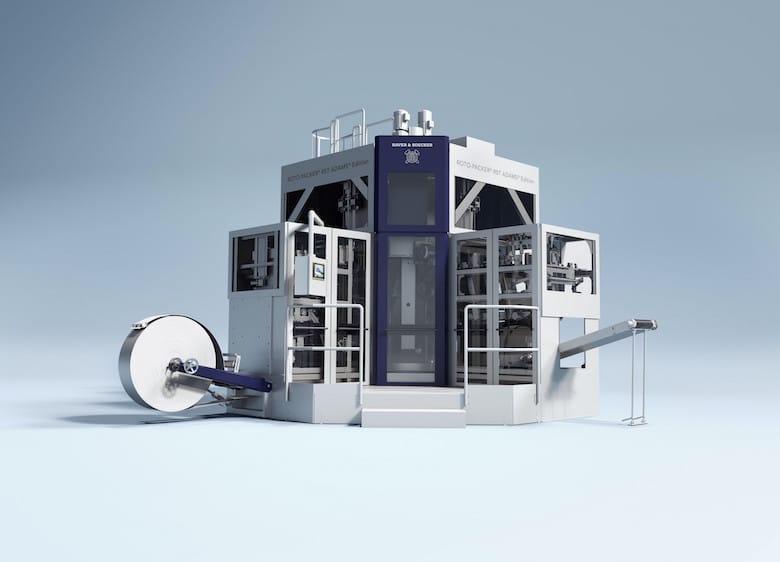 OELDE - The HAVER & BOECKER Machinery Division is exhibiting at INTERPACK from May 7 - May 13, 2020 under the motto: "PERFECT FLOW for our blue planet".
Together with its technology subsidiaries BEHN + BATES, Feige FILLING and HAVER Automation, the packing specialist based in Oelde, Germany, will be showing technologies and digital developments for a more sustainable use of resources and materials. (Hall 12, Stand A27)
HAVER & BOECKER presents future-oriented packing solutions together with its technology subsidiaries
The exhibition will focus on a ROTO-PACKER® RST ADAMS® Edition for filling powdery bulk materials into tight, sustainable PE bags.
BEHN + BATES, the experts for food packing, is presenting a ROTO-PACKER® SEAL Edition for filling food products. Here, the example is flour.
Feige FILLING is presenting its energy-optimized INTEGRA® 86 automatic drum filling machine.
HAVER Automation is presenting the digital future with valuable solutions for controlling, monitoring and analysing processes along with complete systems as part of a special live show.
AVENTUS will be showing its comprehensive portfolio of packing solutions for the first time.
60 years of the HAVER & BOECKER ROTO-PACKER® – The Original
In April, 1960, the first ROTO-PACKER® was put into operation by HAVER & BOECKER. Back then, as is the case today, it was unique in its ability to respond precisely to market requirements. As the original, the ROTO-PACKER® has since left its mark on the cement industry as it pushed performance improvements in terms of the variety of types of building materials and yielded possibilities for the chemical, food and feed industries. HAVER & BOECKER is celebrating the 60th anniversary of its ROTO-PACKER® original at INTERPACK.
The main exhibit of HAVER & BOECKER Machinery Division will be the new ROTO-PACKER® RST ADAMS edition. The 4-spout packer is specially designed for filling powder-type building materials and minerals into tight, sustainable PE bags.
The ROTO-PACKER is equipped with the well-established ADAMS® technology from HAVER & BOECKER. It stands for filling powdery products into watertight Form-Fill-Seal bags. Developed for the building materials market, it has also made a name for itself in the minerals, chemicals and food industries and is also now making inroads into the cement business. The system ensures clean filling into tear-resistant, reclosable bags that can be completely emptied. This means the packaged product is safely protected even under adverse storage and transport conditions. It also offers the advantages of longer storage stability and extended shelf life for the filled product, without loss of quality. Product loss during filling, storage and transport is reduced. Less product ends up being used, which leads to significant reductions in energy consumption and CO2 emissions.
ROTO-PACKER® SEAL Edition by BEHN + BATES for powder-type foodstuffs
BEHN + BATES is the premium supplier of filling machines for industrial food production and it knows the food industry's high hygiene requirements. The company offers solutions that meet these standards. With the ROTO-PACKER® for filling powdery products into valve bags, clean and safe packing of foodstuffs and high filling performance are achieved. The machine can be equipped with up to 10 filling spouts and can fill up to 2000 bags per hour.
In order to meet the product protection that is required in food production, the bags are hermetically sealed with the HAVER & BOECKER SEAL technology. At the beginning of the filling process, a sleeve on the specially designed filling spout inflates and seals the valve to prevent product from escaping. After dust-free filling, the bag valve is ultrasonically welded shut. Clean filling increases process reliability and reduces wear and tear and production losses that arise from cleaning, maintenance and repairs. The ultrasonically sealed shut packaging is air-tight, clean, compact, stable and attractive.
The exhibited ROTO-PACKER® is designed for easy product changeovers and rapid cleaning. The machine components are suspended from above, thus providing easy access for maintenance and cleaning works. This increases machine operational availability and overall plant performance.
The exhibited machine at the fair will be equipped with a RADIMAT® automatic bag applicator. The RADIMAT® automates the filling of loose, bulk goods into valve bags on rotating packing lines. It is loaded with empty valve bags from a bundle or from a roll. The bags are mechanically shot onto the packing machine's filling spouts and adjusted to its packaging machine speed. The RADIMAT® achieves a hit rate of up to 99.7 percent, thus allowing the maximum capacity to be utilized. In addition, the RADIMAT® scores with clear health and safety advantages for the machine operator because the operating location is moved to the area with low dust exposure.
The RADMIAT® shown is equipped with a fully automatic type recognition system. It enables the bag magazine to be filled with different types of bags, thus allowing rapid and smooth type changes during the filling process.
Energy-optimized automatic drum filling machine Feige FILLING
Feige FILLING, the market leader for filling and packing liquid and pasty products, presents the INTEGRA® 86 fully automatic filling machine that offers even more performance and safety while significantly reducing energy consumption.
The high-end machine, made completely of stainless steel, is impressive with its six workstations that enable a high filling capacity of up to 100 drums per hour. Integrated are attractive features such as the even more user-friendly touch panel, handheld remote control, and the new electronic proof-of-quality FEIGE FLOW Reader.
Moreover, the INTEGRA® 86 impresses with its technical innovations which optimize the use of energy: For example, the lifters of the filling units now operate electrically instead of using energy-consuming and cost-intensive compressed air. This also allows more flexible positioning within the plant. Also the new component for torque control, the servo screwdriver, is now electrically driven instead of pneumatically.
Digital solutions from HAVER Automation for controlling, monitoring and analysing logistics processes
As part of a special show, HAVER Automation – the experts from HAVER & BOECKER for software solutions – will be presenting the digital future with solutions for process control, monitoring and analysis, from mixing and packing to storage and logistics. These may include solutions for controlling production processes, for recipe management or for maintaining and managing data, orders or components. HAVER Automation will be using live examples at the trade fair to demonstrate how various software solutions can be applied to optimize processes so that a decisive contribution to a more careful use of resources and materials is made. Capacities are utilized in the best possible way, energy and CO2 emissions are reduced and raw materials and materials are used efficiently.
QUAT²RO System Monitoring – intelligent system monitoring for efficient control of packing processes
All machines exhibited by HAVER & BOECKER and its technology subsidiaries at the fair can be equipped with the HAVER & BOECKER QUAT2RO® System Monitoring. Based on recorded performance data, the entire packaging process can be monitored, planned and controlled at any time via mobile devices. This enables a perfect interaction between all components and optimum plant utilization. In the end, costs are reduced. The packaging process can be designed efficiently and service intervals can be planned precisely and on a long-term basis. The QUAT2RO® System Monitoring provides exact documentation of the entire process and allows a cross-operational analysis of all performance data.
Comprehensive portfolio of packing solutions from AVENTUS
AVENTUS, the 2018 joint venture made by HAVER & BOECKER and WINDMÖLLER & HÖLSCHER, will be presenting solutions for the agricultural and chemical industries as well as the salt, fertilizer and pet food sectors. At the heart of the WINDMÖLLER & HÖLSCHER stand (Hall 15, Stand C42) will be a particularly high-performance packaging machine for free-flowing materials in bulk. The system fills up to 2600 bags weighing 25 kilograms per hour. Thanks to the low wear susceptibility of the components used, the packaging solution has a high operational availability. In addition, the machine features state-of-the-art dosing and cooling technology as well as comprehensive process data management. Another highlight is the energy-efficient palletizer with a low CO2 footprint. The packaging system for open-mouth and valve bags of the subsidiary NEWTEC BAG PALETTIZING also delivers the convincing benefits of low maintenance requirements.
This article is published by
Leading Manufacturer of Packing Technology for Bulk Products
The HAVER & BOCKER Machinery Division has its headquarters in Oelde, Germany and is, in addition to the Wire Weaving Division, one of the two divisions of the HAVER & BOECKER OHG. The Machinery Division and its various subsidiary companies are specialised in developing and ...