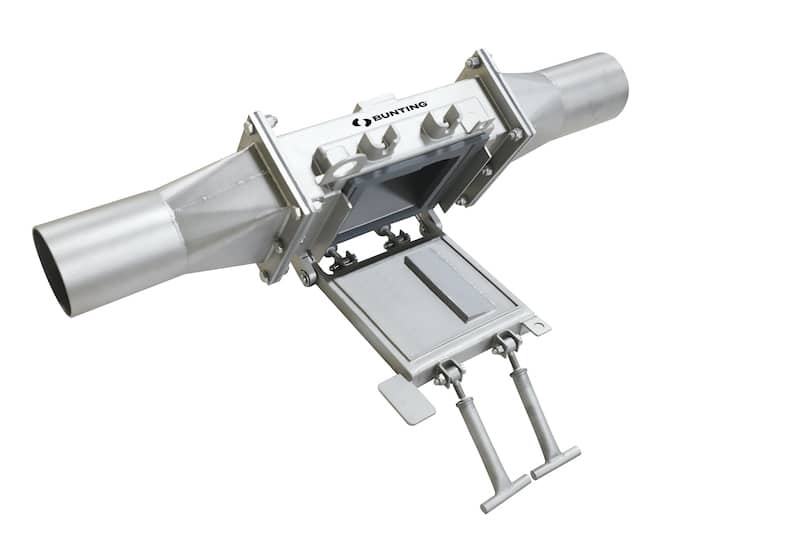 NEWTON - When moving product through a pneumatic conveying line, it is important that magnetic separation and metal detection solutions are implemented to protect product from being contaminated by fragments of ferrous and non-ferrous metal. Even in the most up-to-date facility, natural wear and tear on equipment will inevitably lead to small particles of metal contamination finding their way into product.
While these particles can be easily missed by the naked eye, they can severely compromise the quality of your product. Magnetic separation and metal detection equipment from Bunting ensures that even the smallest fragments of metal will be pulled out of your product stream, protecting the integrity of your products and the reputation of your brand.
Bunting's line of Pneumatic In-Line Magnets, or PIMs, have been designed specifically for use in dilute phase pneumatic conveying systems, suitable for up to 15 psi. Implementing them into your facility is fast and simple, and installation becomes even speedier with optional factory-supplied compression couplings. This product comes standard with high-energy rare earth tapered step plate magnets that produce a powerful magnetic field and cover the entire cross-section of product flow. This product has recently been updated to include a NEW lockout tag feature, which helps to improve your plant efficiency and safety. 
Magnetic separation products utilize powerful magnets to trap ferrous metal contaminants and remove them from your product stream. To detect and reject ferrous metals as well as non-ferrous metals, Bunting offers a range of metal detection equipment, including the pTRON™ 05 & 07—a product designed specifically  for pressure, suction, or vacuum pneumatic conveying lines. The pTRON™ possesses a fast acting flap reject that ensures reliable separation of contamination and minimizes loss of good product. It has a positive speed control feature to ensure this flap activates at the precise time, as well as a double pinch-valve reject that prevents loss of system pressure. The pTRON™ is easy to operate, maintenance free, and quick-acting. The pTRON™ 03 is also available, and is ideal for intermittent vacuum conveying lines.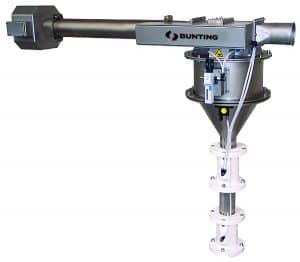 Don't allow metal contamination to plague your pneumatic conveying lines. Protect your products, your employees, and your profits with Bunting. To learn more, contact us by visiting our website, buntingmagnetics.com or buntingeurope.com, or by sending us an e-mail at bmc@buntingmagnetics.com or sales@buntingeurope.com . We are a global company with multiple locations across the United States and United Kingdom, and we are proud to serve customers all around the world.

This article is published by
Bunting® has always been about solving problems with magnetic energy for manufacturers for several industries. The company, headquartered in Newton, Kansas, has multiple locations including our Magnet Materials Division in Elk Grove Village, Illinois; our Bunting Magnetics Europe Ltd. manufacturing operation in Berkhamsted, England, Magnet ...