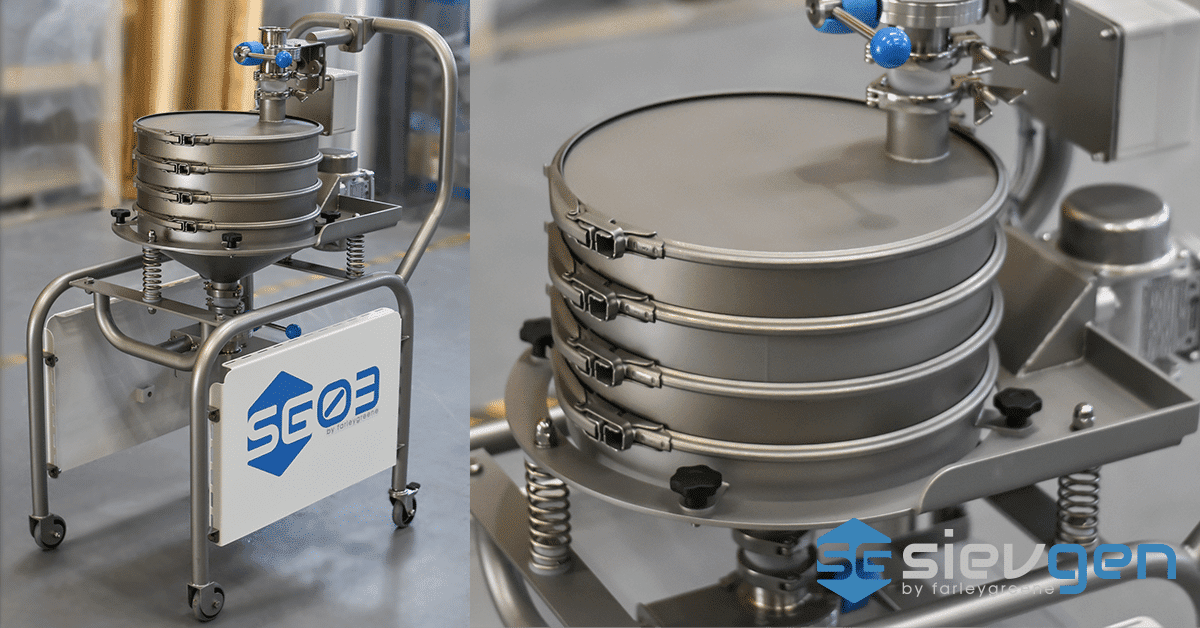 Sievgen 03 launched in 2017 and has quickly become the sieve of choice for smaller institutions wanting to screen metal powders.
Sievgen 03 (SG03) was created by Farleygreene following the success of their flagship sieve designed for the Additive Manufacturing industries, Sievgen 04 (SG04). In comparison it is a smaller, non-automated, low volume, and research-friendly system. At the core of this machine is a design that simplifies sieving, providing a quick and easy powder processing system for smaller batches of metal powder.
Why use Sievgen 03?
To assist smaller establishments SG03 is a highly flexible and time efficient machine, offering exceptionally high throughput so that there is no delay in processing smaller batches of powder. Manual operation is kept as straightforward as possible with a flexible design that allows for easy breakdown of parts and cleaning between material and batch changes. SG03 also boasts a number of other design features including: flexible outlet design tailored to fit multiple connections, tool free cleaning (including full disassembly), gallery mounted ultrasonics meaning no bonded parts in product flow, a sealed environment reducing the risk of introducing contaminating particulate, a stable and mobile design.
Compact, portable, easy to use.
How it works
SG03 can either be provided with, or can be designed to connect to, 2-5 litre bottles. A bottle is then inverted and attached to the inlet, and another to the outlet underneath the system. Once the valves are open on both bottles, sieving can begin. To enable the 100% efficiency that a customer such as a research establishment might want, the oversize remains on the mesh, and can be removed at a later date. The processed powder is collected in a canister beneath the machine, ready to be put back into the AM cycle.
Sievgen systems are a balance between efficiency and throughput, separating the unusable, oversize from the reusable powder as quickly as possible without losing valuable product. Since being established in 1976, this is a technique Farleygreene has refined based on years of experience in Pharmaceutical and other equally challenging markets. Based on that experience we know that every powder is subtly different, as are every customer's needs. Our dedicated sales and engineer teams will work closely with you in order to achieve the required throughput parameters for your environment.
This article is published by
Since 1976, Farleygreene has been providing excellence in the manufacture and supply of sieve, sifter, screener and separator machinery to some of the largest companies across the Globe. From food to pharmaceuticals, and everything in between, Farleygreene has got the answer to your needs with functional, technically superior, yet elegantly simple ...