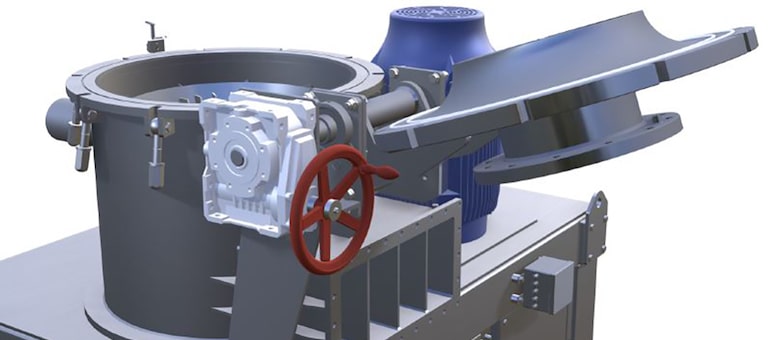 The PPS Air Classifier Mill Machine is a vertical grinding mill that incorporates an internal air classifying wheel with an independent drive.
It is commonly used for milling heat-sensitive material and provides precise control over "particle cut point".
To Mill and reduce the size of the material, the product is fed into the grinding chamber by either a feed screw or a pneumatic conveying system, through a rotary feed valve. The material is processed through the high speed grinding media, which causes the product to break and be thrown by the centrifugal force, to the wall of the grinding chamber. Which in turn causes the product to break further.
Next Process
The particles are routed in the induced airflow surrounding the outside wall of the internal baffle assembly, which is fitted with air baffles to laminar the airflow. The laminar airflow and particles pass to the internal classifying wheel, which is rotating in the same direction as the rotor disc. Any oversized particles rejected by the classifying wheel, are moved into the inner wall of the baffle and pushed down by gravity, as well as the pressure created by the classifying mill. These oversized particles are then re-processed into the grinding media where the further impact occurs. This recycles action continues until all the particles pass through the classifier wheel.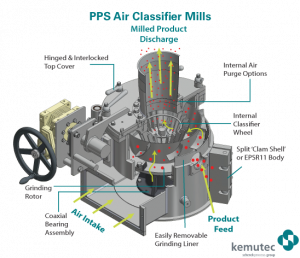 Applications
PPS Air Classifier Mills are supplied for either batch processor for continuous processing. All PPS systems are designed to handle both inert and explosive applications. Venting or containment in such applications is required.
Typical Applications
Powdered Sugar 12X and 14X Grade
Gluten
Very Fine Flour
Fine Grinding of Active Pharmaceutical Ingredients
Dry Sorbent Powders
Talc
Clay Powders
Dye Powders
Toner Powders
This article is published by