Product cost price even lower due favourable hammer mill price, fewer operations when changing screens and more efficient milling.
Since 1948, Dinnissen Process Technology has been developing machines, complete processes and customized solutions for the food, feed, pet food, pharmaceutical, and chemical industries. The focus mainly lies on the efficient handling and processing of powders, granulates and pellets.
Innovation remains the basis
One of Dinnissen's characteristic qualities is the ability to transform daring innovative ideas into working concepts that are successfully adopted by leading producers.
A great example of such a successful innovation is the vacuum core coating process, invented by Dinnissen in 1992. Several years later, this was followed by the lean gravity mixing lines and the hammer mill featuring an automatic screen exchange system. These are just a few of the many technological breakthroughs that gained Dinnissen considerable recognition throughout the world.
Substantial reduction in cost price due to clever re-design
The fully automatic Hamex® Hammer Mill used by many multinationals has recently been extensively improved. The Hamex® Hammer Mill offers producers of meal-like feed many advantages, for instance extremely efficient milling and accurately definable particle size distribution.
In this updated hammer mill, the freely suspended hammers rotate at a speed of 1,500 RPM in the milling chamber. Thanks to the unique design, this mill is characterized by a minimum noise level, which is good for the operator and improves reliability. Dependent on the properties of the product to be milled, different numbers of single or double hammers can be used. The centrifugal force that is generated forces the product that is being milled against the special jaw plates inside the milling chamber. The milled product then leaves the hammer mill via the exchangeable screens.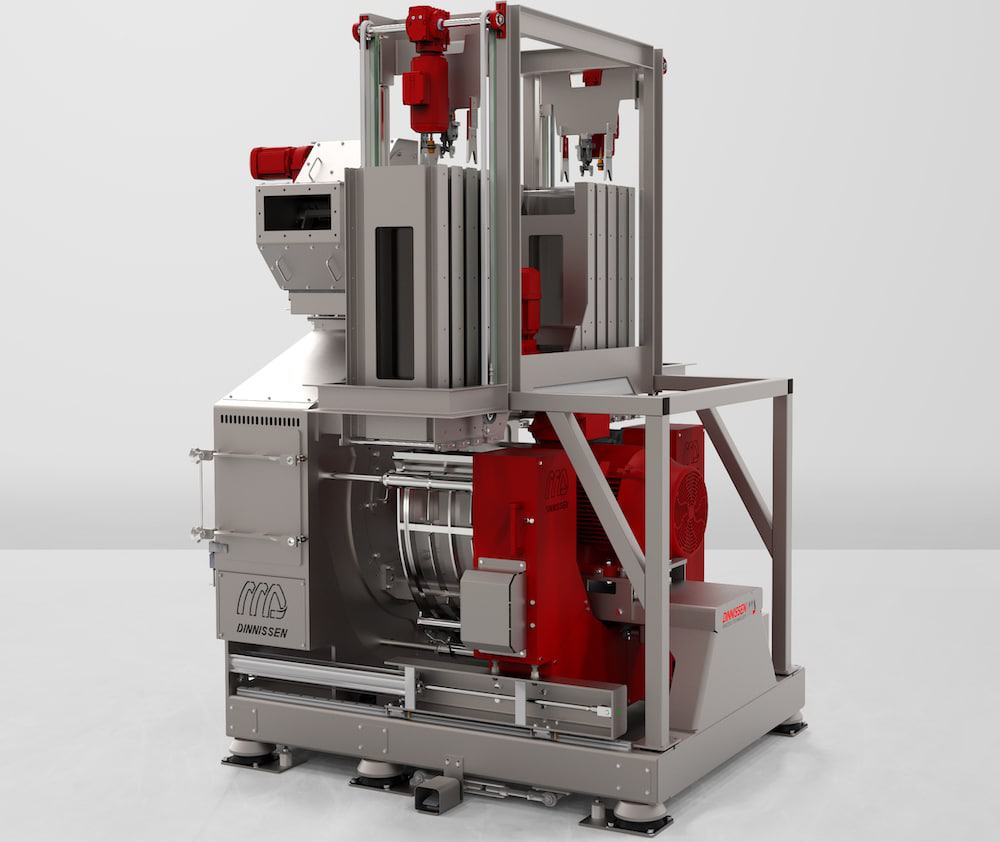 This version has a fully automatic screen exchange system. When changing the screen, the screen on its screen holder is automatically slid out of the machine while the rotor continues to turn. This saves the ten minutes required for the rotor to stop. Ideal if the particle size must be regularly changed. Screens are available with four different perforation sizes.
Screens are exchanged in the time between the batches, meaning that no production time is lost. The safety of the operator is also guaranteed.
Substantial reduction in cost price due to clever re-design
Much progress has been made on many fronts with the new Hamex® Hamer Mill. For instance, the method used to produce the machine has been automated and modernized even more, which has considerably reduced its total price. In addition, various ergonomic aspects of the machine have been amended, improving user-friendliness and speed of screen changes.
The screen can now be slid out of the machine sideways meaning that wear parts are quickly reachable and can be easily changed. In addition, the Hamex® Hammer Mill has large inspection hatches that offer fast and easy access for inspection, cleaning, and maintenance of the relevant components. Many advantages that together make an essential contribution to further reducing the eventual product cost price.
Higher production capacity
The Hamex® Hammer Mill is also fitted with a stone trap and a magnet that separate hard objects and magnetic particles from the product being processed. This helps to prevent product contamination and screen damage. It is also possible to choose a specially developed airflow system that quickly and efficiently regulates the transport of particles of the correct size. This increases capacity and reduces energy consumption.
More profit
The advantages mentioned will not go unnoticed by feed producers. And certainly because this new Hamex® Hammer Mill offers an immediate and easily demonstrable increase in profitability and a shorter ROI.
If you would like more information, please contact Dinnissen in Sevenum (the Netherlands). Tel.: +31 (0)77 467 35 55 or go to www.dinnissen.nl.
This article is published by
We're proud to be known for our expertise, quality products and tailor-made solutions. We're even more proud that our customers and employees know they can count on us. By keeping engineering, production, testing, installation, commissioning and service in-house, we don't have to rely on others, and that's why others can rely on us. We believe ...