Nestled among the fields of wheat, corn and milo is Bert & Wetta, a family-owned and operated business which has supported the American alfalfa industry since 1946.
It's no surprise that Bert & Wetta prides their business on innovative technologies. In 2015, the company consulted Vortex to discuss improvements to their manufacturing process. Their system included:
An auger screw conveyor to transport fine alfalfa meal;
Two surge bins to store fine alfalfa meal; and
Two pellet mills – one installed beneath each surge bin.
Still, a solution was needed to divert materials into the two surge bins. Bert & Wetta's challenge was that while a traditional diverter valve would be a simple solution, head room was not available to be able to integrate a diverter valve into this system. Instead, a slide gate would need to be used to divert materials from the auger screw conveyor. That's when Vortex recommended their Roller Gate with electric linear actuation.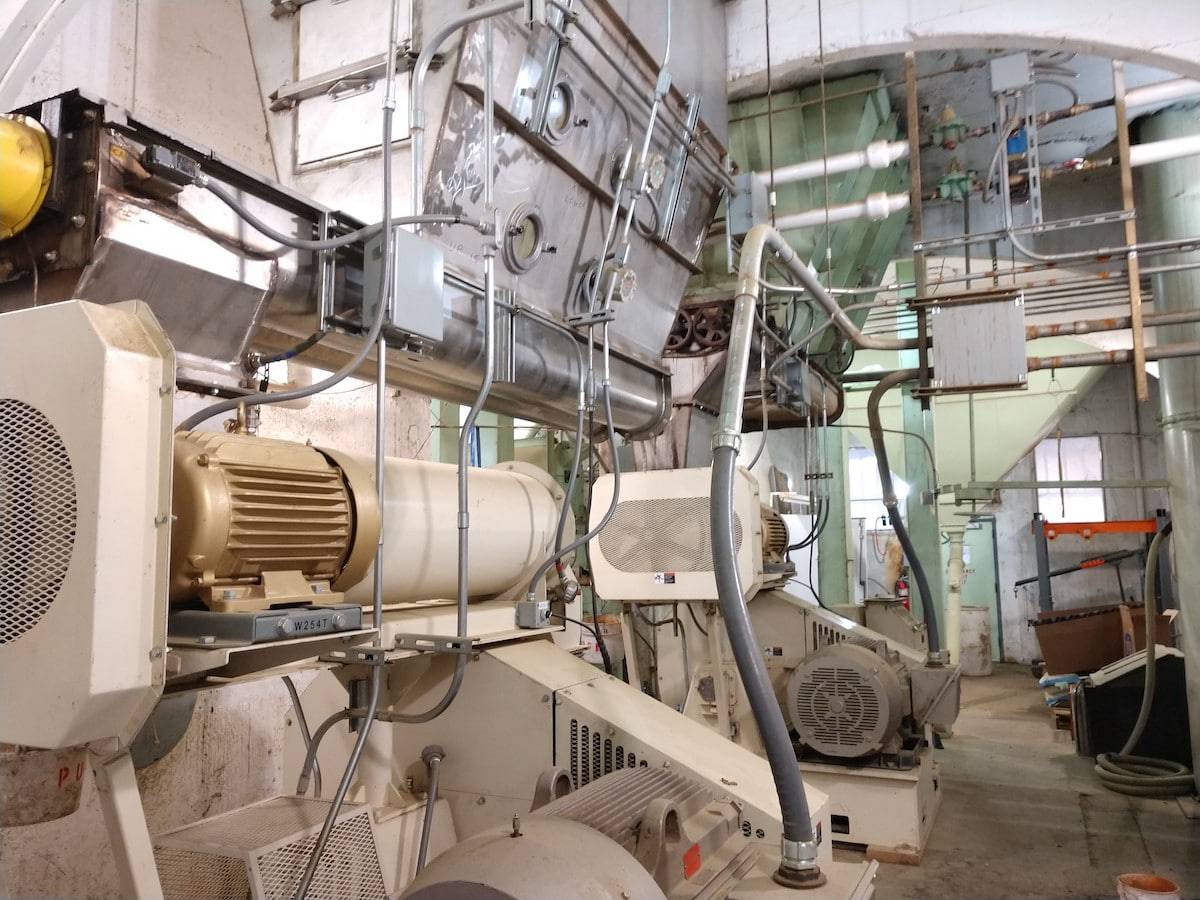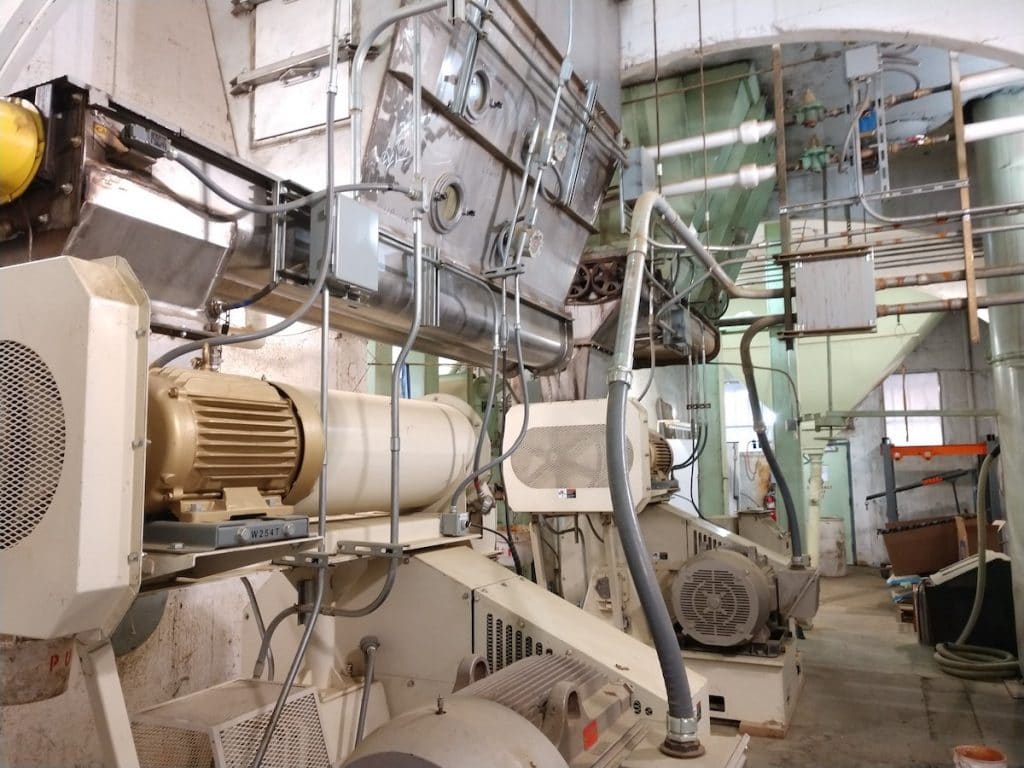 Gate Specifications:
Size: 15 in | 380 mm
Gate body constructed from 6061-T6 aluminum.
Blade & other material contact areas constructed from 304 stainless steel.
Bonnet seals, side seals & roller spacers constructed from PET polymer. To compensate for frictional wear, the hard polymer seals are live-loaded with compressed silicone rubber backing.
End seal & blade guides constructed from UHMW-PE polymer.
Access slots for bonnet seal replacement while the gate remains in-line.
With frictional wear over time, the side seals will lose their compression load against the blade. The Vortex Roller Gate features cam-adjustable blade rollers to "lift" the blade against the side seals and restore the compression load. This maintenance process can be performed while the gate remains in-line.
For this application, the gate is equipped with a Special Service Inlet to hinder material packing into the end seal. A Special Service Inlet acts as a funnel to direct material flow through the center of the gate. Its primary purpose is to create a void between materials, the blade, and the gate's seals.
Electric Linear Actuator Specifications:
Industrial motor: 1/8 horsepower (HP); single-phase; 115 VAC; 60 Hz; 4.4 locked rotor current; 25% duty cycle; 2.6 load amp draw; enclosure is Class II, Div 1 & 2, Groups E, F & G weatherproof and/or dust-ignition proof.
Built-in smart controller provides 4-20 Ma input/output.
Actuation rate: 0.4 in/sec | 10 mm/sec
(Qty. 2) SPDT adjustable (open/close) position limit switches.
Application
When the gate is partially opened, some materials discharge into Bin #1 as surplus materials bypass the gate and continue down through the auger screw conveyor, to be simultaneously discharged into Bin #2.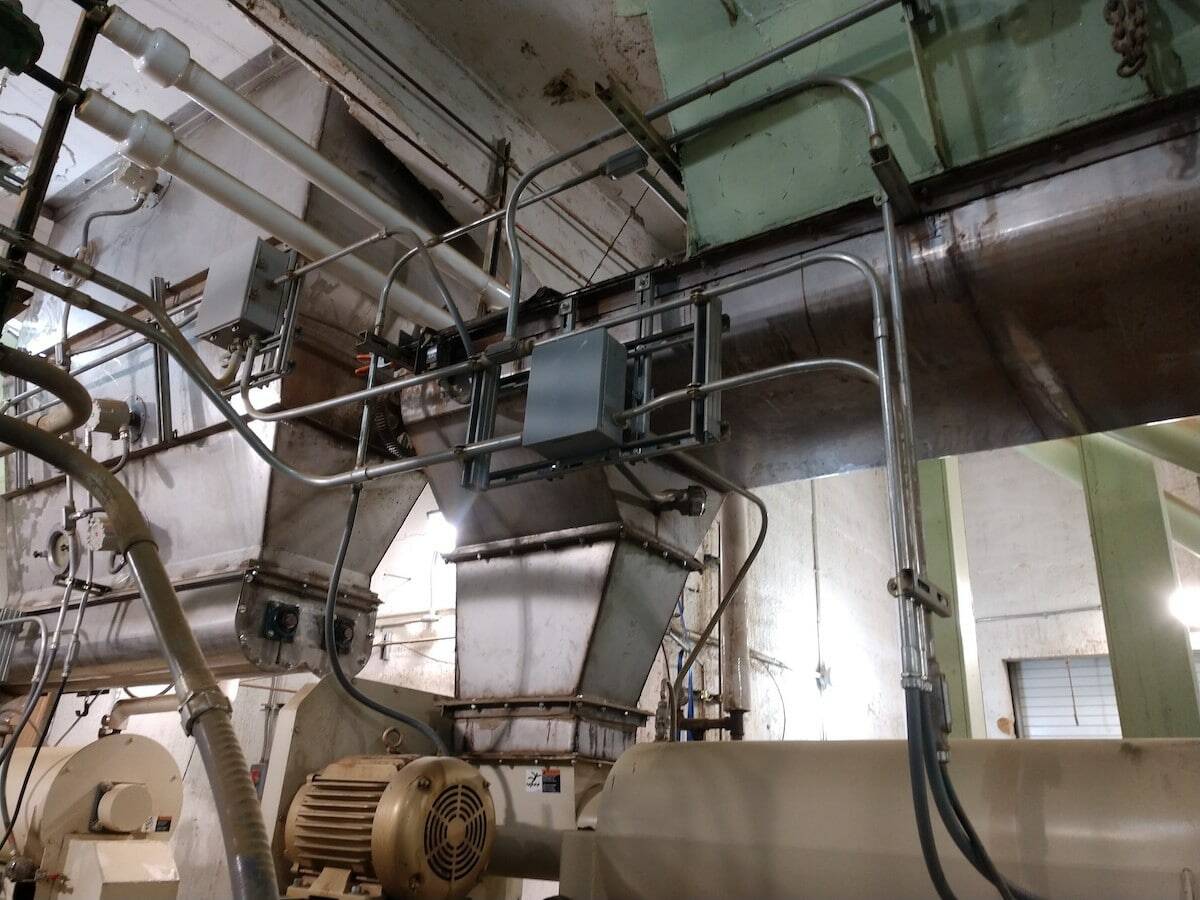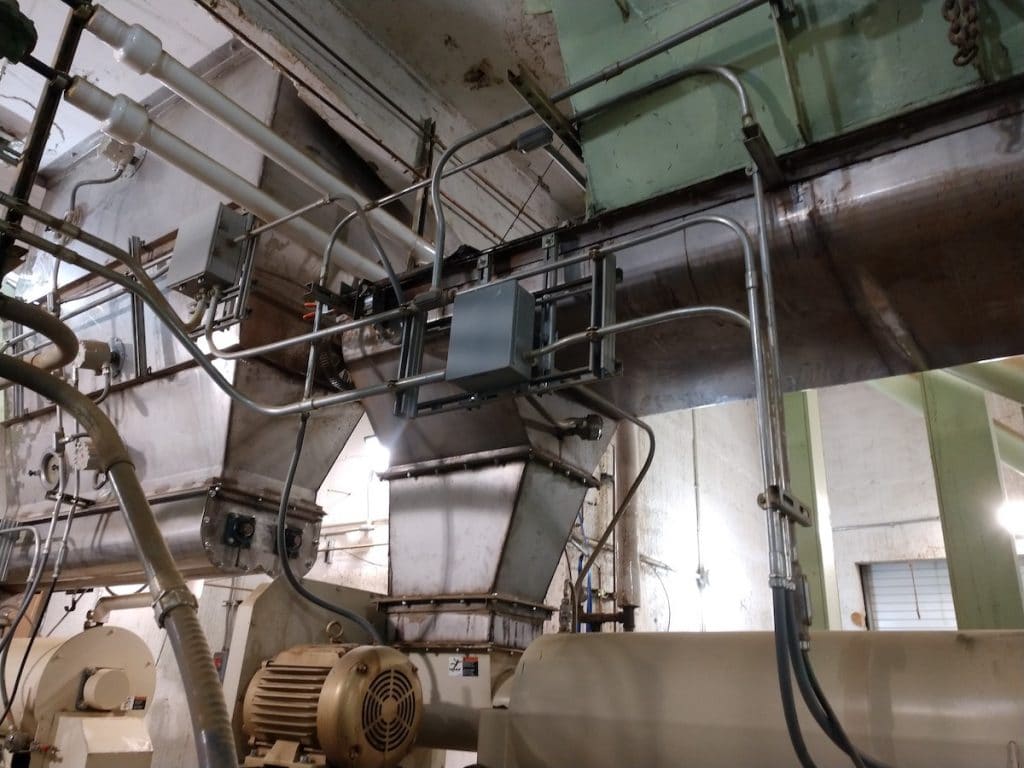 Results
"For the last two or three years, our Vortex Roller Gate has performed without a glitch. We use it to split flow into either bin," explained Carlton Bert, president at Bert & Wetta. "Through our programmable logic controller (PLC), we can fine-tune the gate's opening and adjust to the correct percentage to be able to evenly feed both surge sins. The electric linear actuator with smart controller allows very calculated gate movements from 0-100%, which has worked extremely well in our metering capabilities. We have found that an approximately 34% opening splits flow evenly."
Bert continued, "Fine alfalfa meal is a free-flowing material. Because we did not have enough head room available, we had to get a bit clever with our diverting capabilities. This concept has worked perfectly when handling alfalfa meal – and I think it could be easily adapted to work when handling other fine, free-flowing materials."