BRÉCÉ - A forklift operator is in charge of supplying the full bulk bags and positioning it in the bulk bag emptying station.  Another operator opens the bulk bag on the station (unlacing and opening of the spout of the bulk bag) using a glove box to optimize containment.  A neon light illuminates the operator's workstation.
Installation for the world's leading supplier of coal for energy purposes.
A pneumatic massage system of the bulk bag allows an optimal extraction of the material. The operator can start or stop the massage cycle on request according to the utility.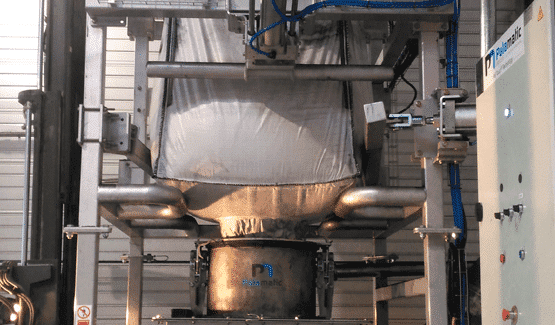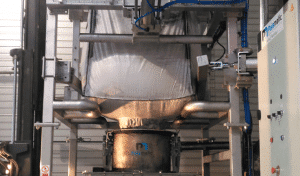 A level sensor is installed on the bulk bag emptying station.  Once this probe is uncovered, it indicates to the operator that the bulk bag is empty. The operator then closes the bulk bag cuff and warns the fork-lift operator that the bulk bag is empty.  A tubular screw conveyor ensures the transport of the material to the truck. A telescopic loading spout provides the connection to the truck. The loading spout is motorized. A level probe stops the truck loading automatically and raises the loading spout for changing the filling nozzle (driver operation) or at the end of the loading process.
An independent dust collector is connected to the loading hose for degassing and also to the bulk bag emptying station for operator containment.  The vacuumed fines are collected in a wheeled bucket.
This article is published by
PALAMATIC PROCESS is a company specialized on powder and bulk handling solutions. With more than 2,000 installations across the world and more than 25 years of experience, PALAMATIC PROCESS is a company with a strong international orientation. We pay special attention to the needs and expectations of our customers to design customized machines meeting ...