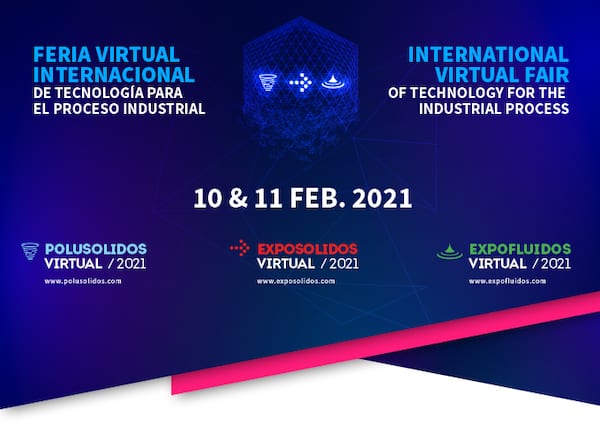 EXPOSOLIDOS is the Exhibition for the Technology and Processing of Solids.
A virtual event specialized in Technology and Solids Processing where will be exhibiting the main national and international companies of technology for the handling and processing of solids, bulk materials, dry powders, semi-solids and solids-liquids separation.
EXPOSOLIDOS provides technology solutions for all sectors related to solid, bulk materials, dry powder semi-solid, and solid-liquid separation: Agricultural  / Chemical / Rubber and Plastic / Ceramics and glass / Construction / Cosmetics / Detergents / Pharmacist / Fatty / Soap / Metallurgical / Wood and Paper / Mining / Naval / Port / Feed / Paints and Varnishes
It is the leading trade fair in southern Europe specialized in the handling, processing, and transportation of solids, bulk materials, dry powder, semi-solids, and solids-liquid separation. It is also the most important trade fair in Southern Europe in exhibition space as in a number of visitors and diversity of the offer.
EXPOSOLIDOS are focused in formation and information. EXPOSOLIDOS is not only a show of technology; it is also an exchange of information between professionals and a recycling opportunity attending technical conferences.
The presence of the leading brands in EXPOSOLIDOS becomes the ideal place to analyze and compare solutions to the technological needs of visitors.
EXPOSOLIDOS is an event designed for business, networking and to reach specific solutions to the needs of industries related with solids, bulk materials, dry powder, semisolids and separation solid-liquid requirements.
Date
10 Feb 2021 - 11 Feb 2021
Click here for more information about EXPOSOLIDOS 2021