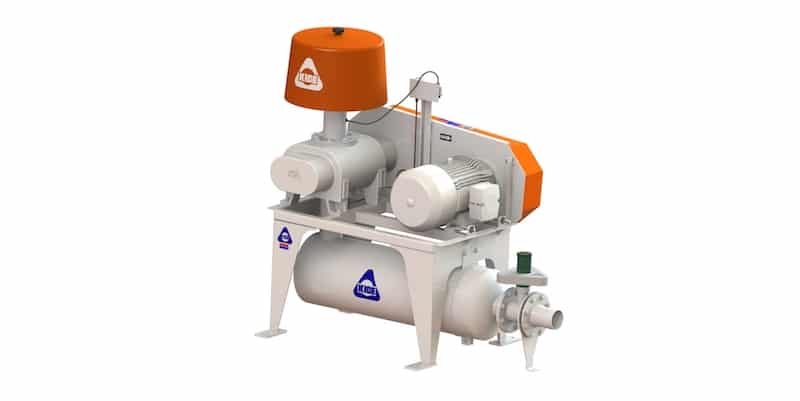 Kice Positive Pressure Conveying System to move 110 lbs. per minute of ground coffee, through a 3" OD line, from a dryer to storage bins. The system is to move product 80 feet horizontally and 50 feet vertically with five each 90-degree elbows.
Products: Kice PD3000 Air Power Unit, Dryer Outlet Transition, Kice VJX 10×8 airlock, Kice 67Q3-2 high-pressure diverter valve, Kice Bin Vent Cartridge Filter, Steel Sigh Glass, Round Tubing, Elbows, Compression Couplings.
Features: The most efficient and simple method of pneumatic conveying is using a positive pressure system. One of the features of a positive pressure system is that you can add pickup points and go to multiple destinations. Simply add inline diverter valves to the conveying line and pick any one of a number of destinations.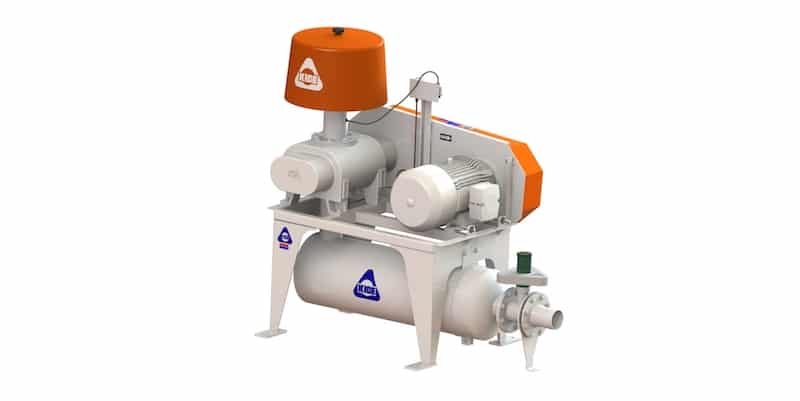 Extensive testing shows that Kice PD blowers run more efficiently and consume less energy than other blowers available.
The VJX airlock is designed to comply with NFPA 69 criteria as a passive isolation device and brings less maintenance, reduced downtime and lower overall operating costs to users.
Kice 67 Series diverter valves and 68 Series bin fill valves are heavy duty cast iron valves with tightly machined clearances, assuring they meet the critical need to terminate a pneumatic conveying system at multiple destinations.
Customer: Coffee Manufacturer
Challenge and Application: Remove dust from coffee beans. The material to be aspirated is to be dry, granular and free-flowing with a bulk density of 37 lbs. per cubic foot.
Kice Testing: The Kice Testing Lab can simulate an actual system and accurately predict the viability of each product. Our lab test results before onsite application exceeded the customer's expectations.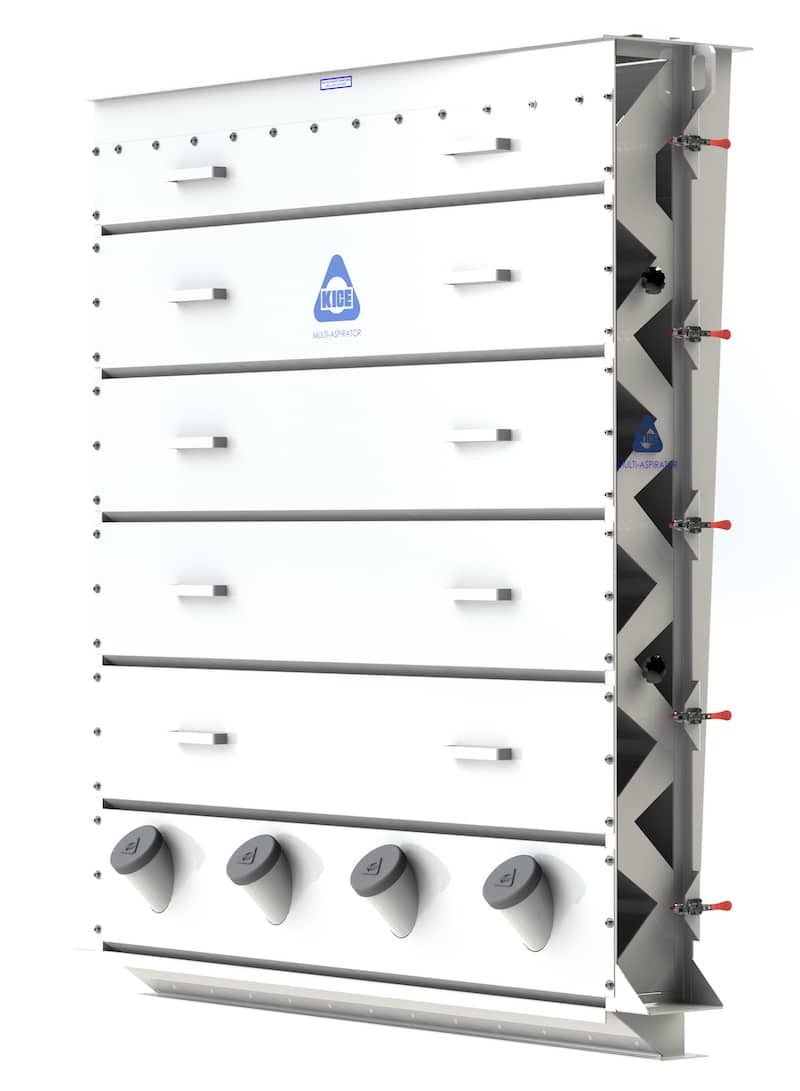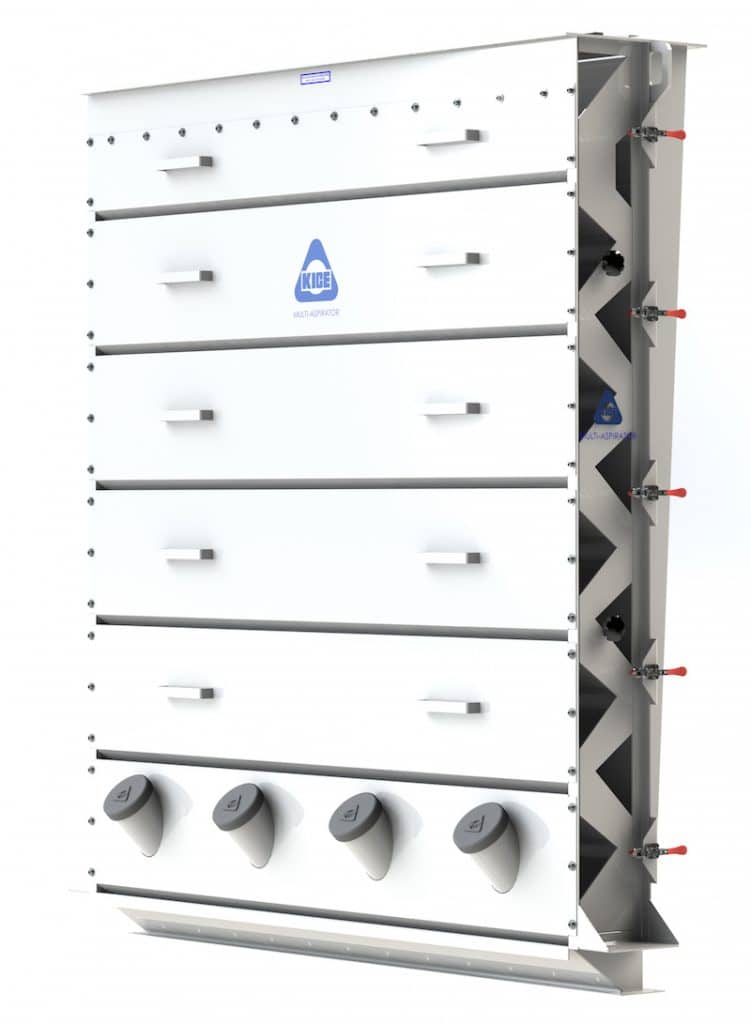 Kice Product: Kice Multi-Aspirator with four individual points of aspiration, Kice CK36 cyclone collector, Kice VJ 12x8x8 airlock, Kice FC11 fan.
Features: The Kice Multi-Aspirator is not only effective, it is quiet, has no moving parts, no fine openings to blind or plug, can be adjusted "on the run" with an infinite number of settings, and also transports the liftings to a destination of your choice.
Kice cyclones are engineered to be highly efficient at separating particles from air streams. The geometry of Kice cyclones provides a balance between efficiency of separation and resistance to air flow. Kice CK cyclones are completely welded with angle ring reinforcing. Tests prove that Kice CK cyclones are as efficient as most "high-efficiency cyclones" available in today's market.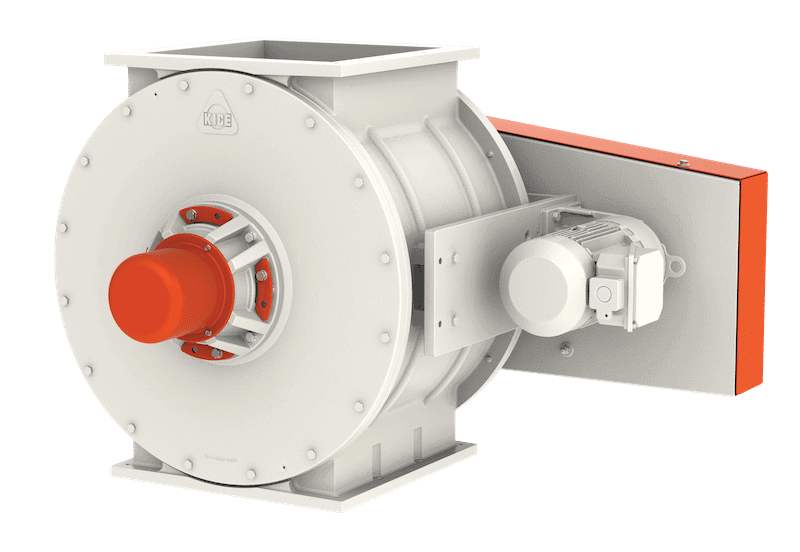 Kice VJ airlocks are drop-thru, inboard bearing units. They can be applied to a high percentage of the applications customers have. These cast iron valves are built at our foundry, CFM Corporation.
Kice FC fans have straight radial blade fan wheels and are suitable for air streams with dust loads.
Follow Kice Industries on Twitter and LinkedIn for future updates:
This article is published by
Over 60 years of experience in the design and manufacture of complete industrial air systems for pneumatic conveying of bulk solids and for dust control applications. We serve a wide range of industries world wide including grain, plastics, food, feed, wood and minerals. Kice Industries was originally organized as a four-way partnership in 1945 ...