Healthy Pet® is a global supplier of pet bedding and litter. They are experts in natural material, using rescued plant fiber to make all of their products. Having previously worked with Sweet, they contacted us again in 2019 to assist with an expansion of their Georgia facility.
Healthy Pet® needed to move their finished cat litter horizontally and then vertically from floor level to their upper level so it could be placed into bagging stations. This needed to be done on two separate litter lines. Their original plan was to use an elevator with a short horizontal drag conveyor on each line.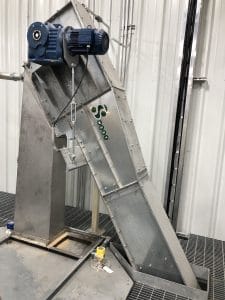 Sweet proposed using one piece of equipment to accomplish the task– our Incline Flite-Veyor®. The conveyor would have to meet capacity while maintaining a low noise level, as it would be located inside the building. We engineered two 1017 Incline Flite-Veyors® with a special 60° angle. The conveyors are quiet, and the angle allows for easy vertical conveying to the bagging area with a smaller horizontal footprint. 
Since the expansion, the two units are running well and have exceeded the expectations of facility managers. Sweet and Healthy Pet® have been working together for almost ten years to maintain and improve its manufacturing process.
You've got distinct needs, and we've got Sweet® Solutions. Call us today!
Click here for more information about the Flite-Veyor®
Click here for related articles and news
Sign up for Mechanical Conveying E-Updates
Recent Mechanical Conveying e-newsletters
Read our last "Mechanical Conveying" e-newsletter campaigns here:
Sweet Manufacturing Company is a family owned and operated business, established in 1955, which is known worldwide for premium products and customer service. We are a leading manufacturer of bulk material handling, conveying and processing equipment for agricultural (smaller to commercial capacities) aggregates, wood, feed, biofuels and industrials ...