Lödige Process Technology presents industry-specific mixing technology and related processing technologies for metallurgical applications at the Metec 2019 (Hall 4 / F23).
Particularly ploughshare mixers—which are based on the mechanically generated fluid bed process patented by Lödige—are ideally suited to the manufacture of sinter material and ore mixtures.
One example at the booth (Hall 4 / F23) is the Lödige Ploughshare Mixer® FKM 600 with a drum volume of 600 liters: Specially designed for heavy and coarse, the mixer is outfitted with extremely wear-resistant materials. It has a removable inner rubber lining as wear protection for the cylindrical drum and for the head pieces. The Ploughshare mixing tools are equipped with a hard metal welding made of tungsten carbide. In this way, a Vicker's hardness of more than 3,000 is achieved, which leads to a considerable increase in service life.
Since heavy-duty applications often use products with difficult properties, for instance, those which tend to set and harden, Lödige offers a divided mixing drum as an additional equipment option for the mixer. This permits easy access to the inside of the machine. Replacing shovels, shaft and rubber lining becomes much simpler and accordingly, can be carried out in no time.
Lödige at the Metec 2019 (25 – 29 June 2019, Messe Düsseldorf Fair Grounds) Hall 4 / F23
Click here for related articles and news
Search for mixer manufacturers in our equipment guide
Sign up for Mixers & Blenders E-Updates
Recent Mixers and Blenders e-newsletters
Read our last "Mixers and Blenders" e-newsletter campaigns here: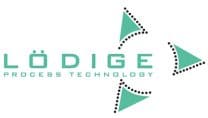 Lödige (Gebrüder Lödige Maschinenbau GmbH), the inventor of the ploughshare® mixer, is a leading supplier of machines and systems for mixing, granulating, coating, drying and reacting technologies throughout the world.
Lödige Mixing and Processing Technology
They are specialized in the fields of mixing, granulating, coating, drying ...