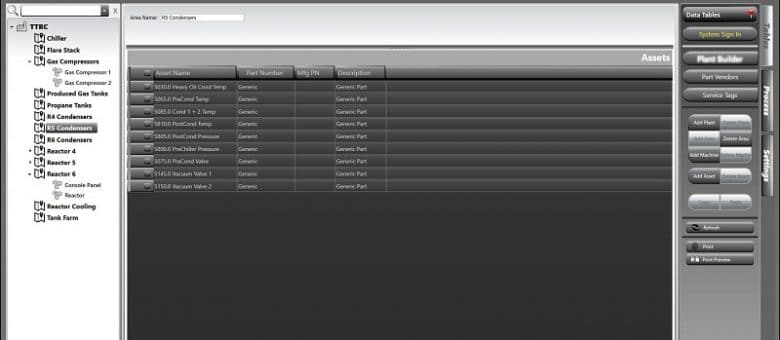 Sterling Systems & Controls, Inc. is pleased to announce the availability of its NEW PMPlanR™ software. PMPlanR is a robust standalone Preventative Maintenance Planning Software Application. PMPlanR allows you to "Build Your Plant". Each Plant consists of Areas, Machines and Assets.
You can construct multiple Plants, perhaps you want to make each major distinct process area its own Plant, or perhaps each maintenance tech or manager is to have his own Plant. You have flexibility. In addition to the Plant Builder function (screen shown here) you can setup and manage Part Vendors, Service Tags, Preventative Maintenance Tags, Work Orders, as well as prepare and display various History Reports that you have access to. A Security System is also provided in the PMPlanR™ software application.
WebPM™ remote supervisory software option is available for use with the PMPlanR™ Preventative Maintenance Management Software Application. WebPM is a softaware package that allows corporate users to access the database of the PMPlanR software application. This allows remote users to view and print historical reports.
Click here for more information about Sterling Systems & Controls
Subscribe to our E-Newsletters
Sterling Systems & Controls, Inc. offers over 40 years of experience in providing efficient solutions for batching, micro, minor and bulk weighing systems, as well as plant automation.
Sterling Systems and Controls, Inc. - Unique to Your Process
Sterling Systems and Controls, Inc. will create customized systems based on your exact ...